The Cruising Yacht Club of Australia has announced that entries for the 2023-24 Audi Centre Sydney Blue Water Pointscore are now open! They would like to invite owners and charterers of eligible boats to enter.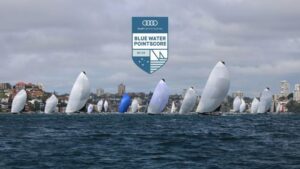 The entry can be completed online via Top Yacht here with further information available on the race website.
Please note that completed entries, with the additional items specified in the Sailing Instructions (available online here) shall be received by the Organising Authority by 1200hrs on the Monday prior to each race. No entries will be accepted after these dates. The race schedule for 2023-24 is as follows:
Race 1: Noakes Sydney Gold Coast Yacht race – July 29 (Separate NOR/Entry)
Race 2: Flinders Islet Race – September 23
Race 3: Tollgate Islands Race – October 13
Race 4: Bird Island Race – November 11
Race 5: Cabbage Tree Island Race – December 1
Race 6: Rolex Sydney Hobart Yacht Race – December 26 (separate NOR/Entry)
If you require any assistance throughout the entry process, please do not hesitate to contact the Sailing Office at .
Commodores Series & Commodores Cup
The Cruising Yacht Club are pleased to be able to hold the Commodores Series and Commodores Cup Teams Event again this year. It will consist of three races; the Noakes Sydney Gold Coast Yacht Race, the Cabbage Tree Island Yacht Race and the Rolex Sydney Hobart Yacht Race. The Teams entry form can be found here and the Series entry online with the BWPS entries.
Corinthian IRC & Wild Rose Pointscore
A Corinthian IRC Division and the Wild Rose Pointscore will be conducted again. To be eligible for the Corinthian Pointscore, all crew must meet the required of the World Sailing Sailor Categorisation Code for Group 1 and have a World Sailing ID.
Following the success of the Wild Rose Pointscore, they will be increasing the minimum female crew requirement to 25% crew as they continue to celebrate boats which encourage female participation in offshore racing.
The Cruising Yacht Club look forward to welcoming you to the CYCA and seeing you back out on the water for another successful blue water season.
For more information visit cyca.com.au
To keep up to date with all marine industry news visit www.marinebusinessnews.com.au