Thursday 16 November will see gala dinner guests experience the four elements that shape our lives and our industry. This spectacular unveiling of this year's Boat Builder Awards winners within the atmospheric amphitheatre of the National Maritime Museum in Amsterdam will provide the perfect finale for the second day of METSTRADE, the world's largest gathering of marine leisure and superyacht businesses.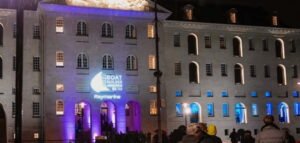 Tickets are now on sale with the option to purchase individually or in tables of 10 to enjoy an unforgettable evening with colleagues and industry contacts.
Click here to purchase your tickets!
The Boat Builder Awards for Business Achievement is jointly run by IBI and METSTRADE in association with Raymarine. Completely new for this year – guests will be welcomed with pre-dinner hors d'oeuvres and drinks in the METSTRADE VIP lounge which provides the opportunity to seamlessly step from the show into networking with industry friends and new contacts.
Guests will then continue their journey to the National Maritime Museum in Amsterdam where the four elements of earth, wind, water and fire will guide their every move through the meticulously prepared three-course gala dinner, entertainment and visual experiences. The evening will conclude with further valuable networking and a chance to congratulate winners at the Boat Builder Awards post event party.
The 2023 Boat Builder Awards is running on Thursday 16 November this year for the first time – the second night of METSTRADE. Individual tickets are priced at just €300 plus VAT with tables of ten at €3,000 plus VAT.
Boat Builder Awards nominations now open
Would you like your company, individual or initiative to be applauded by peers, feted with fine wine and food and celebrated by dancers, singers, and artists and covered by global press? This year's Awards will be presented in 11 categories – three of which will be entirely new for 2023 with additional important emphasis placed on innovation, people, and the environment.
The Boat Builder Awards is free to enter. You can nominate on your behalf or send in entries for companies or people who you think deserve recognition. Nominations are via a simple to use online form and open now until 22 September. To ensure judges have maximum time to evaluate entries, businesses are encouraged to submit their nominations as soon as possible.
Full details of the 11 award categories and how to nominate are available at www.ibinews.com/bba2023.
To keep up to date with all marine industry news visit www.marinebusinessnews.com.au