The Royal Geelong Yacht Club (RGYC) has announced the appointment of Steve Harper as its new General Manager.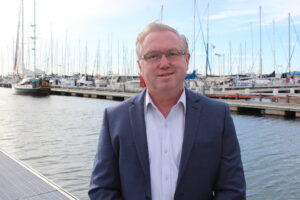 Mr Harper's appointment follows the retirement of former General Manager Phil Clohesy, after more than 13 years in the role.
RGYC Commodore Roger Bennett welcomed Steve to his new position saying he brought a wealth of senior, operational management expertise to the role.
"With more than 30 years' experience in related and relevant industries, we believe Steve's skills and leadership will be invaluable. The Board is confident Steve can deliver a high level of excellence to the Club, which will be critical to our growth over coming years."
Mr Harper's career has included senior director roles of high profile and world class venues in Australia and internationally within the sport, hospitality, and entertainment industries.
"I am thrilled to be taking on this new role at RGYC at a time when the future is looking really exciting for the club across our regular club activities, major events and the ongoing management of the marina and Wangim Walk" said Mr Harper.
Mr Harper also paid tribute to his predecessor Phil Clohesy wishing him well in his "well deserved retirement".
Steve Harper's appointment follows a comprehensive executive search which commenced in March 2023. Mr Harper commenced his new role on July 6, 2023.
For more information visit rgyc.com.au
To keep up to date with all marine industry news visit www.marinebusinessnews.com.au