A tender has been released for upgrades to ports at Penneshaw and Cape Jervis, to continue to support ferry services between Kangaroo Island and the mainland.
The wharf at Penneshaw will be refurbished to include upgrades to the berthing and mooring facilities. The adjacent public jetty will also be refurbished to allow for access to tenders from smaller vessels and cruise ships. The project will form a key part of the wider masterplan for the Penneshaw Harbour.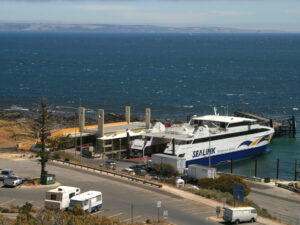 The Cape Jervis wharf will also see upgrades to the berthing and mooring facilities, and the vessel passenger access.
These upgrades will cater for the new SeaLink ferries and will allow better access for passengers and vehicles. They will also provide greater safety for vessels and for passengers when ferries are berthed during adverse weather and storms.
The Department for Infrastructure and Transport has worked closely with SeaLink to develop the designs for the refurbishment.
Ferry services currently operated by SeaLink will be maintained throughout the construction phase, in order to service access to and from Kangaroos Island for tourists and local residents.
The release of the tender is an important milestone for the project, with works expected to commence later this year.
The project team will meet with the community in the coming months to discuss the project.
For more information visit dit.sa.gov.au
To keep up to date with all marine industry news visit www.marinebusinessnews.com.au