Sirocco Marine welcomed the Honorary Consul of Ukraine, Jaroslav Duma, Sutherland Shire Mayor Cr Carmelo Pesce, BRIG dealers, owners, guests and media to a special event at the Sirocco Marine South dealership, Monday 3 July, celebrating the return of the iconic brand of BRIG Boats.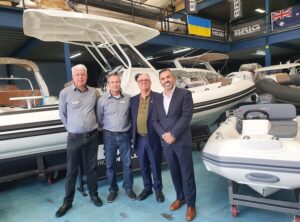 Proudly made in Kharkiv, Ukraine, BRIG has been at the forefront of the design and manufacture of rigid inflatable boats since 1991 and held the mantle of the world's largest builders of RIBs, exported globally.
Forced to suspend production a year ago when shelling of the city threatened their facility and the safety of their workforce, BRIG recently returned to full manufacturing and international export.
Sirocco Marine has received the first containers of all-new BRIG models, which brand devotees have been quick to snap up, from the 3-metre Falcon tender models to the popular Eagle 8.
Opening proceedings on Monday 3 July, Neil Webster, Managing Director of Sirocco Marine, described to guests the significance of the event. "In February 2022, when Russia invaded Ukraine, Kharkiv took intense bombing. So, the management at BRIG made the decision to cease manufacturing to protect the safety of their employees.
"At the time they also vowed to themselves that the Russian aggressors wouldn't destroy their dreams, their business and their employees' livelihoods and lives, and they bunkered down and started looking to the future and planning their restart.
"So, today in Kharkiv in Eastern Ukraine, a factory that the Russians came close to occupying only a few months back is now back in production and providing work and generating an income for its large team of Ukraine employees. BRIG is helping to breathe life back into the local economy and showing the world that despite adversity with perseverance, hard work and the right mindset, they and Ukraine will prevail."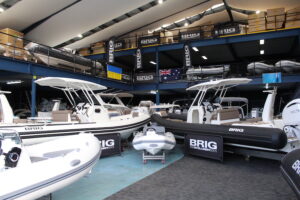 Neil pointed out that in addition to employing Australians in NSW, Queensland, Victoria and WA, Sirocco Marine engages a large team of contractors and suppliers who rely on the sale and ongoing maintenance of BRIG Boats to support their families. They include engine and electronics manufacturers, local marinas, trimmers, mechanics and shipwrights.
"So, as well as celebrating that the BRIG factory and their staff and contractors are back, safe and supporting themselves, there are dozens of Australian contractors and suppliers who are very happy to hear that BRIG is back."
Honorary Consul of Ukraine, Jaroslav Duma, attended the event in his official capacity and said he was proud and pleased to witness the return of BRIG to Australia.
In an emotional address he noted, "Kharkiv, Ukraine's second largest city, sits only 30km from the border with Russia in the northeast of Ukraine. It was the city most severely targeted by the Russians from the outset of this illegal and unjustifiable war, which has now reached almost 500 days. Kharkiv for many, many months endured daily bombings – more so than any other city in Ukraine. Thankfully, it has also been one of Ukraine's successes in returning to Ukraine control late last year.
"Notwithstanding the horrendous facts of this terrible war, there are some good stories. One of which of course, is the ability to import goods from Ukraine itself. Sirocco Marine is one such business, importing BRIG Boats from Ukraine. I take this opportunity to thank the owners, directors, management and staff of Sirocco Marine for their willingness to stick with Ukraine for its business and help rebuild a sovereign Ukraine."
Sutherland Shire Mayor, Carmelo Pesce, a BRIG owner himself, said a few words about the quality of the brand and professionalism of Liam Ohalloran and the team at Sirocco Marine South.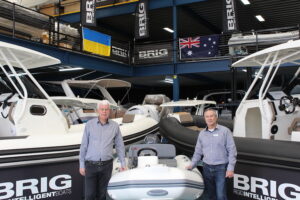 "BRIG is the 'must have' RIB among the local boating community," he commented. "I know from personal experience of the multitude of contractors in the Sutherland Shire who work with Liam, and how important these businesses are within the local community. We are so lucky to live the boating lifestyle. The Sutherland Shire is surrounded by beautiful waterways and truly, the best place to live."
Sirocco Marine has been the official distributor of BRIG boats into Australia since 2006, winning Global Dealer of the Year several times, and is the third largest importer of Ukraine goods into Australia, after grain and componentry.
BRIG enjoyed 70 percent market share in Australia prior to the Russian invasion, and Sirocco Marine is dedicated to flying the flag for the BRIG brand and its quality products which are testament to the Ukraine spirit and ingenuity.
"This return to trade after a year of disruption is an event to be celebrated and our BRIG customers are looking forward to seeing the brand's return to the 2023 Sydney International Boat Show, 3 to 6 August," said Neil Webster.
For more information visit www.siroccomarine.com.au www.brig.com.au
To keep up to date with all marine industry news visit www.marinebusinessnews.com.au