Public consultation over two core safety matters occurred late last year.
The first was public consultation into proposed changes to the wearing of lifejackets and the use of kill switch lanyards.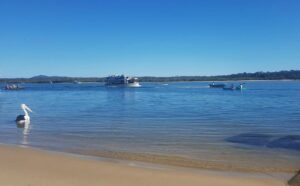 MSQ proposed changes to lifejacket laws for boating alone, boating at night, crossing a coastal bar, and for children in certain circumstances.
MSQ also proposed new laws for kill switch safety lanyard use in small boats and personal watercraft.
It is fair to say there was a range of opinions on the proposed reforms.
There were 1131 responses to the survey, 22 email responses and several comments on social media.
MSQ has been analysing the considerable amount of information received and intends to make necessary changes to law in late 2023.
The second public consultation was for proposed new management rules for the Noosa river, primarily new speed zones and a number of new anchoring restrictions to assist in the safe and equitable use of this prime South East Queensland waterway.
Response to this public consultation over safety on the Noosa River, which ran from December 2022 to January 2023, was very strong.
In conjunction with Noosa Council and the Noosa River Stakeholder Advisory Committee, MSQ developed potential options for the way vessels are managed on the river.  These included proposed new speed zones, as well as anchoring restrictions to be applied to deal with the large numbers of vessels currently anchored in the river and on the foreshores.
The proposed new zones were underpinned by the guiding principles of safety, equity of access and environmental sensitivity.
MSQ received 858 responses to our survey and a number of interactions by email and social media.  In addition, about 140 people attended information sessions held at the Thomas Street boat ramp on two separate occasions in December 2022 and January 2023.
Feedback is currently being actively considered by MSQ and changes will be implemented through a combination of current legislation and amendments to the Noosa River Marine Zone under the Transport Operations (Marine Safety) Regulation 2016.
MSQ  are taking a holistic approach to improving the adequacy and effectiveness of existing waterways management in the Noosa River, and what boaters learn could contribute to the development of future waterways management policy throughout Queensland.
For more information visit www.qld.gov.au
To keep up to date with all marine industry news visit www.marinebusinessnews.com.au