Volvo Penta and Groupe Beneteau joined forces to host a collaborative, hands-on testing event for an innovative hybrid-electric experience in June. Developed with a third-party market research analyst, a formal questionnaire was used to capture actionable data the two companies will use as guidance towards the future boating experience. The goal was to seek feedback and input from a variety of consumer boating industry experts on how the hybrid-electric experience could shape the future of boating.
The event took place at the Volvo Penta Krossholmen Test Facility in Gothenburg, Sweden, and included boating media, dealers and customers. Guests were invited to participate in a conceptual boating experience that featured the strengths of both Volvo Penta and Groupe Beneteau — Volvo Penta's hybrid-electric system integrated into a leisure boat that showcases the latest advances in sustainability, intuitive operation and near-silent cruising.
"This was an unprecedented event for Volvo Penta and Groupe Beneteau. Never have we been able to gather so much valuable insight on the future of boating from such a well-rounded group of industry experts during hands-on testing," said Johan Inden, President of Volvo Penta's marine business. "Our collaboration with Groupe Beneteau has allowed us to tap into a wealth of knowledge across their broad network of dealers and customers. Collectively, we have gained invaluable insight into the market's perception of this type of solution. These essential findings, which are overwhelmingly positive, will help us shape the next generation boating experience."
Along with the opportunity to engage with expert demos and hands-on test driving, guests were also interviewed exclusively one-on-one to capture for their reflections on the value of the hybrid-electric experience and how it could transform boating behaviour.
A stunning 72% of attendees indicated a high likelihood of choosing a hybrid-electric system for their next boat purchase after testing the vessel. This remarkable insight helps prove the trend toward market readiness for hybrid-electric boating solutions and may well forecast them as the next evolutionary step in sustainable boating.
"Collaborating with media, dealers, and customers has always been of paramount importance to us, and inviting the full value chain to test this hybrid-electric experience has provided us with new insight, backed by data," said Erik Stromberg, Vice President of Power and Motor yacht products. "This new hybrid-electric vessel allows boaters to interact with nature in a way that is much more silent and intuitive. As we look 10 to 15 years into the future, we are looking at a significant shift in terms of propulsion systems and we will use the data and insight collected through this collaboration as inspiration towards our path ahead."
A ground breaking concept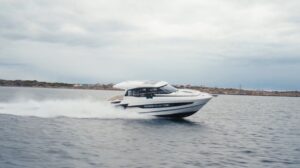 The hybrid-electric boat featured by Volvo Penta and Groupe Beneteau presents no compromise, embodying the best of both worlds — the range and top speed of a conventional combustion engine vessel and the minimised carbon emissions of an electric driveline. It has a top speed of 35 knots and the ability to cruise up to 10 knots on electric power alone.
The plug-in parallel hybrid features two Volvo Penta D4-320 engines alongside two 60 kW electric motors. The electric motors and combustion engines work together to deliver responsiveness and smooth acceleration boost.
Headline features include onboard battery banks that can store 67 kWh and a unique Human Machine Interface (HMI) that seamlessly switches among Electric, Hybrid and Power modes. This robust battery storage can expand the horizons of exploration, offering the opportunity to live off-grid, without running a generator or combustion engine, and explore otherwise-restricted areas, such as protected waters or near wildlife habitats. A fully integrated experience includes Volvo Penta Joystick Docking and Dynamic Positioning System in electric mode, for a fine-tuned level of precision and control.
Insights for the future
More than 50 guests attended the event. 77% rated themselves as "expert" and "advanced" boaters. Polling revealed that their main interests in hybrid-electric boating could be categorized under the themes of environment and experience.
Environmental: 47% were interested in carbon emissions reductions and 19% were interested in general environmental benefits
Experiential: 41% were interested in new technology; 33% were interested in more silent operation; and 12% were interested in added features, reduced vibration and noise.
Those interests held strong through the entire event, and most often, they were rewarded. The hybrid-electric boat received an overwhelmingly positive reaction. After a test drive, guests were asked to rate aspects of their experience.
Volvo Penta's Joystick Docking in electric mode was a top feature, earning an "excellent" or "very good" rating from an impressive 98% of testers.
Also receiving "excellent" and "very good" ratings:
Using large batteries to live aboard the boat without having to run a generator: 95%
Near-silent electric cruising: 88%
Zero emissions in slow speeds and responsible boating in sensitive areas: 85%
Acceleration using electric boost: 82%
Ability to charge using the main combustion engines: 79%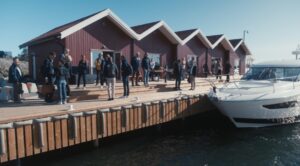 When asked how a hybrid-electric boating solution from Volvo Penta could change attendees future boating habits, the results revealed that they were particularly impressed by its ability to change boaters' relationship to the water and their surroundings:
More low speed cruising: 41%
Stay more nights off the grid: 34%
Volvo Penta and Groupe Beneteau will continue to explore and capture insights and will use these as the boating experience of the future transforms. This will include, among others:
Safety on the water
Charging infrastructure
Changing pricing models
HMI interface, guided experiences, boater education, gamification
Comfort and experience
"We are grateful to have had so many boating industry experts join us for this milestone research event and we are looking forward to sharing more of the information we gained. It is clear to see that the combination of innovation and sustainability is what has driven such positive results, and this gives us greater confidence as we continue to transform," Johan Inden said. "As two leading players within the marine industry, Volvo Penta and Groupe Beneteau's shared goals revolve around enhancing boating experience and elevating environmental efforts, to align with market needs. This collaboration has presented an exceptional opportunity for growth and knowledge exchange as we collectively drive industry-wide transformation."
For more information visit www.beneteau-group.com 
To keep up to date with all marine industry news visit www.marinebusinessnews.com.au