When it comes to avoiding a potential collision on the water, it's all about seeing and recognising potential threats from other vessels in your vicinity — and, ideally, being seen by other captains in time for converging boats to take proper evasive action.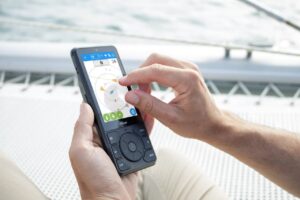 What is AIS?
A marine AIS is an automatic identification system, which can make all the difference in alerting you to traffic conflicts and keeping your boat and passengers safe from harm.
The system works via a combination of GPS, VHF radio and an AIS transponder, broadcasting your ship's position, identity, speed, course and other relevant information to keep other AIS-equipped vessels aware of its movements on the water. This information is updated constantly and can be viewed by any other vessel equipped with an operating AIS unit.
The Cortex® lineup of VHF radios from Garmin offers built-in transponders with AIS send-and-receive capability. The Cortex system incorporates alarms to alert you of potential collision risks, as well as dragging anchors and man overboard situations. In addition, companion Cortex apps let you receive alerts, monitor boat status and remotely control onboard devices using your compatible smartphone or other mobile device.
Make Contact
AIS alerting is a vital, safety-enhancing addition to your situational awareness toolkit. But it's no substitute for keeping your eyes and ears open to maintain a sharp lookout. Being proactive can help you be better prepared whenever the threat of a traffic conflict presents itself on the water. And the sooner you're alerted, the better you can plan and take steps to avoid getting into a close-call avoidance situation.
When you see a potential encroachment developing, your immediate response should be to contact the other vessel and declare your intentions. Cortex VHF radios make this easier by letting you initiate direct selective calling (DSC) by choosing from a directory of nearby AIS-equipped vessels or saved "buddy" vessels — no need to manually enter another vessel's 8-digit MMSI number when time is critical in a high-stress situation. You can also access priority DCS to quickly get the other captain's attention and make contact.
Stay Focused
In an emergency, too many alarms and bells going off all at once can be distracting and overwhelming. Modern boats have lots of electronic devices and instruments providing all manner of data to the operator. But AIS gives you quick, easy-to-interpret information about where the threat is, the closest point of approach and the most immediate action you can take to avoid a catastrophic situation with another boat at speed.
Maintain Situational Awareness
For enhanced visual reference and "big picture" situational awareness, NMEA 2000® networking capability makes it easy to view AIS data on your compatible MFD or chartplotter. Targets are coloured and prioritised based on their level of risk. A more-distant vessel or one trending away will become smaller and grey on the display. A vessel close and trending towards your path will become highlighted in yellow. Any vessel at a range, direction and speed that presents a potential collision risk will trigger an alarm, become highlighted in red and become pinned on the handset, allowing you to see more detail on the target or take action to call the other vessel. Chartplotter integration with AIS lets you see multiple targets within range, locate and track them on the map and correlate their positions with overlaid radar data.
While AIS may not be required equipment for most recreational mariners, those who have used it can tell you it's an extremely valuable tool for keeping boats from getting too close — especially if you travel at night or in busy harbours or shipping lanes with restricted visibility. If it prevents just one collision and the subsequent loss of your boat, the cost of installing AIS is clearly more than worth it.
For more information visit www.garmin.com
To keep up to date with all marine industry news visit www.marinebusinessnews.com.au