The Boating Industry Association (BIA) presented Darren Vaux with Life Membership during the Opening Ceremony of the 54th Sydney International Boat Show for his outstanding and unwavering commitment to the industry.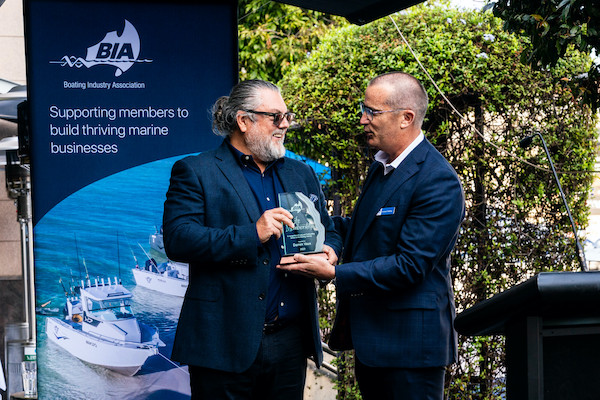 BIA President Andrew Fielding said Darren had made an extraordinary impact across the industry over the past 20 years.
"Darren's commitment is boundless when it comes to striving for the best possible outcomes for the boating industry in Australia," Fielding said. "His strengths in leadership, strategic planning, solutions focus, resilience and advocacy have delivered numerous wins.
"Life Membership is the highest accolade the BIA can award and Darren is a worthy recipient of this award presented on behalf of his peers and the general membership."
The BIA Life Membership is bestowed upon individuals who hold a distinguished reputation within the industry and the association. It is a prestigious honour, reserved for BIA members whose long-standing commitment and exceptional service have consistently benefited both the Association and the boating industry.
Vaux is the immediate past President of the BIA and currently holds the position of President of the International Council of Marine Industry Associations (ICOMIA) which is the international trade association representing the US$300 Billion global marine industry since 1966. ICOMIA is comprised of 40 national associations in one global organisation and represents them at an international level, presenting a strong and united voice when dealing with issues challenging the industry.
Vaux has served as a BIA Board Director for more than 15 years and was the founding chair of the Boating Industry Alliance that successfully brought three State associations together as one in 2015. He is also a past Vice-President of the Marina Industries Association and past Chair of the Marina Association of NSW.
In further service to the industry and boating community, Vaux served on numerous government consultative or advisory bodies including Chair of the statutory Maritime Advisory Council in NSW for the past 15 years and in 2022 was a member of the NSW Crown Lands Task Force.
With a background in project management and a successful career in award-winning property development and entrepreneurship, Vaux has been a driving force behind major marine projects and marina operations, including the multi-award-winning Empire Marinas Group. Vaux is also the owner of Freedom Boat Club Broken Bay and Lake Macquarie which is being launched at Sydney International Boat Show.
"Congratulations and thank you, Darren," said Fielding. "Your invaluable contributions to our industry have made a significant impact, and the BIA is truly fortunate to have your guidance and expertise in supporting the interests of the boating community and industry."
Darren Vaux's Life Membership stands as a testament to his exceptional achievements and his enduring commitment to the success of the boating industry.
For more information on BIA go to: bia.org.au