The $14 million Stage 1 of the Onslow Community Boating Precinct is now complete, with the works creating modern recreational boating facilities for the community and providing an economic boost to the wider Pilbara region.
Upgrades to the precinct, which is located at the Beadon Creek Maritime Facility, included the dredging of a new basin, construction of a two-lane boat ramp with central floating jetty, a car park and drainage, solar lighting, public amenities, and landscaping.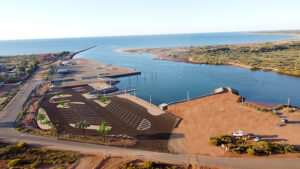 Approximately 45,000 cubic metres of sand and rock was dredged from the creek bed to create deeper waters for safe navigation to and from the boat ramp, which is protected by a rock revetment incorporating 20,000 tonnes of granite and recovered rock material.
The State Government has committed $5.2 million to the project, including $800,000 of funding through the Recreational Boating Facilities Scheme, in addition to a major funding commitment of $6.4 million from the Shire of Ashburton. Other contributors include the Chevron-operated Wheatstone Project ($1.5 million), and the Commonwealth Recreational Fishing and Camping Facilities Program ($900,000).
The Department of Transport worked in partnership with the Shire of Ashburton to manage the development of the boating precinct.
Stage 2 of the project, which includes a small marina and further landside development, is currently in the advanced stages of design, with funding under consideration.
"This is an exciting project for Onslow, made possible by a major funding commitment from the State Government and the Shire of Ashburton, and supported with additional funds from the Commonwealth and the resources sector.
"The Pilbara region has a high recreational boat ownership rate of 70 vessels per 1,000 people and this project will provide new boating facilities for both local and visiting boaties.
"The project has also provided an economic boost for the local community, supporting local jobs and the local economy by using WA suppliers and contractors." Said Minister Assisting the Transport Minister David Michael.
"I am thrilled to see the completion of this important project that will become a central recreational asset for people in the town of Onslow and surrounding communities.
"This is another example of the Cook Government's commitment to improving the amenity and facilities of towns across the mining and pastoral regions of Western Australia." Said Mining and Pastoral Regional MLC Peter Foster.
For more information visit www.transport.wa.gov.au
To keep up to date with all marine industry news visit www.marinebusinessnews.com.au