Many people, rec fishers included, may not understand the importance of saltmarshes in marine ecosystems but OzFish Unlimited volunteers do and they've been doing their bit to ensure they restore it among the shores of Lake Macquarie.
OzFish, Australia's recreational fishing charity dedicated to restoring fish habitat, has joined forces with Landcare and Hunter Local Land Services to remove exotic Buffalo Grass and plant 850 native trees and shrubs across a small but essential area at Styles Point in Rathmines.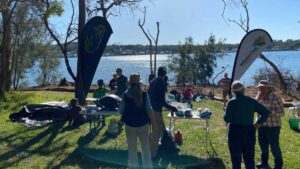 The Lake Macquarie Chapter of OzFish, the Lake Macquarie Volunteer Landcare Network, the Rathmines Sustainable Neighbourhood Group and Lake Macquarie City Council combined for the project and have agreed to continue forging relationships to develop projects for fish in the area.
Lake Macquarie, south of Newcastle, is known for monster flathead as well as mulloway, bream, tailor, squid, luderick, sand whiting, yellowtail kingfish and salmon, and the saltmarsh habitat provides essential ecosystem services such as shelter and food for baby fish, functioning like a "fish nursery".
Local partnerships such as this one funded through the NSW Recreational Fishing Trusts are essential to bringing the community on board with the importance of restoring critical fish habitat.
OzFish Senior Project Officer Lucas Kas said restoring this site is set to deliver significant benefits to water quality, recreational fishing and the overall health of the waterway.
"Planting was structured in a manner that will promote further natural expansion from the existing pocket of saltmarsh and in-situ fallen trees were repositioned to assist with creating borders to the project site and prevent future erosion," - Lucas Kas, OzFish Senior Project Officer
"Given their close proximity to human activities, a saltmarsh can often be cluttered with litter and debris and the local community groups are working hard to remove rubbish and develop a clean-up program to protect this critical fish habitat into the future."
University of Newcastle Associate Professor in Environmental Science Troy Gaston said a saltmarsh provides many benefits such as filtering the water as it flows off the land and into the estuary and providing a food source for many species.
"We know that you've got saltmarsh crabs and glassfish moving in and out with the tides. Those little organisms become food for the flatheads," - Dr Gaston
"That's a process we call trophic relay. That's different levels of the food web moving the saltmarsh material from where the saltmarsh physically is to elsewhere in the estuary and it becomes food for the bigger fish.
"It's great that we've got even small amounts of saltmarsh restoration going on in the estuary."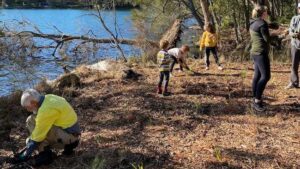 Dr Gaston said his studies have been focused on what drives productivity in our estuarine systems.
"There's plenty of examples of 'I've fished 30 years ago, and the estuary was full of fish, and you could always catch the big ones' and all this kind of stuff," he said.
"I always wanted to know what supports productivity in our estuaries. The habitats in estuaries provide the homes for the fish but what are they eating? While you can look at the gut contents of fish it's hard to identify one bit of mush from another if it's digested.
"If you're looking at carnivorous species, you're only getting what they're eating but then what's the diet of those fish they've eaten?"
By analysing small cubes of fish flesh, scientists can identify chemical tracers which are naturally present in the ecosystem, known as stable isotopes, from habitats such as mangroves, seagrass, the saltmarsh, the phytoplankton that moves around in the water column and even the green slime that grows on mud.
"There's the phrase you are what you eat," - Dr Gaston
"When someone catches a fish, we use a little bit of muscle tissue and we analyse for these stable isotopes of carbon, nitrogen and sulphur and we can tell you the relative proportion of mangrove, seagrass or phytoplankton that has supported that fish right up the food web from the very first animal.
"For example, the eastern king prawn – 97% of its diet originates from saltmarsh and it's the habitat we've lost the most of along our coastlines. So, productivity is quite possibly limited because of food availability, and that is habitat loss – there simply is not enough food in the estuary to boost productivity.
"OzFish is all about restoring and protecting habitat and it's great that they're pushing that line because the UN has also jumped on board and declared the international decade of ecosystem restoration. Because we've lost and degraded our ecosystems and our habitats so much on land and in the water and it's fundamental we do something to restore it.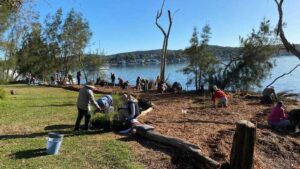 "It's only the past 15 years that we've been addressing this issue, but ecologists believe that if we start to restore saltmarsh habitat, we could see fish populations rise again. Globally, the understanding is it would be 7-10 years before we see flow-on effects for habitat repair.
"The early signs are promising but this is a slow process. The habitats don't just come back overnight. It takes years to grow back to where they were, particularly saltmarsh habitat which is slow growing and delicate. But we need to start somewhere and it's great to see anglers taking it further with the community in Styles Point."
This project was made possible by the OzFish-Landcare NSW partnership with funding support from the NSW Recreational Fishing Trusts, Hunter Local Land Services' Small Community Grants Program, and BCF – Boating, Camping, Fishing.
For more information visit ozfish.org.au
To keep up to date with all marine industry news visit www.marinebusinessnews.com.au