Yachting Ventures and METSTRADE have announced the lineup for the Start-Up Pavilion at this year's show, which is sponsored by FORT Insurance and will provide an innovative platform for emerging companies to showcase their latest products and technologies.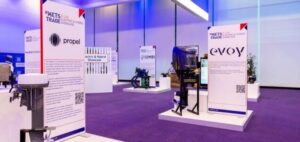 In Hall 7, METSTRADE has designated a spacious area for the Start-Up Pavilion that will accommodate 15 start-ups. This marks the first time ever that METSTRADE will host such an event, demonstrating their commitment to supporting entrepreneurs in the industry.
Sponsored by FORT Insurance, the Start-Up Pavilion will feature 15 carefully selected companies who will have the opportunity to exhibit their cutting-edge ideas throughout the 3-day event. Broadly, the 15 start-ups chosen to exhibit as part of the Start-Up Pavilion fall into two categories – those accelerating the digitalisation of the industry via software and platform solutions, and those accelerating the transition to greener technologies and alternative propulsion.
Whether you're an investor seeking the next big opportunity, an industry professional looking to collaborate, or simply a curious individual eager to explore the future of leisure marine, the Start-Up Pavilion at METSTRADE is the place to be.
Digitalisation
The leisure marine industry is beginning to embrace digitalisation, and these start-ups are leading the charge. Their pioneering solutions are transforming the way yachts are managed, operated, and experienced, ushering in a new era of innovation and convenience:
Sustainability
The following CleanTech start-ups represent the vanguard of a green revolution in the yachting industry. Their commitment to sustainability, environmental preservation, and technological ingenuity is driving the industry towards a more responsible and eco-conscious future.
For more information about the Start-Up Pavilion at METSTRADE this year, please visit www.metstrade.com/start-up-pavilion
To keep up to date with all marine industry news visit www.marinebusinessnews.com.au