Two long-serving Marine Rescue NSW members from the state's South Coast have been awarded the NSW Maritime Medal during a ceremony at the Sydney International Boat Show in Darling Harbour.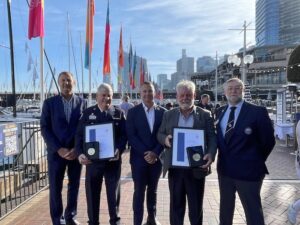 Minister for Transport Jo Haylen presented the medal to Marine Rescue Jervis Bay Unit Commander Kevin Hill and Marine Rescue Merimbula Unit Commander Bill Blakeman.
Mr Hill was awarded the NSW Maritime Medal for Safety.
In his decade with Marine Rescue NSW, Mr Hill has gone above and beyond as a rescue vessel skipper and worked tirelessly to train, educate and encourage boaters to be safe on the waters of Jervis Bay.
"I went to the boat show today to have a look around, I knew I was in the running for the medal but never thought I would be awarded it," Mr Hill said.
"I was surprised to receive the medal and am humbled by it," he said.
Mr Hill said since becoming a volunteer with Marine Rescue NSW in December 2013, two incidents earlier this year standout in his mind.
"In February we saved a father and his daughter who got into trouble while standup paddle boarding inside Jervis Bay off Iluka Beach near Green Patch.
"We rescued them in record time but it was the next day when I was manning the raffle stand at a shopping centre that the family walked in and the mother was overcome with emotion.
"To see the gratitude on the faces of that family was amazing.
"Within a week though, we went from the best possible outcome to the worst when in an almost identical situation and location with a different family, a young mother didn't survive," Mr Hill said.
Merimbula's Bill Blakeman earned the medal for his service to Community for his outstanding contribution as a Training Officer, spending countless hours training and developing crew to conduct rescues and respond to incidents.
"I enjoy training new members and get great joy out of seeing their progress and development, it's very satisfying.
"I work with a wonderful group of people at the Merimbula Unit and I am grateful to receive this recognition," he said.
Mr Blakeman has volunteered for Marine Rescue since November 2008 and is a life member of the Merimbula Unit.
Mr Blakeman said after a lifetime in the marine industry, which began as a deck boy on a Port Line vessel at the age of 16, volunteering with Marine Rescue NSW is his chance to give something back to the community.
"My focus today is about saving lives on the water," Mr Blakeman said.
To keep up to date with all marine industry news visit www.marinebusinessnews.com.au