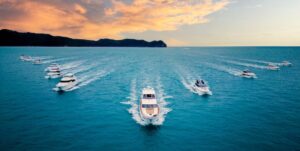 Princess Yachts Australia has won the LuxLife Hospitality Award "2023 Luxury Yacht Company of the Year", recognising their consistently superb hospitality for owners and guests, both at the Sanctuary Cove International Boat Show (SCIBS) and the annual Princess Yachts Rendezvous held at the InterContinental Hayman Island Resort.
It's a great honour to receive an international award for our events and owner hospitality - Princess Yachts Australia Director, Greg Haines
"We put a lot of planning, effort and thought into every event and our owners play a crucial role in enhancing them year after year. Their feedback and contribution ensures we evolve our events each year."
At SCIBS 2023, Princess Yachts Australia hosted a cocktail party for owners, guests and VIPS with every facet 5-star, from the premium Hentley Farm wines, Peroni and Veuve Clicquot champagne, to delectable canapes and live entertainment in the form of the sultry sounds and dancing by Sheba.
During the four-day event, the Princess Lounge was a stylish haven above the marina for owners and guests, decorated in designer furniture and offering a restorative coffee or refreshing glass of Veuve accompanied by succulent finger food.
British High Commissioner, Vicki Treadell attended the boat show and praised the brand for its world-class craftsmanship and the Australian distributor for its incredible marketing and for cultivating a sense of community among owners.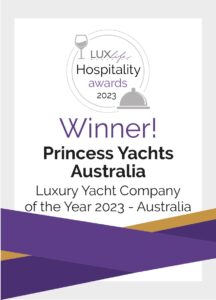 "With the historic free trade agreement, tariffs will disappear, so Princess motor yachts are even more attractive," she said. "I'm incredibly proud and I want to shout about it. Markets like Australia are really important for our luxury, high-end goods."
At the annual Hayman Island Rendezvous, Princess Yachts owners are treated to a mix of information, entertainment and experiences in tropical North Queensland, building on the brand values of family-focused fun and enjoyment of the boating lifestyle.
This year's Hayman Island Rendezvous will be preceded by the Princess Trip North, starting 26 August.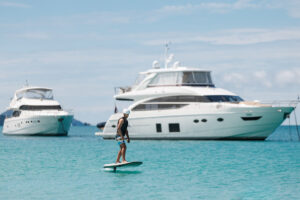 11 boats will head north from the Gold Coast, via Wide Bay, Sandy Straits, Bundaberg, Lady Musgrave Island, Yeppoon and Great Keppel Island, to Mackay and on to Hamilton Island, with stopovers and anchorages all dependent on weather and conditions.
"We could do the trip in four days, but we usually take the full week to enjoy the experience and the camaraderie," said Greg.
"Many of our owners and their families will stay on and explore the Whitsundays, some will fly home and then rejoin us in the school holidays for the five-day Princess Yachts Hayman Island Rendezvous, which starts 25 September.
"Owners have formed a Whatsapp group to socialise, have fun onshore and go on day trips to the Reef."
Sponsored by Garmin, this year's event has added an extra 'lay day' for guests to enjoy the luxurious 5-star surrounds of the InterContinental Hayman Island Resort.
Adam Essex, General Manager Princess Asia-Pacific will join owners at the Rendezvous in person this year, bringing the news from the Plymouth headquarters straight to owners and sharing in this truly adventure.
The Rendezvous begins Monday 25 August with a Gala Dinner sponsored by Volvo Penta, followed by a lay day where informal education sessions hosted by Garmin and Volve Penta are on offer.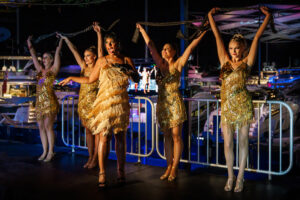 "Scott and I will hold informal cooking sessions on board, and for the junior set, there's the Planet Trekkers Kids' Club chocolate making classes."
That night, sponsored by Sanctuary Cove Marina, is the cocktail party and bonfire while watching the sunset over the western bay.
Wednesday 27 August is the much-anticipated Long Lunch at Whitehaven Beach – the highlight of the trip. "We will welcome 65 people for the Long Lunch sponsored by Seakeeper, with Seabobs, Fliteboard, SUPs and all the toys, as well as activities for the kids and an incredible seafood lunch," said Greg.
Thursday is the final day and comprises a Farewell Lunch at Bam Bam Cabanas, sponsored by Pantaenius Insurance.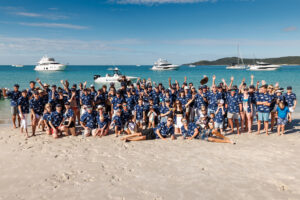 "This is always lots of fun," Greg said. "There's beach cricket and sailing for the kids and the rest of us kick back and enjoy the final day together."
As Greg explains, the pandemic years made people appreciate even more the importance of friendships and meaningful experiences with friends and family.
"Relationships are everything," he said. "These deeper connections and unique experiences are what memories are made of. They make life worthwhile."
With that ethos in mind, the 11 Princess Yachts from Melbourne, Brisbane, the Gold Coast and Mooloolaba will soon track the 600 nautical miles north for this year's Princess Yachts Australia Rendezvous.
"Every year is bigger and better and we're so proud and pleased to have so many owners involved in this year's edition. Our aim is to help Princess owners navigate with confidence and meet others who share their outlook and passion for boating."
For more information visit www.princessyachts.com.au
To keep up to date with all marine industry news visit www.marinebusinessnews.com.au