Propspeed, leading innovator of underwater foul-release coatings, announced that after significant third-party testing, that the Propspeed foul-release coating system has received Type Approval from Bureau Veritas.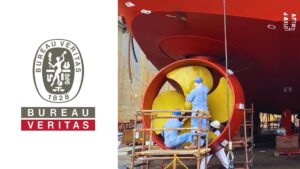 Marine materials and equipment certification is the review and testing process that ensures ships' component parts conform to the technical standards established by regulatory bodies. Bureau Veritas provides certification services for shipyards, suppliers and manufacturers, helping keep ship materials and equipment reliable for shipowners. Their certification experts are pioneers in safety and performance, technical experts and regulatory specialists.
"Type Approval is important for our customers as it is verification conducted by an independent third-party agency certifying that Propspeed complies with the rules of the strictest shipbuilding best practices", said Marcus Hamilton, CEO, Propspeed. "We have a shared vision of delivering vessel operators optimised environmental performance and increased asset integrity. Receiving recognition by the experts at Bureau Veritas is further proof that the marine industry can put their trust and confidence in Propspeed, and that our Propspeed foul-release system will exceed the expectations of all our current and future customers."
Established in 1828, Bureau Veritas is a global leader in TIC (Testing, Inspection and Certification), offering high-quality services which aim at supporting the clients in meeting more and more demanding requirements concerning quality, OHS, environmental protection and social responsibility. Bureau Veritas Marine & Offshore is one of the world's leading ship classification societies and offshore safety and verification bodies.
Propspeed products include Propspeed for running gear and any underwater metals, Foulfree for transducers, Lightspeed for underwater lighting and Stripspeed for easy preparation of surfaces for coating application, the perfect combination for refit season.
For more information visit propspeed.com
To keep up to date with all marine industry news visit www.marinebusinessnews.com.au