Mercury Marine will further underline its market leadership in electric propulsion with an exclusive first look at Avator 20e and 35e engines – the most powerful electric outboards on the market – as part of a huge array of new Mercury product on display and on demonstration at the upcoming Sydney International Boat Show.
Mercury will be back on Darling Harbour for this year's edition of the Sydney International Boat Show from the 3rd to the 6th of August, giving attendees the chance to see the latest and products from Mercury.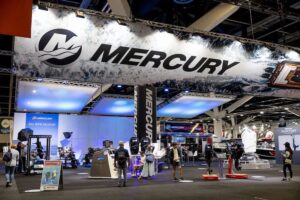 On Water Action
One of the highlights will be the opportunity for attendees to get hands-on and experience the newest outboard models in action on the water. Notably, the 5.7L 400hp V10 Verado, renowned for its exceptional power and capabilities, and the 7.5e Avator, Mercury's first electric-powered motor, will be available for testing.
"A highlight of every Sydney International Boat Show is the outboards we have for testing on the water and this year will be no different with some of our most innovative outboards available to try out," Mercury Marine ANZP Senior Marketing Manager Anthony Brown said.
"Boaters who have the chance to test these engines will undoubtedly be amazed by the Verado's extraordinary performance while the Avator brings a whole new experiencing to boating.
"There is no better way to test out our latest outboards than to get out on the water and take them for a spin and I encourage all attendees to visit the waterfront area and take part in this exceptional opportunity to explore Mercury's latest and most advanced outboards."
Mounted on a Haines Signature 788SF, the V10 Verado engine stands out as the quietest and smoothest in its class, offering a 45 percent noise reduction compared to a leading competitor at cruise speed. Equipped with SmartCraft technologies and advanced digital controls, the Verado ensures effortless and enjoyable boating.
For those wanting their first taste of the electric propulsion, the cutting edge 7.5e Avator electric outboard will be powering a Mercury 320 RIB, delivering a clean and quiet boating experience, devoid of exhaust fumes and direct emissions. Its vivid full-color display provides easy monitoring of battery level, power, alerts, remaining runtime, and other essential information.
Additionally, attendees will have the opportunity to test the exceptional 4.6L 250hp V8 Verado, mounted on a Northbank 650 HT-F. This outboard represents the pinnacle of design and performance, offering the industry's most advanced Joystick Piloting system for effortless manoeuvring in tight spaces.
Mercury's SmartCraft system further enhances the docking experience, offering unparalleled low-speed control.
Hard Stand
In addition to the on-water demonstrations, there will be a dedicated hard stand area where visitors can explore the full range of Mercury's exciting products.
"This is the biggest event on the calendar for Mercury's Australia/New Zealand operations and we're pulling out all the stops to showcase our latest industry leading products," Anthony said.
"The newest editions to the Avator family, the 20e and 35e Avator models will also be on display, with these innovative electric outboards undoubtedly a highlight of the weekend.
"We have announced so many new exciting outboards over the past 12 months, so to be able to have them on site at the Sydney International Boat Show for attendees to experience first-hand will be a fantastic opportunity."
This will include the latest high-speed motors from Mercury Racing – the V8 500hpR and V10 400hpR. Combining relentless horsepower and torque with sophisticated technology and rugged design, these motors are renowned for delivering top-notch racing performance.
Visitors will be able to catch a glimpse of the 5.7L V10 350hp SeaPro, a reliable and durable outboard that lives up to the SeaPro brand's reputation for performance and dependability.
Furthermore, the event will showcase the new generation of 25hp and 30hp FourStroke outboards renowned for their quickness, reliability, and fuel efficiency. These motors enable small vessels to travel greater distances on minimal fuel consumption.
There will be many exciting deals as an additional incentive for attendees to get their hands on Mercury's outstanding products.
Plus, the Mercury Edge Display Trailer means visitors can get up close and personal with the latest propellor technology, trolling motors, gauges and much more.
Mercury invites all to come see what's new at Mercury at this year's Sydney Boat Show and witness these remarkable products and experience the future of boating firsthand.
For more information visit www.mercurymarine.com
To keep up to date with all marine industry news visit www.marinebusinessnews.com.au