Increased parking is on the way for our region's boating enthusiasts at the Clifton Springs Boat Harbour, a popular destination for recreational boating, yachting, fishing and offshore diving.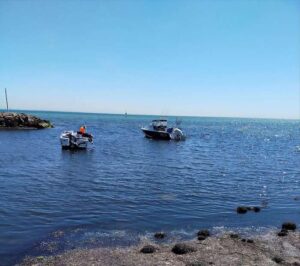 With Geelong and The Bellarine having the largest concentration of registered vessels (up to 10,000) in Victoria, the Clifton Springs Boat Harbour provides direct access to the stunning Corio and Port Phillip bays.
The Clifton Springs Boat Harbour Upgrade will increase the number of formal car parks and improve traffic flow at the site, with an additional 30 car-trailer-unit spaces and an asphalt carpark seal.
Identified as a high priority facility for delivery, the upgrade is funded by the Victorian Government's Better Boating Fund through a $350,000 contribution and a previous Boating Safety and Facilities Program grant of $250,000. An additional $200,000 has been contributed from the Commonwealth Government's Local Roads and Community Infrastructure (LRCI) Program.
The City of Greater Geelong is commencing site survey works today with the new carpark available for use in time for summer from December.
It's anticipated there will be limited impacts to the ramp and main carpark access during the construction stage.
"The federal government is committed to supporting local councils in their delivery of community infrastructure through the LRCI program.
The LRCI program is all about making sure that our communities have the safe, reliable, and functional infrastructure they need.
And anyone who knows Clifton Springs will understand just how important boating is to the local community for work, recreation, and for driving tourism throughout the North Bellarine.
That's why this collaboration between federal, state and local government is so important." Said Libby Coker MP – Member for Corangamite
"The Clifton Springs Boat Harbour allows locals and visitors to experience the beauty and wildlife of Corio Bay in a convenient location.
I'm a regular at the Clifton Springs Boat Harbour and like my fellow boaties, I've watched as the facility has become increasingly popular and struggled to meet demand.
The parking upgrade will make a significant difference to the harbour, which has been identified as a growth area, and the City team is pleased to be delivering the works.
Council is grateful to Better Boating Victoria and the Commonwealth Government for prioritising this boat harbour, as it has immense recreational, economic and environmental value to the community." Said Mayor Trent Sullivan
For more information visit www.geelongaustralia.com.au
To keep up to date with all marine industry news visit www.marinebusinessnews.com.au