The Asia-Pacific Superyacht Association is looking forward to welcoming over 200 members and their guests to the Asia Superyacht Night (Monaco) being held on the eve of the Monaco Yacht Show (MYS) 2023. The highlight of the Association's event calendar, members from the Asia-Pacific superyacht community will gather at the Novotel Monaco for this invitation-only event that connects the Asia-Pacific with the global superyacht community.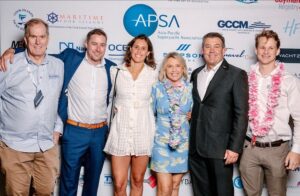 Nigel Beatty, Chairman of APSA, is delighted that Asia Superyacht Night has proved to be such a crowd pleaser. "This year's event is looking to be even bigger and better, and we will welcome our APSA members and guests to the Novotel Monaco where the event has been held since 2017. This is the perfect opportunity for members to catch up and share industry news, and build on the connections that they have made through their APSA membership."
"This year's event is exceptionally well supported by nine sponsors, all of whom are APSA members. Maritime Cook Islands and Cook Islands Yacht Squadron have returned as Premium Sponsors. Our Gold Sponsors are YACHTZOO, Hill Dickinson, Superyacht Australia and Dörries Yachts GmbH, and our four Silver Sponsors are Azure Yacht Crew Health, GMT Global Marine Travel, Frigomar and Next Tide (SG Marine Guide)." Beatty believes that the key to the success of this event is its relaxed friendly atmosphere where people come to have fun and network before the main event. "This year's theme is a combination of the 'Island Vibes' of the South Pacific, blended with the Asia tradition of the Mid-Autumn Lantern Festival, which will look fantastic in this spectacular setting."
Talking with the sponsors, there are many different reasons as to why each of them supports APSA's signature event. Eleanor Roi, Co-CEO and Director of Business Development & Client Services for Maritime Cook Islands, says "We are pleased to be the Platinum Sponsor for the Asia-Pacific Superyacht Association for the second consecutive year. APSA provides us all with opportunities for further collaboration and networking with industry professionals and clients alike, always expanding the commercial and market reach of the Registry."
Darrell Hall, a Founding Partner of YACHTZOO, and a supporter of this event from the start says, "Yachtzoo is thrilled to continue its support as a gold sponsor of the APSA Superyacht Night for the sixth consecutive year. We take pride in contributing to the promotion of the Asian region to both charterers and yacht owners. This event offers a wonderful opportunity to connect with fellow industry professionals who share our passion and commitment, while also expanding our expertise in these remarkable destinations."
Alex Teji, APSA's Honorary Legal Counsel, and a partner at Hill Dickinson adds, "We, too, have supported APSA from the start, and are pleased to continue to help development of superyacht business in the Asia-Pacific region. We truly value the relationship we have with our South East Asian clients and colleagues."
Superyacht Australia CEO David Good says, "It is fantastic to get all our Asia-Pacific neighbours together in Monaco the night before the show starts. It's like a team coming together for the final briefing before the big game, where we are all about to do our best to get more business and yachts to Asia-Pacific – and that's why Superyacht Australia is pleased to be an APSA event sponsor."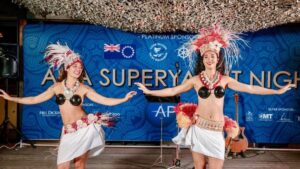 New APSA member Henning Dörries, Founder and Managing Director of Dörries Yachts GmbH, says, "We are proud to be a gold sponsor this year. As the Asia-Pacific region continues to grow and gain traction within the superyacht market, we are excited to be part of the APSA community to help promote this beautiful part of the world so that it can be enjoyed by owners, guests, and crew alike."
Silver Sponsors for the evening include: Azure Yacht Crew Health, GMT Global Marine Travel, Frigomar srl, and Next Tide. Co-Owner of Azure Yacht Crew Health, Claire Murray French, says, "We cannot wait to enjoy APSA's Asia Superyacht Night as a curtain-raiser to what we think will be a very exciting Monaco Yacht Show. Bravo for your efforts over the past year to get the Azure name out there to the industry in Asia-Pacific and beyond."
GMT Global Marine Travel Founder and Managing Director Tim Davey also expressed his gratitude for APSA's ongoing efforts in promoting Asia and the Pacific as an exceptional superyacht destination. "This region offers an extraordinary array of ancient and modern cultural experiences; if you're ready to visit this remarkable part of the world, contact GMT to help fly you there."
New APSA members Frigomar and Next Tide are excited to be participating, and Luca Santambrogio, Manager for Frigomar, says the Italian company is "very honoured to be able to collaborate with APSA, whose work and efforts we deeply value. We haven't really worked together for a long time, but our company is looking forward to a long partnership to support the growth of the superyacht business in Asia. We are delighted to be sponsors of this event in our 50th year of activity, and we are thrilled to meet colleagues and friends from the industry."
Founder of Singapore-based Next Tide, Wade Pearce, says this is a great opportunity to keep the spotlight on Asia. The Founder and Organiser of the Singapore Yachting Festival says, "We are thrilled to be a sponsor this year; we believe that APSA is doing an excellent job in keeping the APAC region well-informed, and we see great opportunities for Next Tide to support businesses bridging Asia and Europe."
This year's 'Island Vibes', along with Asian celebrations, will have everyone on their feet and dancing. The beautiful Cook Islands dancers Rehiana Wiki Koteka and Terito Story will be there to welcome the guests and weaving their island magic on the eve of the Monaco Yacht Show. Don't be shy to ask for a photo!