USA bounce back from adversity to make first event final of the season
TARANTO Italy – After a weekend of two halves, Ben Ainslie's Emirates Great Britain SailGP Team has secured back-to-back wins, adding the ROCKWOOL Italy Sail Grand Prix title to his France Sail Grand Prix win from two weeks ago in Saint-Tropez. Tom Slingsby's Australia and Jimmy Spithill's USA finished in second and third respectively with Slingsby holding onto the overall lead despite an event win alluding him so far this season.
The racing in Taranto saw two ends of the spectrum with Saturday's racing taking place in windy and wild conditions and Sundays in light winds that eventually would disappear and cause the final podium race to be terminated.
The race for the final was hotly contested and after some of the fleet failed to make the time limit in race five it was Great Britain, Australia and United States that made the cut. It was an incredible feat for Spithill whose team had regrouped and were motivated to put in a good performance following a tough day yesterday which saw teammate Hans Henken taken to hospital following an injury during a manoeuvre and Taylor Canfield stepping in for the day's racing.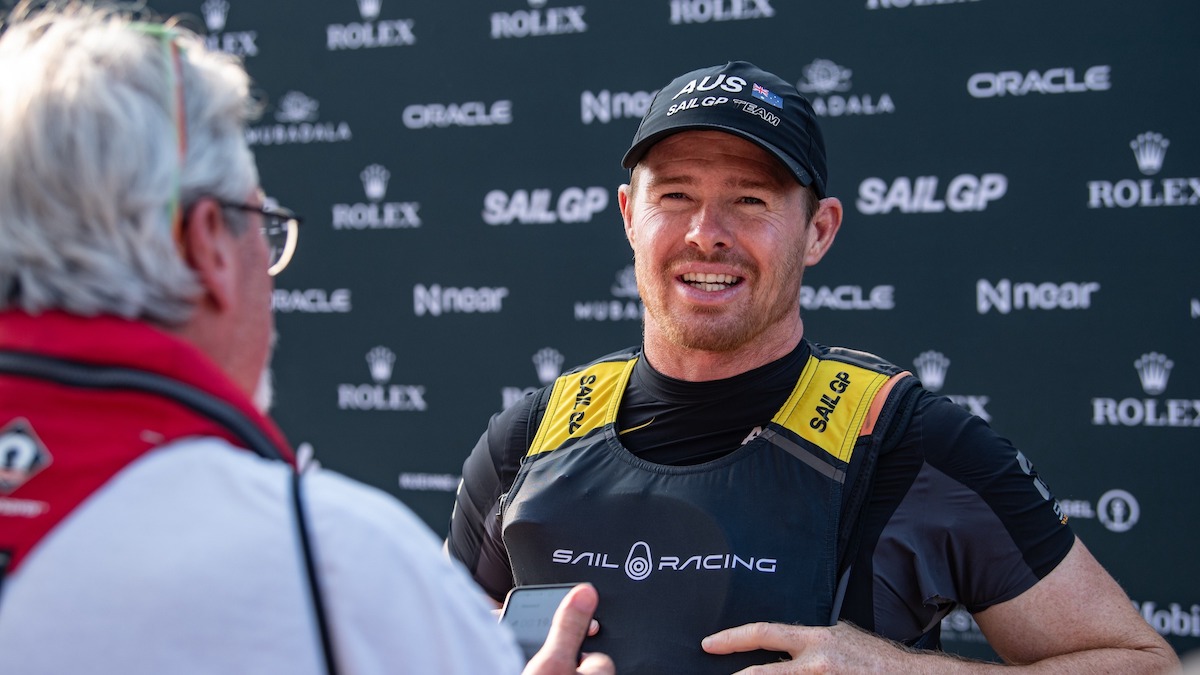 Spithill said: "I felt like we sailed better than anyone today. We showed that in the first two races today and then we were leading the final in marginal conditions. But we had a lot of purpose today. Without doubt, this was the toughest event we've ever had as a team given what happened to Hans yesterday. But he sent us a message this morning to 'get out there and crush it', and that's what we did."
As the final three-boat podium race took place, the wind started to shut off and despite the race management's best endeavours and trying to shorten the course, the 16 minute time limit came and went. With the termination of the final, this meant that Great Britain would be declared the winner – as the overall leader after the previous five races with an impressive 2-2-3-1-2 score line – with Australia taking second and the U.S. third.
Ainslie said: "It looked like USA was going to score a pretty historic win after a traumatic Saturday and then at the last minute we found some breeze on our own and it looked like we were going to go around the outside and take the win. Then they terminated the race. The emotions. It was a roller coaster ride, but I'm just delighted for the team after a really solid performance over the five races this weekend. It was a good win."
At the prize-winning ceremony, Ainslie gave Emirates GBR's strategist Hannah Mills credit for the team's win – due to her excellent ability to spot the best conditions to get the boat to the front of the fleet – and it was Mills that proudly lifted the winner's trophy aloft.
Mills said: "Considering how challenging it was I think we were literally at zero knots for quite a lot of the race, and it was so intense. We just kept calm and always felt like there was going to be an opportunity to get back into the race – and there was. But we ran out of time, so it was a tough race."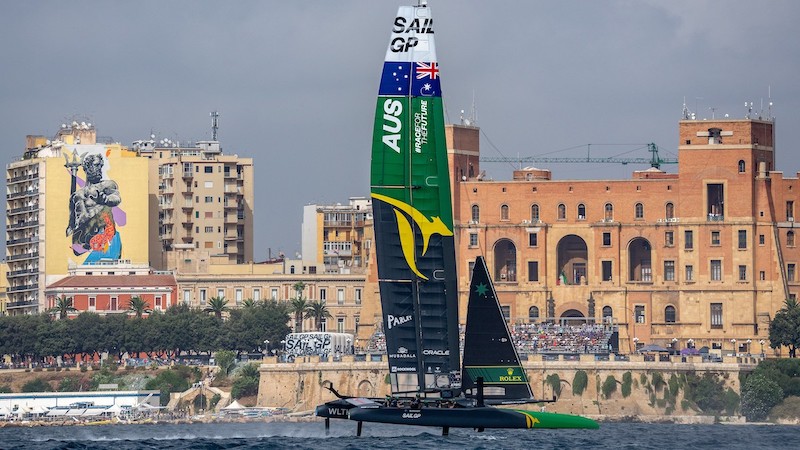 Reining Season Champions Australia made up the final podium spot and has hung onto its overall lead from Great Britain and Deigo Botin's Spain, although Slingsby is still looking for that elusive win in Season 4.
Slingsby said: "I think the British deserved the win. We found ourselves saying it's good for the overall points, but it would be nice to win. They had the best points and I think that's a lot fairer than if we finished that race somewhere and it would have been who's ahead at the right time. We got told when they called it off, we're ahead but I don't think we deserved to be ahead so I'm happy for the British."
The European leg of Season 4 of SailGP concludes in three weeks with the Spain Sail Grand Prix | Andalucia-Cadiz on October 14-15. The home team Spain currently sits in third place on the championship leader board and the team will be looking to get back in the event final and even clinch a win in front of the Spanish fans. For details and tickets head to SailGP.com/Spain.
ROCKWOOL ITALY SAIL GRAND PRIX | TARANTO FINAL STANDINGS
1 – Emirates GBR – 10 points
2 – Australia – 9 points
3 – United States – 8 points
4 – France – 7 points
5 – Canada – 6 points
6 – Spain – 5 points
7 – ROCKWOOL Denmark – 4 points
8 – Switzerland – 3 points*
9 – Germany – 2 points
SAILGP SEASON 4 CHAMPIONSHIP STANDINGS (after four events)
1 – Australia – 35 points
2 – Emirates GBR – 29 points
3 – Spain – 29 points
4 – ROCKWOOL Denmark – 27 points
5 – New Zealand – 23 points*
6 – United States – 22 points
7 – France – 20 points
8 – Canada – 18 points*
9 – Switzerland – 10 points
10 – Germany – 6 points*
*New Zealand SailGP Team unable to compete in Taranto due to the structural failure of the team's wingsail at France Sail Grand Prix | Saint-Tropez
*Germany SailGP Team docked two points in Season Championship for four-point penalty at Oracle Los Angeles Sail Grand Prix
*Canada SailGP Team Docked four points in Season Championship for eight-point penalty at France Sail Grand Prix | Saint-Tropez
For more information visit https://sailgp.com/