Mercury Marine first-year apprentice Joachim Lopez-Valoa has won the School-based Apprentice or Trainee of the Year award at the 69th Victorian Training Awards, earning the distinction of Victoria's top school-based apprentice for 2023.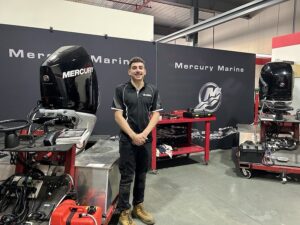 The 18-year-old is currently pursuing a Certificate III in Marine Mechanical Technologies and becomes the first Mercury school-based apprentice to win this award.
Mercury Marine ANZP Senior Field Service Manager Trevor Henri said the accomplishment reflects Joachim's strong work ethic and eagerness to learn.
"We could not be prouder of Joachim for this wonderful achievement," Trevor said.
"He is very enthusiastic and motivated and has shown a knack for being a strong problem solver thanks to his ability to pick up concepts quickly.
"For Mercury it is an honour to have someone from our apprenticeship program – the Mercury Academy – be recognised and it highlights our commitment to educating the next generation of marine mechanics."
The Mercury Academy operates in a partnership with Victorian TAFE provider, Kangan and Head Start, the Victorian Government's school-based apprenticeship and traineeship program for Victorian school students. The apprenticeship program provides students across Victoria with the opportunity to enter the marine industry through a four-year hands-on learning experience with guaranteed job prospects upon completion.
The Mercury Academy program began in 2018 to address the shortage of qualified marine mechanics, to raise awareness and to encourage young people to enter the Marine industry.
"The program began in 2018 due to our dealers experiencing a shortage of qualified mechanics," Trevor said.
"I was constantly getting calls from our dealership businesses that were and still are in desperate need of qualified people.
"It is part of a long-term plan to train up and prepare apprentices so once they are qualified, they can then move into the dealer network or fill any vacancies Mercury may have."
The program has been a success so far with Mercury and Mercury Dealers employing eight apprentices including Joachim as its school-based apprentice.
Joachim is based at Mercury Marine Australia's head office in Dandenong South, where he currently spends two days a week with Mercury.
"I chose to do a school-based apprenticeship to get real experience in a workshop," Joachim said.
"The value of doing an apprenticeship while I am still at school allows me to focus on valuable subjects that will help me in the workplace like maths and physics.
"I really like how the courses are set up and I find it really easy to shift from the theory to practical tasks, with the practical tasks really enforcing what I have just learnt.
"My future plans once I complete my schooling will be to become a qualified, full-time marine mechanic."
Joachim's responsibilities at Mercury include servicing and converting engines, helping with the preparation and setting up of displays for training sessions and boat shows, rigging engines and providing technical insight to customers.
This year Joachim has managed Year 12 studies at Cranbourne Secondary College, his apprenticeship and during the school holidays has undertaken practical work and assessments onsite at TAFE.
Currently employed on a part-time basis, once Joachim completes his school studies later this year he will transition to full-time employment and complete the final three years of his apprenticeship.
Joachim is set to represent Victoria at the 2023 Australian Training Awards later this year.
For more information visit www.mercurymarine.com