The new laws apply from 1st September to recreational vessels including personal water craft (PWC), tenders and sailing dinghies. The key changes include:
Carriage of an appropriate lifejacket for each person on board a vessel when on the water in WA;
Compulsory wearing of a lifejacket (Level 100) when more than 400 metres offshore in unprotected waters for children aged between one and 12 years and for everyone on board when the vessel is less than 4.8 metres;
When required, use of a GPS enabled emergency position indicating radio beacon (EPIRB), or GPS enabled personal locator beacon (PLB) phased in over five years; and
Five-year transition to more reliable VHF and HF radios required when four nautical miles offshore.
Last year the Department of Transport (DoT) launched a major education campaign to raise awareness of the transition with skippers told It's time to get on board. Supporting the campaign, DoT has launched a new locally produced video series telling the emotional and confronting stories of those who have lost loved ones or faced their own mortality in incidents on WA waterways.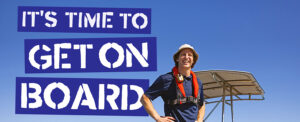 Boating Survivors – Their Stories presents the stories of five Western Australians whose lives were impacted following an on-water incident. The series highlights boating, diving and kayaking incidents including Shiralee's Story whose partner and three family members did not survive a return voyage from Rottnest on the vessel Yeah Buoy in 2018.
On-water incidents in WA claimed 57 lives in the past seven years – the same number as the previous 12 years. Over the past 10 years the average number of deaths per year increased to 7.1, significantly up on the previous ten-year average of 4.5.
"The introduction of more stringent safety equipment requirements for vessels marks a new chapter in boating safety and will reduce lives lost on the water in WA.
"The changes maximise technology improvements, particularly in regard to marine rescues, and ensure lifejackets are always carried and worn when risk is elevated while on the water.
"I encourage all boat owners to 'get on board' as they prepare to spend time on the water in spring and summer and act to comply with the new laws.
"I also strongly urge those planning to get out on the water to take the time to watch the new video series as each story delivers a key safety message that could help someone avoid a similar incident or save their family from the tragedy of losing a loved one." Said Minister Assisting the Transport Minister David Michael
For more details about the changes visit www.transport.wa.gov.au/safetyequipment
To keep up to date with all marine industry news visit www.marinebusinessnews.com.au