Zhik's new Seaboot 700 is extremely lightweight and flexible, giving the agility, feel and comfort of a modern trainer around the deck. Making clumpy boots a thing of the past, the boots weigh just 500g per boot and are designed for full-on offshore conditions yet light and versatile for moderate coastal cruising or racing.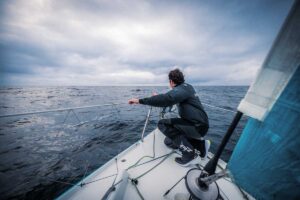 Inspired by technologies in motor racing and wet weather, Zhik has collaborated with tyre experts Michelin® in the creation of a bespoke mid and outer sole design. A special rubber formula has been created providing outstanding grip and manoeuvrability across different deck types, whether dry or awash. The boots have been endurance tested by a line up of top sailors including six times Round the World Yachtswoman, Dee Caffari, James Harayda and Yoann Richomme in their build up to the Vendee Globe Race and Figaro sailor Alan Roberts.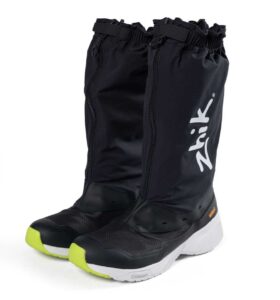 Inside, a specially formulated cushioned and supportive mid-sole ensures the boots remain secure and stable on your foot, yet are very flexible enabling easy kneeling and rapid movement around the boat. The midsole offers excellent thermal insulation from cold decks and icy waves and a Ortholite inner sole adds extra cushioning and arch support.
Fully waterproof and breathable too, Zhik have built on their partnership with eVent® using its direct diffusion and protective footwear technology. Inside the boots the eVprotective breathable membrane enables moisture vapour to escape through the waterproof outer which is constructed from a long-lasting, durable rip-stop fabric.
Route du Rhum winner, Yoann Richomme was testing the boots in the extreme range of conditions of the 2023 Fastnet Race and comments "For our enclosed IMOCA it's a perfect fit between a shoe and really heavy boot. They breathe quite nicely, it was hot and I wore cotton socks inside for 2 days to try and see if I could sweat, they handled it very well."
As well as providing excellent waterproof protection the Seaboot 700 has been engineered to give a supportive fit and be easy to pull on and off in a hurry. The ultra-fast lace system, together with multiple pull-on loops, means you can quickly pull the boots on. The fit is adjusted with one hand to secure the boots over your mid-layers or loosen them off for milder conditions.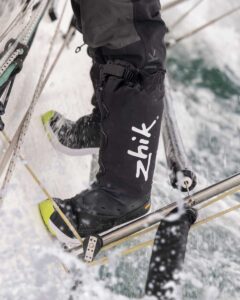 External stretch gaiters, with a strong 6mm anti-corrosion zip, are then secured over waterproof salopettes to protect from water ingress and improve aerodynamics at the base of your leg. An elastic hem at the top of the boots also prevents water flushing in from above, which is useful when working on deck in shorts.
James Harayda adds, "They were really dry, very comfortable, and held up to some pretty unforgiving use. For me, the biggest improvement was the ease at which I can put on and take off the boot and how comfortable they were while on. Overall, I'm a fan of them and will be sure to have them onboard for the TJV at the end of the year!"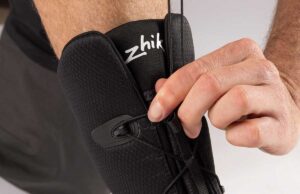 RRP
Available in Sizes US 06 – 13 (UK 5.5 – 12.5, Eur 38.7 – 48)
#MadeForWater