September 6 – The Australian Maritime Safety Authority (AMSA) has coordinated the rescue of three people on board a catamaran 835km Southeast of Cairns in the Coral Sea.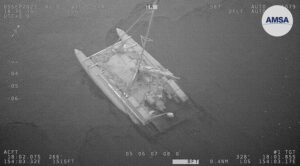 AMSA responded to a Russian-registered emergency position-indicating radio beacon (EPIRB) at 1:30am (AEST). The EPIRB was registered to a 9-meter inflatable catamaran Tion with three people on board. The vessel departed from Vanuatu and was bound for Cairns when contact was established. Both hulls of the vessel have been damaged following several shark attacks.
AMSA requested the assistance of Panama-flagged vehicle carrier Dugong Ace and tasked the Cairns-based Challenger Rescue Aircraft to the scene. Dugong Ace successfully conducted the rescue and collected three people: two Russian and one French citizen. They are due to arrive in Brisbane on Thursday morning.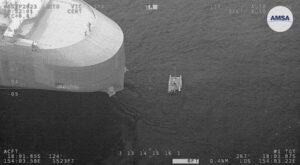 This is a timely reminder to always carry a distress beacon while on the water. GPS-equipped EPIRBs and personal locater beacons (PLBs) can save your life in an emergency. Make sure your distress beacon is properly registered with AMSA. More information at: beacons.amsa.gov.au
Images and Vision courtesy: Australian Maritime Safety Authority