Zhik's new range of waterproof back packs, dry bags and luggage are designed to keep your gear neat, compact and easy to transport. With multiple carrying options and handy features including a built-in touch sensitive pockets for your mobile device so you can pack it with confidence and use it with wet hands. The range has been completely re-engineered with a new submersible Duffel Bag and a Wheelie Bag joining the line.
Zhik 45L Submersible Waterproof Duffel/Backpack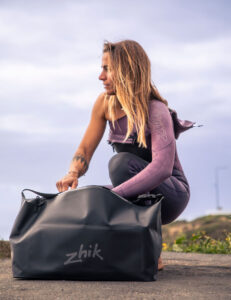 Zhik's completely new 45L Submersible Waterproof Duffel/Backpack has everything you need for your water-based adventures. It can expand for more gear or pack down in size, with three ways to carry it – sling, backpack and carry handle. Fully submersible, and made with durable 250 denier fabric and fully waterproof YKK® Aquaguard® zips, you can drop it into the dock without worry.
With a single, large main zipped opening, the bag is designed to be compressed to a compact, rectangular shape ensuring your gear will store neatly and stay in place, whichever way it is carried. It also makes the bag much easier to stow on board. Internal compartments will keep your wet and dry gear separate and transparent internal cargo pockets make accessories and smaller items easy to find.
Fitted with lightweight and stowable backpack straps, to make carrying easy and free up your hands, the main webbing strap can also convert to an over-shoulder sling.
RRP:
AUS $ 289.95
NZ $ 339.95
Zhik 6L Dry Bag
This practical lightweight 6 Litre Dry Bag keeps your smaller essential items protected from spray and splashes. A useful inner pocket with a touch sensitive waterproof screen allows you to see and use your phone in wet condtions while it stays dry and protected. The bags are supplied with durable Duraflex® buckles and attachment D ring, along with fully taped seams and branded with reflective detailing, making it easy to find in low light conditions.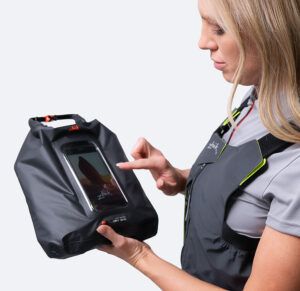 RRP:
AUS $ 37.95
NZ $ 44.95
Zhik 25L Dry Bag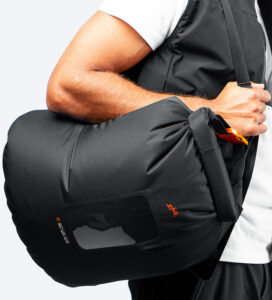 The larger 25L Dry Bag is designed with the same construction as the 6 Litre with the mobile friendly, touch sensitive waterproof pocket. The minimal seams are fully taped and the lightweight construction means this bag is small and highly packable when not in use. It has a simple roll top opening and Duraflex® clips to seal it together with a removeable carry strap.
RRP:
AUS $ 54.95
NZ $ 64.95
Zhik 30 L Dry Backpack
This highly durable 30L Backpack has been engineered for comfort whether you are commuting to the office or heading down to the boat. Made with a 210 denier water resistant fabric, this highly functional bag has multiple internal storage sections for your various items. Dedicated compartments enable you to organise your laptop, pack shoes and spare gear separately, keeping all the contents clean and protected for a multi-activity day.
Access the bag contents either through the top, or lie it flat and use the 'oyster-shell opening' for easy access and packing. The cushioned back panel and adjustable displacement shoulder and chest straps allow optimal weight distribution to ensure outstanding comfort when carrying the Backpack at full load for extended periods.
Duraflex® buckles are used throughout, with a water bottle holder, a variety of internal and external compartments and a buckle secured safety pocket for valuables. Side compression straps allow the bag to stay compact and neat on your back.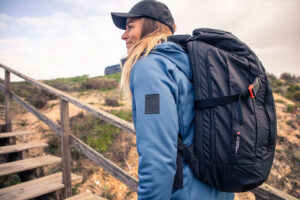 RRP:
AUS $169.95
NZ $ 184.95
Zhik 65L Kit Bag
The versatile Zhik 65L Kit Bag is designed to be your perfect event companion. It is easy to carry slung over your shoulder or for long walks down to the dock or use the padded backpack straps for travel transit and other longer distances.
Made with a robust water resistant 420 denier outer fabric the interior has a multitude of high vis orange compartments allowing you to easily organise and locate bulky gear and smaller items. The handy bright pockets mean you can separate your shore gear from performance kit and ensure smaller items and accessories are ready at hand and easy to see.
Internal compression straps help you secure your belongings and maximse the use of space whilst the large, split-pack design allows you to access your gear more quickly.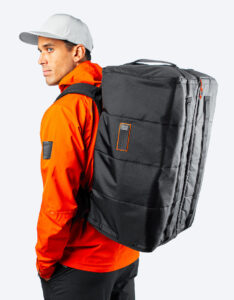 The 65L size is an ideal balance of carrying capacity for longer trips yet keeping the bag compact enough for comfortable carrying when fully loaded with wet sailing gear.
RRP:
AUS $ 199.95
NZ $ 239.95
Zhik 100L Wheelie Bag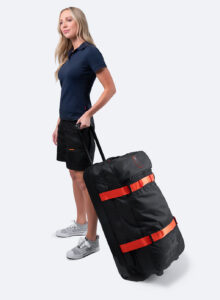 The new Zhik 100L Wheelie Bag is a robust half hard-shell roller with durable all-terrain wheels, designed to make travelling with large amounts of gear easy.
Designed to be adjustable in size, the bag features over-sized internal main compartments which can expand to fit your kit, with multiple zipped pockets and mesh zip sections to organise your gear. Robust external compression straps allow you to adjust the size of the bag to expand as required and fit neatly around the volume of contents.
On the outside, there's a quick access external pocket for travel documents and assorted strong lifting handles.
RRP:
AUS $ 379.95
NZ $ 449.95
#MadeForWater
Note: prices are as provided and updated by Zhik.  Consumers should contact their local distributors/retailers to confirm product prices.