The much loved and vitally important Ballina Jet Boat is back saving lives on the water after transitioning to the Marine Rescue NSW fleet.
Marine Rescue NSW Deputy Commissioner Darren Schott has welcomed the versatile rescue vessel to the Service's fleet with the boat named Ballina 21.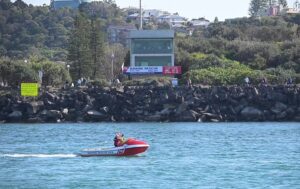 "Ballina Jet Boat commenced in 1971 and has been providing 52 years of service to the Ballina community.
"It would have been a tragedy for the service to have stopped for the Ballina community so it's great to see it continuing with Marine Rescue NSW," he said.
Deputy Commissioner Schott said Marine Rescue NSW recently accepted an opportunity to transition the vessel and members of Ballina Jet Boat to Marine Rescue Ballina.
"Those members have come over and joined and the assets of Ballina Jet Boat have also come to Marine Rescue NSW and will be operated out of Marine Rescue Ballina.
"I'm hoping in the future they'll be trained in other areas of Marine Rescue Ballina working on the other two vessels and having the opportunity to train in the vital radio safety network as radio operators for Marine Rescue Ballina," he said.
Deputy Commissioner Schott said the Ballina Bar is a high-risk waterway and the Jet Boat is an important asset for the Service's mission of saving lives on the water.
"The Jet Boat is a highly manoeuvrable boat and is excellent for working in waterways such as the Ballina Bar to perform rescues.
"It has performed a significant amount of rescues in that area over the past 52 years.
"It's a high speed vessel and obviously can get in and out of a situation very quickly and assist boaters who may have ended up in the water," Deputy Commissioner Schott said.
Marine Rescue Ballina Unit Commander Ken Delany said volunteers at the unit have welcomed the vessel with open arms.
"Very excited, it gives us a white water asset, a third asset to our fleet.
"It has a minimum draw so we can get up very shallow waters and it's also given us another half a dozen members, fully trained, it's a great asset to Ballina," he said.
Unit Commander Delany said Ballina 21 is an incredibly important live-saving asset for the community.
"Ballina will embrace it very well because it gives (the area) another rescue asset," Mr Delany said.
New Marine Rescue Ballina member and former Ballina Jet Boat volunteer Dave Carter said he was relieved when he learned that the vessel would continue to serve the region with Marine Rescue NSW.
"It's been an important local community service.
"Coming in under Marine Rescue gives us the systems and structures that we require moving forward.
"After 52 years of service, it really gives the opportunity to reset and restart and continue to serve the Ballina community," Mr Carter said.
After spending a number of years volunteering for the previous operator, Mr Carter said the move to Marine Rescue NSW has been seamless.
"We've been really happy and really impressed with the transition across to Marine Rescue.
"The engagement across the across the board from Marine Rescue has been tremendous.
"The support of the local Ballina unit has been more than we ever could have hoped for.
"At times it's been tough as we've worked through to get all our (Marine Rescue NSW) qualifications but the support and the local crews involved have been mentoring us and have made it a lot easier," he said.
Mr Carter spent almost five years as part of the Ballina Jet Boat crew until it ceased operating early last year.
"I didn't really understand how important it was to the community until a couple of years ago but then we were just overwhelmed with support across the board.
"It's a service that was started by locals to make their lives safer on the water.
"Over the years, it's been involved in numerous rescues and incidents where locals and visitors to our region alike have been saved.
"Being a small coastal community, if something does happen on the water, everyone feels it so it's important to have that service there.
"We've been generously supported by our local community over this time and it's good to be able to repay that faith in us with our service for Marine Rescue," he said.
Mr Carter said the Jet Boat could handle a variety of conditions.
"This vessel was custom built for the conditions here on the Ballina Bar and has performed numerous rescues over the years without a problem.
"Being able to negotiate the bar day or night and rescue multiple people has been where the Jet Boat has really proven its worth.
"The Jet Boat is crewed by local community members who all volunteer with their time and their expertise to make the waters of Ballina Shire a safer place," Mr Carter said.
Deputy Commissioner Schott also thanked Ballina Shire Council for their ongoing support of the vessel and the local Marine Rescue unit.
"Marine Rescue NSW is grateful for the support and assistance provided by Council and we look forward to growing our partnership with Council and making the waters of Ballina Shire as safe as possible," Mr Schott said.
Mayor of Ballina Shire Council, Cr. Sharon Cadwallader is delighted to have the Jet Boat back in the water.
"This is such a valuable asset for the Ballina Shire community.
"Council would also like to thank the brave community members that volunteer their time day and night to provide this important rescue service," she said.
For more information visit www.marinerescuensw.com.au