With entries for the 2023 Rolex Sydney Hobart Yacht Race closing soon and less than 70 days to its start on Sydney Harbour on Boxing Day, the organiser of the 628 nautical mile ocean classic, the Cruising Yacht Club of Australia, is encouraged by the quality and breadth of the fleet already confirmed.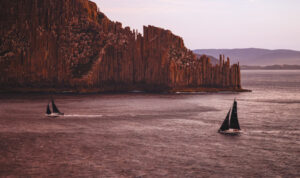 89 boats in total have entered to date.
There are nine international entries: Antipodes and SHK Scallywag (Hong Kong), Eye Candy (New Caledonia), Caro and Niksen (New Zealand), Lenny (USA), Teasing Machine (France), Rockall 8 (Germany) and Cinnamon Girl (Ireland). This list includes race yachts that have previously featured on Rolex Sydney Hobart podiums for both scratch (Line Honours) and handicap (IRC Overall) standings. It features boats that have triumphed in recent offshore races around the globe.
Local entries come from all states of Australia – 41 from NSW, 16 (QLD), 12 (VIC), one (SA), two (WA) and five (TAS) and represent some of the finest teams in the Southern Hemisphere.
The 2022 Rolex Sydney Hobart Overall Winner, Sam Hayne's TP52 Celestial will be back to defend her Tattersall Cup title, having also placed 2nd in the 2021 Race:
"Celestial is aiming to back up our 2022 overall victory and 2021 second place with another good showing for the 2023 RSHYR. Celestial has shown she is fast over the last few seasons. And we aim to step up again in performance. The crew lined up for 2023 is second to none in my opinion. Celestial will have some tweaks to rig and sail wardrobe to add an edge. Ultimately, we will do what we can for our yacht and campaign against what is a strong field. The Great Race, as it's known amongst the fleet, is the ultimate yachting event and we will do our best. Good luck to all the yachts and fellow sailors." – Sam Haynes.
The competition for Overall Honours is wide open across all divisions with the likes of the mini maxi crews of Alive (2018 Rolex Sydney Hobart winner), Antipodes (2023 Sydney to Auckland Ocean Race winner), Moneypenny (2022/23 Ocean Racing Team of the Year), No Limit, (3rd 2018 Rolex Sydney Hobart as Voodoo), URM Group (2023 Noakes Sydney Gold Coast winner) and Whisper (2022 Flinders Islet Race Line Honours and Overall winner), likely to be in contention, as will be the seven 52-footers that have featured in most major races and regattas in Australia over recent years. There are many other smaller race boats with great pedigree and results on the board that have been getting peoples attention in 2023 and, given the right conditions, could well take out the main prize.
20 competitors haven entered the PHS division and represent a broad range of racer/cruisers of all shapes, sizes and vintages.
Four 100-footers are lining up to contest Line Honours this year in pursuit of the coveted John H. Illingworth Challenge Cup. 2022 (and 2019) winner, John Winning Jr's Andoo Comanche returns, having been in formidable form over recent months:
"We've spent a lot of time in the offseason preparing the boat in an effort to extract as many performance gains as possible. We also have a whole new sail wardrobe from North Sails that we were able to test in the Winter races up north and feel comfortable with where we are at. However, there is still plenty more fine tuning to do and the remainder of the Audi Centre Sydney Blue Water Pointscore gives us a great platform to put the boat and crew through their paces. We can't wait for Boxing Day." – John 'Herman' Winning Jr.
The other three maxis have all featured in Line Honours results in recent years: Christian Beck's Law Connect (placed 2nd in its last three appearances), Seng Huang Lee's SHK Scallywag (3rd in 2021 and recently undertaking a major rebuild), and Grant Wharington's Wild Thing 100 (formerly the Botin 80, Stefan Racing – 6th and 4th in the last two Rolex Sydney Hobarts and now increased in length by 20 feet).
There are 14 intrepid teams making up the Two-Handed division, including 2022 Two-Handed IRC winner, Rupert Henry's Mistral and 3rd placed Peter Elkington's Pacman. The list is a who's who of short-handed sailing in Australia. Once again, it promises to be a tight tussle. 2021 inaugural winner, Jules Hall's Disko Trooper_Contender Sailcloth will be racing fully-crewed in 2023, but many of the other crews that have contended over the two years since the division's inclusion in 2021 will be on the start line on Boxing Day, including Kathy Veel and Bridget Canham who make a popular return on the diminutive Currawong which arrived on New Year's Eve last year to a rapturous reception.
The 78th Rolex Sydney Hobart Yacht Race is the final race in the six-race 2023/24 Audi Centre Sydney Blue Water Pointscore and is considered one of the world's greatest offshore races.
In the lead up to the race, the CYCA will also be hosting the 2023 Australian Maxi Championship (1 – 5 December) for the maxi and mini maxis who will be competing in the Rolex Sydney Hobart later in December.
For morre information visit rolexsydneyhobart.com