More than 30 Marine Rescue NSW volunteers from five units across the Northern Rivers and Mid North Coast will be in Brunswick Heads and Mullumbimby this weekend for flood rescue and operation induction training led by Marine Rescue NSW staff.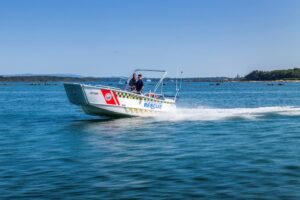 Marine Rescue NSW Deputy Commissioner Darren Schott said the activities will be held on and around the Brunswick River this Saturday and Sunday following the delivery of Marine Rescue NSW's first three Multi-Purpose Vessels that were funded by the State Government as part of recommendations from the 2022 NSW Flood Inquiry.
"This induction training focuses on building Marine Rescue NSW's on-water flood rescue capability in support of the NSW State Emergency Service when additional resources may be required during a weather emergency.
"Members from the Brunswick, Point Danger, Ballina, Evans Head and Port Macquarie units will be inducted in to the use of Marine Rescue NSW's new flood rescue resources including six metre Multi-Purpose Vessels, IRB, support vehicles and equipment.
"This program will enhance Marine Rescue NSW's flood operations response capability and enable us to deploy state-wide when the NSW SES or other agencies require assistance.
"If you see large numbers of Marine Rescue NSW volunteers and assets around Brunswick Heads and Mullumbimby this weekend, don't worry, they're taking part in important training.
"The community can be assured that in the event of a real emergency on our waterways, our rescue craft and crews are ready to respond," Deputy Commissioner Schott said.
Marine Rescue NSW is a volunteer based not-for-profit professional organisation dedicated to keeping boaters safe on the water and supporting local communities.