Marine Rescue NSW has taken delivery of three new custom designed multi-purpose vessels, which can be deployed quickly across NSW in the event of an emergency.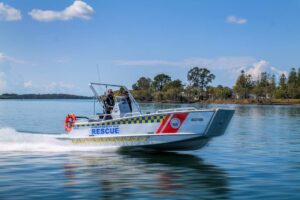 The vessels form part of Marine Rescue NSW's response to recommendations from the 2022 NSW Flood Inquiry with the Service receiving $3.748 million State Government funding to build capability and capacity to support NSW SES and other agencies during significant emergencies.
Minister for Emergency Services Jihad Dib said when the vessels are not tasked for flood response; they will be part of the Marine Rescue NSW fleet assisting boaters in need.
"The important thing about these vessels is that they can be used year-round.
"While they were funded off the back of the Flood Inquiry, the vessels will be used to help boaters on NSW waterways when they are not deployed for floods.
"These vessels have a shallow draft hull, which makes them easy to manoeuvre in challenging situations and to access a range of waterways.
"Whether these new vessels are used for a flood emergency or boating incident, the people of NSW should be confident that the fleet of rescue vessels in NSW is growing and that the committed volunteers at Marine Rescue NSW have their back as the weather warms up and boating season begins in earnest," Minister Dib said.
Marine Rescue NSW Senior Manager Fleet Kelvin Parkin said the first three vessels built by Yamba Welding and Engineering have been designed for ease of use.
"They carry twin 90 horsepower Suzuki outboard engines and will be a valuable asset in supporting flood rescue and recovery efforts and boaters on NSW waterways.
"They are capable of reaching a top speed of 35 knots and handle smoothly on the water, giving our volunteers a stable platform to perform rescues.
"The vessels feature a bow door allowing them to beach land and transfer people and supplies during an emergency.
"The MPVs carry a Raymarine multi-function display for chart and navigation work," Mr Parkin said.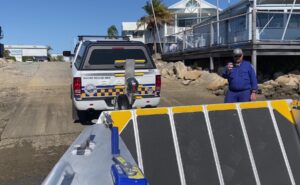 Significant work has gone into both the development of the MPVs and the location of the vessels.
The first three MPVs, named Marine Rescue 20, Marine Rescue 21 and Marine Rescue 22 have been allocated to Marine Rescue NSW units in the state's north.
MR 20 will be based at Evans Head, MR 21 will be located on the Tweed at the Point Danger Unit while MR 22 will call Port Macquarie home.
"Being state-wide assets these vessels will be deployed when called upon to assist other agencies and Marine Rescue NSW units," Mr Parkin said.
Five more MPVs will be delivered over the coming months along with eight new inflatable rescue boats while three heavy tow support vehicles and Personal Protective Equipment will complete the program.
For more information visit www.marinerescuensw.com.au