New Marine Safety SA Facebook page launches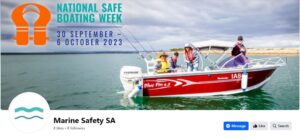 The Department has launched a dedicated Marine Safety SA Facebook page.
The new page will be the home of all things boating safety in South Australia, including helpful tips and updates on staying safe in and around the water, from our beautiful coastline to our stunning lakes and rivers.
Follow us to stay up to date with all the latest information and helpful tips and please leave a comment on the page to let us know what you would like to see in future posts.
Community engagement – Riverland and Yorke Peninsula field days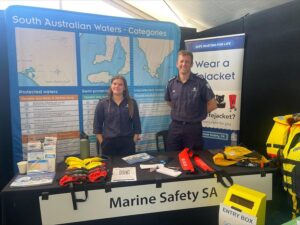 Our Marine Safety and Compliance team attend events throughout the year to help raise awareness of boating safety and to share helpful tips with boaters. This month, team visited the Riverland and Yorke Peninsula field days and gave two lucky winners a new lifejacket for subscribing to the Marine Safety SA newsletter.
The team will be heading to the Club Marine SA Boat and Fishing show / Australian 4WD and adventure show which will be held at the Adelaide showgrounds from Friday, 27 to Sunday, 29 October 2023. Come and say hello with your boating safety questions and subscribe to our newsletter for a chance to win a new lifejacket.
Safe operation – Navigate safely under the Paringa Bridge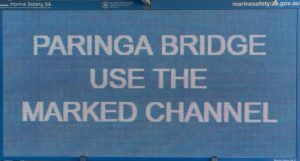 Have you seen our variable message board sign at the Big 4 boat ramp at Renmark? The sign includes messaging to remind vessel operators to navigate safely and use the marked navigation channel when operating under the Paringa Bridge.
There have been reports of some near misses with pilons under the bridge and people operating outside of the navigation channel.
Marine Safety Officers undertake regular patrols along the River Murray, however if you see anyone operating unsafely in the area, please submit a Marine Safety Concern.
Kayaking at reservoirs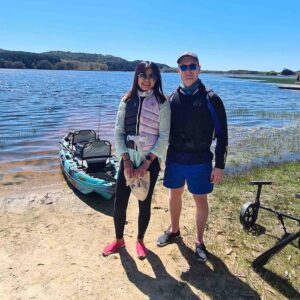 Many of South Australia's reservoirs are now open to kayaking and canoeing. Kayaks and canoes are welcome at Happy Valley, South Para, Warren, Myponga and Bundaleer reservoirs, with dedicated launch areas at each site.
If you're heading out, don't forget to pack your lifejacket. You must wear a lifejacket if kayaking or canoeing.
Pictured above are two happy kayakers who made sure they had their lifejackets on before heading out to enjoy fishing on Myponga Reservoir.
For those wanting to fish while on the reservoir please apply for a fishing permit via SA Water here.