The award-winning 43′ battery electric hybrid boat engineered and manufactured in the Hunter Region by Ampcontrol, Steber International, and the University of Newcastle was on show at the 2023 Indo-Pacific International Maritime Exposition.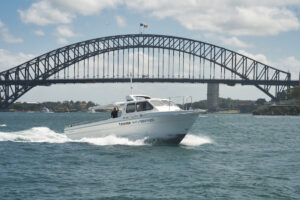 Docked at the Sydney Harbour Marina in November, the vessel and its advanced electric battery technology were on exhibition to a record number of delegates from over 40 nations and 700 defence industry organisations.
The 600kW plug-in hybrid power and propulsion system designed by Ampcontrol engineers offers a high-speed, whisper-quiet, zero-emission operating mode.
Dr. Steve Mitchell, Ampcontrol Engineering Manager, says the execution of the boat is an excellent example of the innovation that can be achieved through collaborative partnerships.
"Marine technology was previously outside of our area of focus as a business, however through radical thinking and collaboration, we have been able to de-risk our research and development activities to pave the way in developing commercially viable solutions suitable for applications across defence, government, and private sectors," said Dr. Mitchell.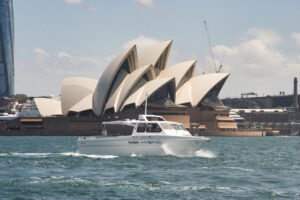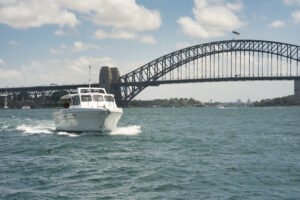 As part of the Indo Pacific International Maritime Exposition, Dr. Steve Mitchell presented at the International Conference Center in Darling Harbor on Day 1 of the Indo Pacific Maritime Conference. The presentation titled 'Hybrid Diesel-Electric Power and Propulsion System For Commercial Vessels' outlined the leading technology and expertise Ampcontrol used to create the 600kw Marine Plug-In Hybrid System.
Steber International, a leader in Australian boat manufacturing and industrial composite technology, approached Ampcontrol in 2018 to assist in developing a prototype for a hybrid police boat. The leading technology and expertise of Ampcontrol helped to create a power-efficient, quiet, and environmentally friendly boat without compromising on the cruising range.
Alan Steber, Steber International General Manager, said the project continues to show vast potential across the entire marine sector.
"Hybrid power sources for marine applications are being developed across the globe. We are proudly playing our part, working in partnership with industry leaders and innovators in Regional NSW," said Mr Steber.
Rod Henderson, Ampcontrol Managing Director & CEO who is meeting with Alan Steber at the exhibition on Wednesday 8 November 2023 to view boat said, "When we collaborate with the best, like Steber, we are able to deliver innovation that can transform the world."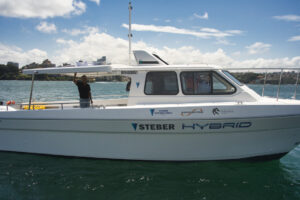 The recent addition of diesel generation into the electric power platform gives the boat a comparable operating range to conventional diesel vehicles. Other benefits include reduced operational costs, electric propulsion controllability, improved diesel engine efficiency due to a constant operational point, emission, noise and diesel vibration-free operation in electric mode, reduced CO2, NOx and carcinogenic particulate emissions in hybrid mode, integrative marine remote monitoring software for real-time position and status monitoring and vessel future-proofing to meet the upcoming maritime decarbonisation needs.
The Indo Pacific International Maritime Exposition is the region's premier commercial maritime and naval defence exposition, connecting Australian and international defence, industry, government, academia and technology leaders.
For more information visit ampcontrolgroup.com