Boat Builder Awards highlights significance of collaborative working and people development to drive industry forward
This year's Boat Builder Awards for Business Achievement, jointly organised by IBI and METSTRADE and held in association with Raymarine, saw Sanlorenzo's Massimo Perotti honoured for Lifetime Achievement, Josie Maher from Edencraft and Žiga Jarc from EJET named as this year's Rising Stars and boatbuilding companies and their supply chain partners celebrated for their innovations, breakthroughs, collaborations and sustainability initiatives.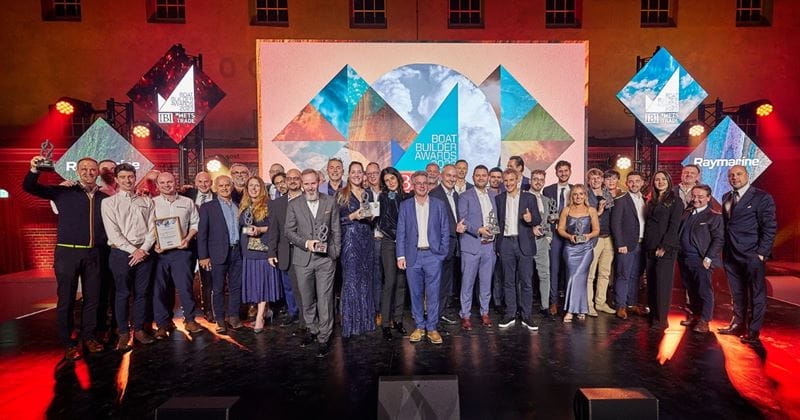 The ninth edition of the Boat Builder Awards accepted 90 nominations for final consideration across 11 categories that reflect key industry priorities – innovation, customer growth, sustainability and people and skills. A total of 36 companies from 14 countries were shortlisted as finalists, from which 12 winners and three Honourable Mentions were named.
The gala dinner and awards ceremony was held today, Thursday 16 November 2023, in the historic amphitheatre of the Amsterdam Maritime Museum's starlit covered courtyard. Guests were taken on a culinary and visual journey through the elements of water, air, earth and fire.
The full list of winners, honourable mentions and finalists, together with judges' comments, can be seen below and viewed on the Boat Builder Awards website – boatbuilderawards.com.
IBI editor in chief and chair of the Boat Builder Awards judges, Ed Slack, commented: "This year, sustainability has taken the spotlight, reflecting the industry's ongoing shift in focus towards environmental design and practices. Emerging innovative businesses are making their mark, breaking the mould in ways we could not have imagined even when we started these awards. There is also a lot of evidence in this year's entries that close collaboration within the marine sector as well as with specialists in other industries is ever more important to address challenges and create opportunities.
"Our awards ceremony is a tribute to the industry's strength, from large manufacturers to smaller players, alongside the individuals and teams that make things happen. This evening we once again recognised the industry's finest, celebrated their achievements and inspired the continued progress of the yacht manufacturing world."
METSTRADE Director Niels Klarenbeek continues: "The Boat Builder Awards has become a valuable part of the METSTRADE community for nine years now. It unites all involved in yacht construction, allied trades, and the suppliers of equipment and materials on a shared platform where we can meet and celebrate often unsung achievements. The fact that we had a strong field of entries from four continents this year is a testament to the international recognition and esteem that the Boat Builder Awards enjoy.
"Our theme this year drew inspiration from the elements to which we owe everything – earth, water, air, and fire. In a fitting finale we honoured one of our industry greats by naming Sanlorenzo's Massimo Perotti as this year's Lifetime Achievement recipient but also closed by honouring two highly talented Rising Stars already making their mark in Australia and Slovenia. We also saw amazing examples of innovation, people development and progress towards a more sustainable future, all of which provide good reasons to believe we have the right elements in place to deliver the promise of our industry in the year ahead."
Boat Builder Awards 2023 Winners
Customer of Tomorrow
WINNER – Axopar – x Agapi Boat Club
Judges' summary – Axopar invented a completely new genre in less than a decade with its adventure boats. Many in the industry didn't understand the launch concept at first – but customers did and demand has been exceptional. Axopar's strong partnership with an existing boat club is the logical next step, making its market desirable products accessible not just for owners but also experience-seeking boat users wanting lower capital commitment.
Finalist – RAND Boats – in partnership with GoBoat Connect
Finalist – TYDE – The Icon
Breakthrough Launch of the Year
Sponsored by High Pressure Watermakers
WINNER – HH Catamarans – HH44
Judges' summary – it's hard to create new niche markets in an already busy arena but HH Catamarans is doing just that with its high-performance sailing catamarans. The HH44 brings the company's genre of fast and comfortable cruising down to its lowest yet size but also incorporating solar power and hybrid propulsion as standard. A strong order book ahead of launch testifies to this being a truly breakthrough launch.
HONOURABLE MENTION – Prestige Yachts – M-Line
HONOURABLE MENTION – Sunseeker International – Superhawk 55
Finalist – TYDE – The Icon
Innovative Design Solution
Sponsored by Fusion
WINNER – TYDE – The Icon – glazing, flight control, digital helm, safety features and sound system
Judges' summary – the judges admired the developments demonstrated by each of the finalists. However, we could not escape from the fact that The Icon has thrown away the rule book and innovated multiple features that will surely influence thinking about what a leisure focused boat can be. We praised its glazing, flight control, digital helm, safety features and sound system but this award is also for the innovative impact of the whole boat.
Finalist – Artemis Technologies – eFoiler – foiling pilot boat
Finalist – Ferretti Yachts – INFYNITO 90 – All-Season Terrace, main deck layout, country kitchen and FSEA technology
Finalist – HH Catamarans – HH44 – Eco-drive system
Finalist – Sunseeker International – Superhawk 55 – aft deck and helm layout
Supply Chain Collaboration – production boats
Sponsored by Ultraflex
WINNER – Nautique Boat Company and Scanstrut – magnetic charger for 2024 ski boats
Judges' summary – Nautique challenged Scanstrut to provide automotive style convenience for mobile phones within a secure magnetic holder integrated into the dynamic and exposed environment of an open ski boat cockpit. After research and testing through 10 iterations Scanstrut produced a highly complementary and effective solution for Nautique's Helm Command Centre that adds obvious appeal for any would-be purchaser.
HONOURABLE MENTION – Highfield Boats and Zerojet –EJET 330 electric RIB
Finalist – Princess Yachts, Whisper Power and Sleipner – X80 and Y80 E2 Hotel Battery Pack
Supply Chain Collaboration – superyachts
WINNER – CRN, RINA Services and Weichai-Ballard – SUP-Y: Sustainable Powered Yacht
Judges' summary – This collaboration with fuel cell specialists Weichai-Ballard and certification and quality assurance specialist RINA has provided CRN with authenticated sustainable power architecture for its future superyacht builds. At a time when the environmental credentials of the larger yacht sector are being challenged, objective and quantifiable improvements are a welcome development.
Finalist – BSS and Lürssen – HISAC
Sustainability Project of the Year
Sponsored by ePropulsion
WINNER – Beneteau Group – recycling fibres into new builds
Judges' summary – all three finalists are tackling important environmental challenges for the marine sector. However, the judges decided to award the win to the Beneteau Group for its collaboration with Composite Recycling and Chomarat because it provides an answer to one of the largest issues of all – creating a viable second use option within the industry for the millions of GRP hulls manufactured in the last 60 years.
Finalist – Amer Yachts – Go Slowly campaign
Finalist – Azimut | Benetti Group – adoption of biofuel
Eco-focused Boat of the Year
Sponsored by Marine Resources
WINNER – IMPACD Boats – IMPACD 570
Judges' summary – IMPACD Boats made it to the finalist stage of this category in 2022 and we've watched their progress since as they have taken 3D printed boats into mainstream production and sales. The 570 is IMPACD's sixth highly practical model, trailblazing the potential for additive manufacturing. Well researched sustainable practices are embedded in this start-up's activities, making it our stand-out choice this year.
Finalist – Saffier Yachts – Saffier Se 24 Lite
Finalist – Sunreef Yachts – 80 Sunreef Power ECO
Designer of the Year
WINNER – Christian Gott – Fairline Yachts
Judges' summary – The valuable work of all finalists was keenly debated by the judges. Our final decision was influenced by our winner's rise through the ranks of Fairline. In 14 years, he progressed from a boatbuilder apprentice who studied for a design degree on his own initiative to being appointed as Lead Concept Designer. He is now responsible for styling the company's latest launches – including the impressive Squadron 58.
Finalist – Carl Kai Rand – Rand Boats
Finalist – Designworks, J&J Design and Tobias Hoffritz, TYDE – collaborators on TYDE The Icon
Finalist – James Hakes – HH Catamarans
People and Skills Development
WINNER – MIA, AIMEX and BIA – Australian Marine Jobs Initiative
Judges' summary – the judges were very impressed by the efforts of all three finalists here and the decision was difficult. However the Australian Marine Jobs Initiative was unanimously decided to be the winner this year. It is a very comprehensive, multi-layered programme that tackles the development, retention and recruitment of skills in an engaging way that also really sells the advantages of a career in the marine sector.
Finalist – British Marine – People & Skills programme
Finalist – Sunseeker International – Sunseeker Skills Academy
Rising Star
Sponsored by Lumishore
Josie Maher – Edencraft
Žiga Jarc – EJET
Judges' summary – This year's shortlist of boat building professionals aged 35 and under once again featured an impressive array of super talented people that deserve the recognition and the encouragement of everyone gathered here. In the end we selected two people as our Rising Stars for 2023. Žiga Jarc is the founder and CEO of innovative electric jet tender start-up EJET who has driven a remarkable amount of progress in a short time. Josie Maher has, in the words of her nominee, left an indelible mark since being appointed as the general manager of well-established Australian performance trailer boat manufacturer Edencraft.
In their relatively short careers, both of our recipients have demonstrated amazing potential and continue to really make a difference in their respective businesses.
Lifetime Achievement
Sponsored by Sleipner
Massimo Perotti – Sanlorenzo
Judges' summary – the recipient of this year's Lifetime Achievement award can claim two firsts – he is the youngest person so far to achieve this accolade and the only person to have achieved this status following a career spanning two separate boat building companies.
Our recipient rose rapidly through the ranks of Azimut to become its CEO in just 12 years, aged 36. Eight years later, after driving significant expansion in that business he left to take a majority stake in Sanlorenzo as its CEO and subsequently, its chairman. Under his tenure Sanlorenzo has grown its turnover from €42 million in 2004 to €740 million in 2022 and numbers of among the leading global builders of motor yachts and superyachts today.
Massimo Perotti has made major contributions not only to the companies he has led but also his national marine industry. He continues to drive Sanlorenzo's innovative product development today and the judges were unanimous in their decision that he should be named this year's Lifetime Achievement recipient, joining the Boat Builder Awards' roll call of industry greats.
Lifetime Achievement previous recipients
Paolo Vitelli – Azimut Benetti (2015)
Robert Braithwaite, CBE – Sunseeker International (2016)
David King – Princess Yachts (2017)
Annette Roux – Beneteau Group (2018)
Robert T Healey Sr and William J Healey – Viking Yachts (2019)
Christoph Rassy – Hallberg-Rassy (2020)
Leon Slikkers – Slickcraft, S2, Tiara and Pursuit (2021)
John Lu – Horizon Yachts (2022)List Item
About the Boat Builder Awards
The IBI-METSTRADE Boat Builder Awards for Business Achievement is jointly organised by METSTRADE, the world's leading platform for professionals in the leisure marine equipment industry with its flagship Marine Equipment Trade Show, and International Boat Industry magazine (IBI).
The headline sponsor and long-standing main supporter for the event is Raymarine. The category sponsors are ePropulsion, Fusion, HP Watermakers, Lumishore, Marine Resources, Sleipner Group and Ultraflex. Razeto & Casareto was this year's trophy creator and sponsor and the after-party sponsor was McKenna Townsend.
About METSTRADE 2023
METSTRADE is the world's largest trade exhibition for equipment, materials and systems for the global leisure marine industry. Organised by RAI Amsterdam in cooperation with ICOMIA (International Council of Marine Industry Associations), METSTRADE's target audience includes yacht builders, naval architects, refit yards, distributors, dealers, wholesalers, captains, marina owners and marine equipment manufacturers worldwide. The 35th anniversary edition of METSTRADE is running from 15-17 November 2023 at the RAI Convention Centre in Amsterdam.