The Melbourne Boat Show played host to a momentous occasion as the Boating Careers Apprentice of the Year and Boating Careers Apprentice Employer of the Year were revealed. The event was a resounding success, highlighting the dedication and expertise within the boating community.
Overall Apprentice of the Year – Nikola Skeldon, Nautek Marine
Apprentice of the Year (Marine Craft Construction) – Jay Jay Be Zar, Haines Hunter
Apprentice of the Year (Marine Mechanic) – Dimitri Giannikopoulos, Mercury Marine Australia & New Zealand
Apprentice Employer of the Year – Edencraft International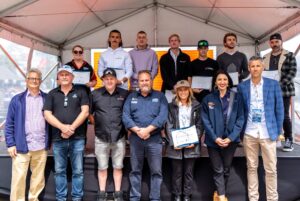 These remarkable individuals and companies have demonstrated exceptional commitment and skill in their respective fields, contributing significantly to the boating industry. Their hard work and dedication have not only enriched the industry but have also garnered admiration from the boating community at large.
BIAV extend their thanks to Katherine Grech from Better Boating Victoria and the BIAV Boating Careers Committee for their invaluable contributions. Their efforts have been instrumental in making this event a resounding success.
To all the finalists, BIAV extend their heartfelt congratulations. Your tireless efforts and unwavering passion for the boating industry have not gone unnoticed. Your contributions are invaluable, and the boating community is immensely grateful for the difference you make.
With talents like these, there's no doubt that the industry will continue to thrive and innovate. Due to the overwhelming interest and support of the industry in promoting competition next year, the Apprentice of the Year and Employer of the Year awards will be bigger and better than ever before.