Aurora Media Worldwide is taking to the water in an all-new challenge, as Broadcast Production Partner to the UIM E1 World Championship, the world's first all-electric raceboat series, which gets underway in Jeddah in early 2024.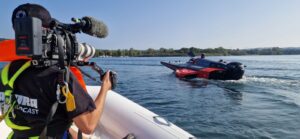 The multi award-winning agency renowned for capturing innovative, purpose-driven and stunning visual storytelling across sport, adventure and lifestyle, will provide the live racing action, highlights programming and a rich variety of behind-the-scenes content as this exciting new championship embarks on its first season.
The UIM E1 World Championship has the backing of some of the biggest names in the sporting and entertainment world, with team owners including Tom Brady, Rafael Nadal, Didier Drogba, Steve Aoki, Sergio Perez, and Virat Kohli. The series, established to create a new, competitive on- water racing proposition which uses the power of sport for the purpose of advancing clean aquatic mobility, kicks off in Jeddah and will include stages in Venice, Rotterdam and Monaco, with further locations currently being finalised.
This is a brilliant, global project. The show features cutting-edge foiling raceboats, mixed gender pilots from different. extreme sports backgrounds, going head-to-head in a quick, dynamic format. As you might expect, the creative armoury includes data feeds, AR and VR, drones, agile and on-board cameras to create the E1 signature. Gaming and Short Form continue to influence our approach. Lawrence Duffy, Aurora Managing Director
Specialising in the production of live and non-live content for ground-breaking global sporting events including Formula E, Extreme E, and SailGP, Aurora is recognised as a creator of innovative, purpose-driven productions which are widely distributed around the world.
We are proud to be partnering with Aurora. I have full confidence they will bring our ground-breaking raceboats, beautiful event locations, and talented pilots to life through a high-quality visual sporting experience which will provide fans with the best possible view to the action. In addition to world-class sporting action, we aim to take viewers on a journey that inspires us to more closely consider the effect of our actions on our lakes, waterways, coastlines and oceans, and our broadcast content will play a critical role in achieving this goal. Rodi Basso, Co-Founder and CEO of the UIM E1 World Championship
Up to ten teams will compete in the inaugural UIM E1 World Championship season, each battling it out to secure the coveted E1 title of Champions Of The Water. The teams will race using identical RaceBird boats during the first two seasons of the championship, with regulations being opened up in future seasons to allow teams and manufacturers to develop their own electric technologies.
Each team will choose two pilots to share driving duties throughout the event. The regulations set out by E1 and the UIM will mandate each team to select a mixed gender pilot line-up to ensure equal opportunities in the sport. The pilots will put their skills to the test using tight and technical racecourses located close to the shore.
To keep fans entertained throughout the event and limit any potential disruption to waterways, E1 races will be held over the course of two days. The first day will mainly consist of shakedown and practice sessions, with the knockout heats and finale taking place on the second day.
For more information visit www.e1series.com