30-year project enters its last stage with wind in its sails
120 new berths to bring total to 270, offering blue water access to the local region
Entire infrastructure of Shellharbour Marina to finish in April 2024
Visitors flock to popular new precinct with the recent opening of the Marina Services Centre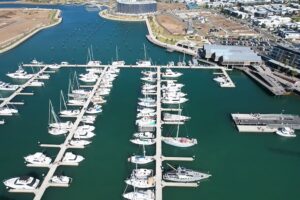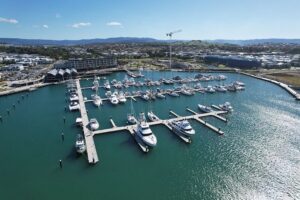 After a planning and development process spanning three decades, the final elements of the Shellharbour Marina at The Waterfront, Shell Cove community are underway.
The project by Shellharbour City Council, with Frasers Property Australia, saw the excavation of more than 1 million cubic metres of soil and rock, the remediation of the site and construction of the 12-hectare new harbour, 467m breakwater, 280m groyne and approximately 2.6km of surrounding boardwalk, promenades and shared paths.
The new harbour provides much needed direct blue water access to the Pacific Ocean and is a focal point for The Waterfront, Shell Cove.
And the precinct is already proving a major drawcard for the area, with Shellharbour City Council statistics showing an almost 30% increase in visitors between May and July 2023, compared to the same period last year.
Final works began this month, with the addition of 10 'fingers' to the existing marina walkway to accommodate 20 new 12m berths, one 14m berth, four 18m berths, and one 30m berth for larger vessels.
These new berths are expected to be ready by the end of November, with an additional 95 berths, ranging from 12m to 25m in length, to be completed by April 2024.
In addition, floating pontoons will be placed in the harbour via the existing heavy lift platform followed by the installation of services pillars for electricity and water, lighting, firefighting systems and life buoys.
When the work is complete it will mark the end of what has been a complex and multi-faceted infrastructure project designed to address a shortage of recreational boating facilities in the region.
The recent opening of the adjacent Marina Services Centre saw the addition of a publicly accessible green space, public amenities, ensuites, laundry and customer lounge to the range of facilities available to marina users.
Shellharbour Mayor Chris Homer says when the final berths are installed it will be a significant moment for the Shell Cove community, which is already home to over 9,500 residents.
"This represents an enormous volume of work from the teams at Shellharbour City Council and Frasers Property over more than 30 years on what is the jewel in the crown of this beautiful development," Mr Homer says.