Airlie Beach in the heart of the Whitsundays was the destination for Horizon owners and friends to gather for the fifth Horizon Australia Rendezvous.
More than 100 guests and 10 magnificent Horizon yachts berthed at Coral Sea Marina and Resort for four days of socialising and sharing their diverse yachting experiences.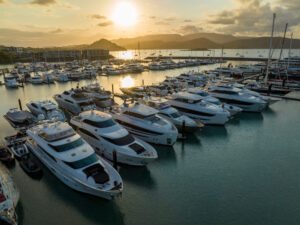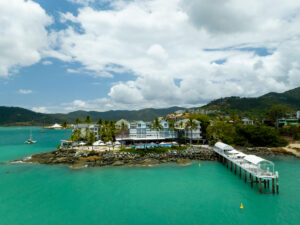 This year's Rendezvous commenced with a casual poolside soiree, where those who arrived by sea could stretch their land legs and those who arrived by plane, from as far away as Perth, Adelaide and New Zealand, could unwind and relish the fragrant tropical air.
Hosts, Horizon Australia's Mark Western, Erica Rae, Tony Jones, Jessica Pyke-Nott, Brad Flexman and Liam Phibbs, welcomed owners and their families and friends and presented their "Rendezvous kit" – an hibiscus-print duffel bursting with useful gear including sunscreen, wine cooler, towel, buoyant keyring, and a vivid blue 2023 Horizon Rendezvous T-shirt.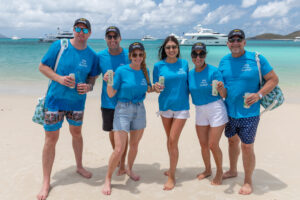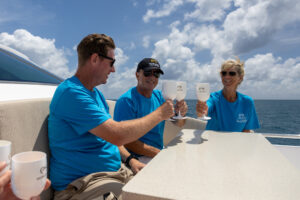 Then, with the sublime backdrop of swaying palms, turquoise waters and islands beckoning in the distance, guests got down to the serious business of 'meet and mingle'.
After settling into the impeccably renovated Coral Sea Resort, some guests choose to dine at the poolside restaurant. Spoilt for choice, others ventured to the restaurants along the marina or into the village, an easy 1km walk away.
The next day dawned in customary Whitsunday style – sun peering through atmospheric clouds, clearing to intense azure – and the next social occasion on the agenda was the traditional Melbourne Cup "White Lunch".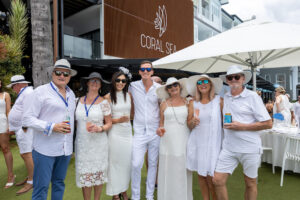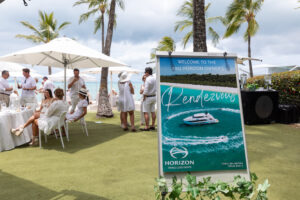 Held alfresco on the beach, with market umbrellas for relief from the sun, the lunch was the ideal opportunity to learn more about each other, savour the exceptional cuisine the region's famous for, and place a few bets on the epic 'Race that stops the nation', complete with MC, "Hawko" from Ladbrokes offering tips and calling the action.
Once the race was run and won, the Horizon team presented guests with prizes for Best Dressed and lucky door prizes, with gifts donated by sponsors, The Boat Works, Benson & Brown, Aus Coast Yacht Management and Highfield, plus a range of Horizon apparel.
Day three was the pinnacle: the entire fleet travelled in formation to iconic Whitehaven Beach, famous for its powder-fine silica sand lapped by iridescent turquoise water.
The fleet comprised: Horizon RP100 (Stock vessel), Horizon FD103 Askari, Horizon E98 Sovereign Lady, Horizon E94 Black Legion, Horizon E84 Le Bateau, Horizon E75 Wine Down, Horizon E75 Laguna, Horizon V72 Placidity and Horizon PC52 Aurora.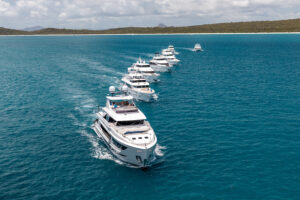 An early start for nine Horizons from Coral Sea Marina was rewarded with breakfast, a reviving coffee or two, and more time to get to know each other and discuss boating aspirations.
The imposing-looking fleet was captured from above with drones and from a helicopter by the team from Ocean Creative House, giving guests gathered on the foredecks a thrill with several close passes.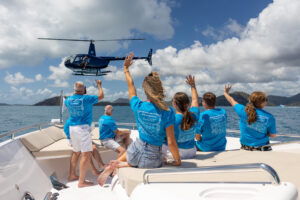 Before anchoring in the picturesque Whitehaven lagoon, Horizon Yacht Australia Director, Mark Western organised owners or their Captains into a line and coordinated the most thrilling race of the week – Horizon Yachts vying for the title of 2023 Rendezvous Champions.
These majestic vessels steaming to an indeterminate finish line was a sight to behold from the beach and Highfield RIB tenders which followed alongside at 40 knots, and even more stirring for the owners and guests of the nine-strong armada.
Despite some contention, the contest ended in a victory to Horizon E84 Le Bateau, owned by Cameron and Larna, from Ballarat, Victoria.
Their first Rendezvous with their own boat, Cameron and Larna were extremely pleased to emerge with this year's honours.
"There was a formal dispute lodged by Askari, but we know we won!" Cameron joked.
"It's a lot of fun, great people and they've been so helpful. It's our first boat and we had a lot to learn."
Cameron and Larna, their two children and Cameron's brother and dad all use Le Bateau, exploring Port Phillip Bay and around Queenscliff.
"My brother and I are 6-foot-six so we had to have a boat with heaps of head room. None of the other brands matched Horizon. And the enclosed flybridge is important for us, because of the unpredictable weather in Melbourne."
From Airlie, Cameron and Larna will cruise Le Bateau to the Gold Coast for berthing and servicing at Horizon headquarters at Sanctuary Cove, then they're planning to spend New Year's Eve on Sydney Harbour, before heading back to their home port.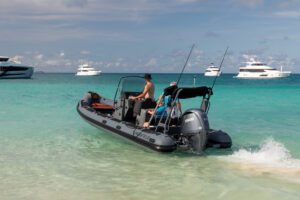 Once transported nimbly to shore by the Highfield Boats – a Sport 660 and Sport 700, provided by Northside Marine, Brisbane – the 100 guests were greeted by the capable team from Fish D'vine, considered an Airlie Beach institution and popular with visiting yachts for seafood and other delicacies.
Experts at catering on the islands of the Whitsundays, Fish D'vine CEO Grant Wilson and his crew arrived at 3am to set up the 5-star beach restaurant for the Horizon Long Table Lunch.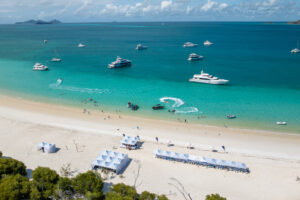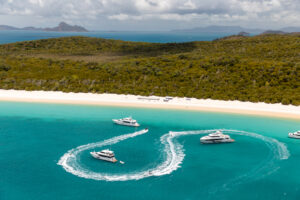 "Every event is different because of the theme, the clients, and especially something like this beautiful fleet of Horizons pulling in – quite incredible!"
A lavish spread of seafood, cold cuts and salads of all sorts to rival a Christmas lunch, guests spent the rest of the afternoon swimming in the serene and salty waters, trying their skills on the Red Shark aquatic bikes and wishing time would stand still.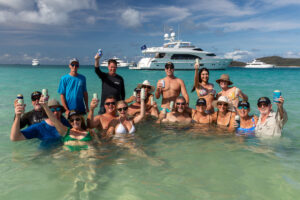 For some owners, this was their fifth Horizon Australia Rendezvous, "an unmissable event on the calendar", as declared by Maurice owner of the Horizon E84, Kokomo, based in Auckland.
"The Horizon team are really excellent – they can't do enough to help, whatever is needed," he said. "Getting together like this, sharing our love of boating, is the icing on the cake. It's marvellous."
From Mandurah, WA, Tanya and Phil, owners of the Horizon V72, Placidity, have enjoyed many years of cruising adventures aboard their vessel, from the Kimberly Coast over the top and along the east coast, basing themselves at Mackay for a season.
They loved the laid-back hospitality and warm welcome from the Horizon Australia team, and meeting owners from all over the country, and NZ.
Rebecca and Scott, from Sovereign Islands and owners of the impressive Horizon E94, Black Legion, said they were thrilled to be a part of the 2023 Rendezvous. "It is like a family reunion," said Rebecca. "We enjoy seeing other Horizon owners who share common interests and a love of boating."
They chose Black Legion, which Scott described as "a very social boat", for its layout, performance and seaworthiness.
"It looks tough," he said. "And it's a game boat and a white boat, all in one. We can reach 26 knots and host 15 people on board, the galley is very social and the layout is segregated for crew.
"On the day we bought it, we went out through the Seaway under the worst conditions, and it handled beautifully."
Bruce and partner Kerry arrived from the Sunshine Coast aboard the Horizon V68, Larica – an amalgam of his granddaughters' names.
"I have four daughters and a son, and grandchildren," said Bruce. "I've had several boats, and when I was looking for a motor yacht with more volume, lots of room to spread out and dedicated crew accommodation, Horizon was the choice for our next stage of boating."
Aboard Larica, Bruce and his family and friends have explored the Whitsundays, Noosa and Tin Can Bay.
Victorian couple, Rod and Shelley own the Horizon E75, Wine Down, based at Port of Airlie. For them, highlights included the Melbourne Cup "White Lunch" on the expertly decorated, beachfront tables. "Excellent views, fantastic company, a lot of fun and laughter – what more could you want?" said Rod.
Debbie and daughter Sam, owners of the Horizon V74 SAMM, joined the group from Brisbane, this year without their boat, but eager to reconnect with fellow owners.
"It's a lot of fun, and it IS like an extended family," said Debbie. "Everybody has inspiring stories and we all get along."
Representing event sponsor, Mulpha and Sanctuary Cove where he is Marina Manager, Steve Sammes travelled to Airlie Beach with his wife Helen.
"Horizon is the longest standing tenant at Sanctuary Cove and we're proud to sponsor their Rendezvous," he said.
"As well as enjoying the water, the fun and good food and great company, it's important to listen to our customers and take on board their observations and requests.
"Meeting Horizon owners in a relaxed, social setting is a great way of finding out what we can do to enhance their experience."
Owners of the head-turning Horizon FD103, Askari, with its custom-designed, full-beam flybridge, massive swim platform and dog-friendly features, Malcolm and Peter praised Mark and his team for the "wonderful and well organised" event.
"They managed the logistics really well, especially the Whitehaven lunch, with tenders, jetskis and such fabulous food," said Malcolm.
Askari had 10 or so guests on board, making for a highly social atmosphere, and probably some extra ballast when it came to competing in the
Said Malcolm of the contentious victor's claims, "The only reason Le Bateau won was because they kept going after the rest of the fleet stopped and turned around! Anyhow, we're happy for them to take the lid this year. It's all a bit of fun."
Chris and Leanne, who have owned the Horizon E73 "Orea" for two years and are now moving up to a Horizon FD90, first came to the Whitsundays from Melbourne 12 years ago. They got hooked on the fishing and laidback lifestyle and bought their first Horizon which they enjoy with family, friends and their staff.
"The biggest highlight for us is meeting new people, sharing experiences and listening to their stories," said Chris.
Drew and Jenny, formerly owners of a Horizon V74, divide their time between homes in Adelaide, Sanctuary Cove and Hamilton Islands and have a motor yacht suited to their boating at each. "We wouldn't miss the Horizon Rendezvous," said Jenny. "Always fun, friendly, great experience. We have to go home for a rest!"
Graham and Sharon from the Sunshine Coast are owners of a 65-foot multihull and are keen to eventually move into the Horizon brand.
They were besotted with the dazzling scenery and camaraderie of the Long Table Lunch at Whitehaven Beach. Graham couldn't get over the delectable feast and the breathtaking backdrop, and described the experience (topped off with an impromptu boogie and snacks aboard the Horizon RP100!) as "the best day of my life – bar none!" A mighty big claim, but one he was sticking to.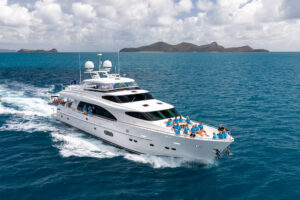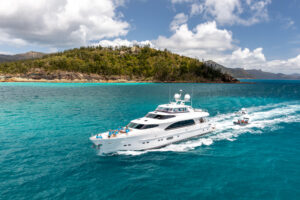 Owner of Horizon E98 Sovereign Lady, Greg Alder, agreed and commented, "This year's Rendezvous was seamlessly run and extremely enjoyable. As well as people I've known for many years, it was awesome to meet new people, long-time Horizon owners and people new to Horizon. Three days was just the right amount of time to have some fun, get out on the water and make some great contacts."
Greg is Managing Director at Alder Developments, building the master planned residential community, Airlie Summit, positioned above Airlie with spectacular views and surrounded by National Park.
Horizon owners and their guests were hosted by Greg and his team for a farewell breakfast at the site, where in March 2024, the first architecturally-designed homes will be built. "Seven lots of 16 in the first stage have already sold," said Greg. "It's a rare opportunity to build in this sough-after section of Airlie and make the Whitsundays your playground."
From there, owners and guests departed – either returning home or onward to cruising adventures in the island paradise of the Whitsundays and the Great Barrier Reef.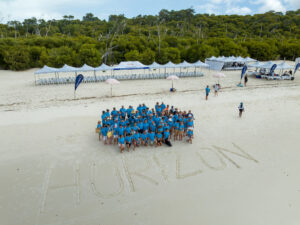 Queensland State Manager for Club Marine, Justin Lye was excited to join such a passionate community of boat owners and see them sharing their knowledge and experiences.
"Meeting customers from all over Australia is fantastic," he commented.
"For Club Marine, partnerships like these are all about advocacy, safety and confidence on the water. Making a long passage like that can be daunting, and migrations such as these are really valuable for raising owners' confidence and skills, which in turn, raises their enjoyment of boating.
"The Horizon team really went out of their way to make everyone feel like part of the family. It was fun, friendly and a great time. It's a real credit to them."
Wrapping up the 2023 Horizon Rendezvous, Mark Western said he was ecstatic with the effusive feedback. "The very next day, people emailed or called to say 'top event', which is very pleasing.
"A lot of work goes into organising and executing our Rendezvous and it's heartening when our owners appreciate it. We're grateful to everyone who attended for their enthusiasm and their loyalty to Horizon. They go to the effort of bringing their boats and inviting friends, and that's what makes the event a success. It's a magic combination."
Not missing a beat, the Horizon Australia team are now back at their Sanctuary Cove headquarters and already working on the 2024 Horizon Open House in March, and planning Rendezvous 2024, which they promise will have "a Western twist" – a not-so-cryptic reference to the mystery destination and play on Mark's surname.
"You'll have to wait and see, but we can tell you the new destination will be as thrilling and mesmerising as the Whitsundays and just as much fun," hinted Mark.