Five Marine Rescue NSW members from the Iluka Yamba unit in the state's north have been presented long-service medals and clasps by Her Excellency the Honourable Margaret Beazley AC KC, Governor of New South Wales during a ceremony at Yamba Marina.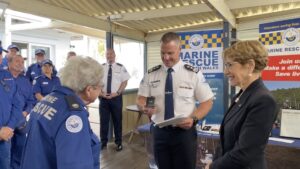 Collectively the five volunteers have contributed a combined 90 years of service with Marine Rescue NSW.
Her Excellency presented Jean Dengate and Elaine Pike with 30-year Marine Rescue NSW second long service clasps while Linda Baker, Frank Bond and Matthew McLennan received 10-year Marine Rescue NSW long service medals.
Marine Rescue NSW Commissioner Alex Barrell congratulated the five dedicated volunteers at the unit.
"The work that Marine Rescue New South Wales does right along the state's coastline is done by our wonderful volunteers.
"It's great to be at Iluka Yamba to celebrate and recognise 90 years of combined service and to thank all our members right across New South Wales for the lifesaving work that they do on the waterways of New South Wales," Commissioner Barrell said.
Former Wooli Unit Commander Matthew McLennan recently moved to the Iluka Yamba unit after joining the Service in February 2013 and said volunteering is vital especially in regional communities.
"Having been on the water a lot myself, I know the risks involved and having some well-trained people available to help out is useful.
"It takes a lot out of your time, your work commitments and your family commitments but I believe that at the end of the day someone needs to step up to the plate and do these jobs.
"Helping people out who are in trouble gives you a good sense of satisfaction," McLennan said.
Marine Rescue NSW Commissioner Alex Barrell and members of the unit also displayed the Service's on-water capability to Her Excellency during a demonstration on board Marine Rescue vessel Iluka Yamba 30.
Marine Rescue NSW is a volunteer based not-for-profit professional organisation dedicated to keeping boaters safe on the water and supporting local communities.