More details on the 72.8-metre superyacht Predator have been revealed since being newly listed earlier this year.
Alex Banning of SuperYachtsMonaco and Predator captain, Greg Drewes provide further details on the yacht that broke records upon her launch, known as one of the quietest Feadships ever built, with an impressive top speed of 25 knots.
Built by Dutch yard Feadship in 2008, the steel-hulled yacht was both designed and engineered by naval architects Feadship De Voogt, with sports and interior design by Bannerberg and Rowell.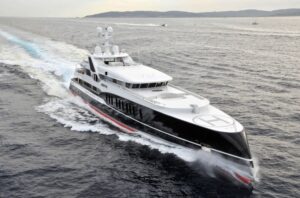 Alex Banning Director at SuperYachtsMonaco discusses the world-class yacht's best features in a new interview:
Are there any interior features worth noting that have not yet been covered? How did the interior change during her refit in 2016?
"The biggest change and it's very important to convey is that she is now a five suite layout, increased from just three. This is a big deal, as it was a hangover from the past and previous press on the yacht's layout. The fact she is Bannenberg & Rowell and therefore top pedigree, and has extremely current modern styling, are also very important points to highlight."
What are its best features outwardly? (is there anything that really sets it apart?)
"Her exterior styling in its entirety. There is no other yacht on the planet that looks like her. Every single element of her design, architecture, engineering and hull are fully custom. You can name any single element on that yacht in terms of design and it is custom. Her bow sets her apart mainly, and remains today the first bow in superyachts to have the alternative shape. It isn't just pretty, it's also functional, efficient, safe and more comfortable.
"This is a Rolls Royce Feadship, quite literally. Predator is fast, good-looking, super-silent, and finished to the best levels in the world of yachts. In fact, the finishing is better than a Rolls Royce (or any other car). Speed is the other feature worth mentioning, as she will do 25 knots – yachts of this size usually do 17 maximum. This is a steel hull, a round bilge full-to-semi displacement hull, so she's not lightweight. Yet, she still does 25 knots maximum speed, with no vibration.
"She is unique in her class, size and volume range. There is no other yacht anywhere like Predator anywhere in the world."
It's reported that in terms of performance, Predator is one of the quietest Feadship yachts ever built, why is this?
"This is because she has four MTU engines, Rolls Royce controllable pitch propellers, Renk custom gearboxes and enormous amounts of horsepower. Her efficient design and weight management comes from the best yacht builders/designers in the world.
"Predator is a Formula 1 car in terms of people and technology. Her feel and finishing, however, are a thousand times more luxurious! Even with all that machinery and horsepower, the noise and vibration reduction is nothing short of amazing. This is achieved by getting it right from the ground up. Resilient mounts everywhere, floating floors, and vibration panels on bulkheads.
"Feadship as the builder remains a key element to this level of execution and eventual success, because if the builder lacks experience at this level, the likelihood of failure is very high indeed. Frankly for speed, it is hard to make this element exciting because modern cars, for example, make it seem normal and benign. With yachts, throw in multi-dimensional elements to deal with, movement, waves, wind, steel, installed equipment, people, and a very big body of water, and the difficulties are exponential. Succeeding to this level achieved with Predator is unheard of."
Any state-of-the-art features worth mentioning?
"The engine room, its temple of technology, construction. The construction isn't typical, everything looks heavy, solid and "thick", however in reality it's lightweight, yet retains solidity, form and the same look as a "slow yacht". This is no mean feat. To execute the owners requirements of speed, silence and no vibration at this size, means that the time, engineering, planning, design and focus required by the team and builder to execute is at a different level of expertise. Imagine, if the weight was wrong, they fail. If the yacht does not perform at sea, they fail. With a slower yacht, there is more latitude and with a high speed yacht, there is minute amounts of latitude and the levels of accuracy required in executing all areas of the build are super-high levels. To repeat such a yacht would cost close to double of the asking price of Predator and take around four to five years to complete."
We understand her current Captain has been present since the beginning. How did he affect the build of the vessel and the running of her since?
Alex hands over to Predator Captain Greg Drewes for comment:
"As far as the desires of the owner, he submitted a letter to Devries Feadship stating that I had 100% control over the decision making for the entire project. He asked me to put my entire life at sea into a yacht like no other. His primary requests were to make it quiet, to have no vibration, and 25 knots top speed without a turbine.
"I then had him agree to Dickie Bannenberg for the interior, as I would put all my energy into all else. Interiors are not my strong suit and Bannenberg is fantastic. I did design the pilot house after the original design was not to my liking or the owner's.
"The bow was originally a typical flared bow. A naval architect named Jaap Van Kuelen, working for De Voogt pulled me aside and asked how I liked his new drawing. Jaap and I had become close over the course of the original specs and design.The drawing was the reverse bow and the owner and I reversed the pilot house windows. I presented his design to the owner and he loved it as much as I did, asking if it was feasible. I said "only after model testing.
"Three weeks of testing at Marin in Holland and we proceeded to build Predator. Jaap Van Kuelen also helped to design the two tenders that at the time were the only tenders in the yachting world to resemble the yacht they belong to. Jaap died a few years after we launched Predator.
"A great man, friend and very much missed."
What's next for the Predator and what type of owner would really benefit?
"This one is easy, a new owner who will use her. She is on her second owner now and hasn't been cruising for three years (she only has 2,200 hours since delivery). She "needs" a new home. Her new owner we expect will be a person who wants the ability to go fast in total comfort. She has the ability to go anywhere in the world and having four engines doesn't mean she can simply go fast. Transit at 10 knots and you can go anywhere in the world, a few times on a single tank of fuel!
"She has all of the modern amenities on board, including a beach club, that many new owners require. She is more "sexy" than an "explorer" yacht, so one would expect her new owner to be of the next generation of yacht owners who want the best out there, willing to pay for the best also. She could be suited for a fleet owner who needs a yacht that will go faster than the rest in the fleet, or, she might go to an owner who is reaching the pinnacle of their yachting time and simply wants an icon. No matter who she goes to next, we know that person will be as unique as she is, and we can't wait to place her in the hands of owner number three!"
For more information on Predator, please click here: https://www.superyachtsmonaco.com/sales/predator/