The perfect setup for solar sailing: Meet Christian Gröbmüller, who custom-built a BIGA 270 with solar and hydrogeneration technology so he can enjoy endless silent, emission-free days on the water.
Quiet and peaceful, the Stella is moored at a buoy on glassy Lake Ammer in Upper Bavaria. Christian Gröbmüller takes a dinghy out to his sailboat, removes the tarpaulin and climbs aboard. He hasn't been on his boat for three weeks so he looks around, wipes pollen and leaves off the cabin roof, and checks the capacity of the batteries: five green bars, 100 percent. The nearest charging option is only 400 meters away at the yacht club, but he doesn't need to plug in. He presses a button and the Torqeedo Cruise Pod electric motor whirs into action, quietly propelling the Stella across the lake.
Everything happens so naturally and smoothly that you'd almost forget this is the fulfillment of a long-cherished dream. "I'd always wanted a boat so I could travel electrically and emission-free," Christian says, "With enough power for four to five days at sea." After much tinkering, research and discussions with experts, he tested the Stella and his system for five weeks on the Baltic Sea. Christian is not only a dreamer; he also finds ways to make his dreams come true.
It is a perfect late-summer day with not a cloud in the clear blue sky. "And not a breath of wind either," Christian remarks. The sail hangs limply from the mast, as if tired from the long break from sailing. Some distance away, he notices the water rippling and yanks the rudder around. "This is our chance," he says and pushes the throttle down. But as soon as the boat reaches the spot, the breeze dies. Christian grins. He loves playing with the wind.
THE ADVANTAGES OF ELECTRIC MOBILITY
Sailing is a way of life in the Gröbmüller family. His father was a sailor, he is one too, and his children feel most at home on the water. That's why he'd always dreamed of having his own sailboat. In 2022, this dream came true – with a BIGA 270, 2.5 m wide, 8.5 m long. And because he's an electric motor enthusiast, it was obvious to him that he wouldn't have a diesel engine in his boat.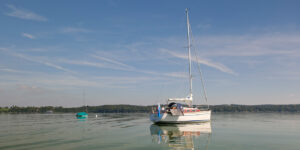 Anyone who's ever driven an electric car knows this is the future, he says: "The best propulsion for a sailboat is good sails; the second-best is an electric motor." He recites its advantages as devotedly as if they were a Shakespeare sonnet: "It's sustainable, low-maintenance, quiet, odorless, much lighter than a diesel engine, and much smaller as well, which gives me extra storage space." He takes a breath and then continues: "I can recharge at the mooring, the necessary infrastructure exists everywhere, and an electric drive can also be used on inland waters, such as here on Lake Ammer, where the Stella is at home."
NO WIND, LOTS OF ELECTRICITY
If there's no wind, at least there has to be electricity, Christian says, and attaches his mobile 400-watt solar panels to the railing of the boat. He decided against a permanently installed solar system "because the shadows change so dynamically when sailing." This way, he can optimally align it. On days with little wind, he uses the solar cells as a "range extender" and sails on solar energy. "When the sun's shining nicely, two knots are possible without taking power from the battery. At four knots, 30% of the power comes from the sun." He smiles. "That feels really good."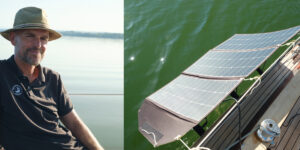 During the long Baltic trip, wind and sun conditions were good, so the 10 kWh (2 x Power 48-5000) batteries rarely dropped below 85 percent charge. Once, when he had to sail six nautical miles into a 20-knot wind, the reading dropped to 70 percent. "Every time I headed into a harbor, other sailors would come up to me after I'd docked," he recalls. They couldn't believe he was sailing with an electric drive – and that it still had so much power. "Everyone who's seen it thinks it's mega."
THE LONG SEARCH FOR THE RIGHT TECHNOLOGY
While searching for wind, Christian recalls the wildest moments of the Baltic tour. During the first week, two of his closest friends had visited him, both experienced sailors. "My comfort zone is actually wind force two to four," he says. But with his friends, he says, he sometimes stayed out in stronger winds. "At wind force seven (28-33 kts) and higher, it was really quite fresh out on the Baltic." But that's what makes it so appealing: "Being out there and holding your own with the elements through good planning."
The Stella is about 150-200 kg lighter with batteries and an electric motor than with a diesel engine and 50 liters of diesel. That's good for her handling qualities. Opening the engine hatch reveals another advantage: the space is only one-third full and there's room for bikes, SUPs and other toys. After much research, Christian decided on a Torqeedo Pod motor: "They come from this region here so they're practically my neighbors." He also says it's easier to get service and spare parts thanks to Torqeedo's market leadership. But the most important argument is hydrogeneration – Torqeedo's Pod motors become hydroelectric power plants under sail and charge the battery. When the propeller turns through the speed of moving through the water, that movement charges the battery.
After two intense weeks of sailing, his wife joined him on board. Together they explored the picturesque coastal towns of the beautiful Baltic. Gently gliding across the water with the quiet hum of the electric motor in the background was the perfect backdrop for romantic evenings on board. His solar sailboat offers all the advantages combustion-powered sailboats have, Christian explains. And that's important to him: "Electromobility doesn't mean doing without something." But of course, he was meticulous in putting together his equipment to ensure his devices consumed as little electricity as possible.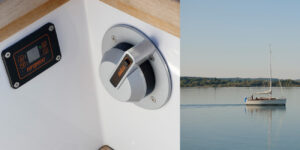 While Christian reports on his experiences, the Stella presents her advantages. Thanks to solar energy, this environment-friendly boat glides quietly across Lake Ammer. He is visibly proud of his sailboat – not least because Stella is a dream come true in two ways. Before the Covid-19 pandemic, he was working in sales for a US company. "I lived more at airports than I did at home." When the big lockdown arrived, he remembered that his dream as a teenager had always been to one day work as a sailing instructor. In 2021, he quit his sales job and since then has been touring with sailing pupils for ten weeks a year. He seems very satisfied. The Stella is both proof that sailing can be sustainable even when there's no wind and a symbol of Christian's self-realization.
The sun slowly sinks over the lake and Christian steers the Stella back to the mooring. He's already thinking about the future and is convinced electric motors will play an important role in sailing. "The future of sailing is electric," he says. And that, he adds, reinforces what has always fascinated him about sailing. "You can prepare for all the possibilities, but then you're out at sea and have to react." That's why he enjoyed weighing up the different options, thinking about how to charge his batteries, and comparing equipment and panels.
"I'd always fancied circumnavigating the Baltic Sea emission-free in the future," he says. He'd always said that was a trip for the year his son came of age. In January 2023, his son turned 17. The future is now.
Fro more information visit www.torqeedo.com