As Dave Murray, Director at Ultimate Marine Power (UMP), distributor for Humphree in Australia, explains, "Humphree's all speed stabilising fins show some great benefits over conventional hydraulic stabilising fins".
For 10 years, UMP have been the Australian distributor for Humphree Trim and Stabilization systems, supplying leading boat manufacturers such as Riviera, Fleming, Grand Banks and Palm Beach Motor Yachts, as well as retrofitting into leisure and commercial vessels from 30 to 150-feet.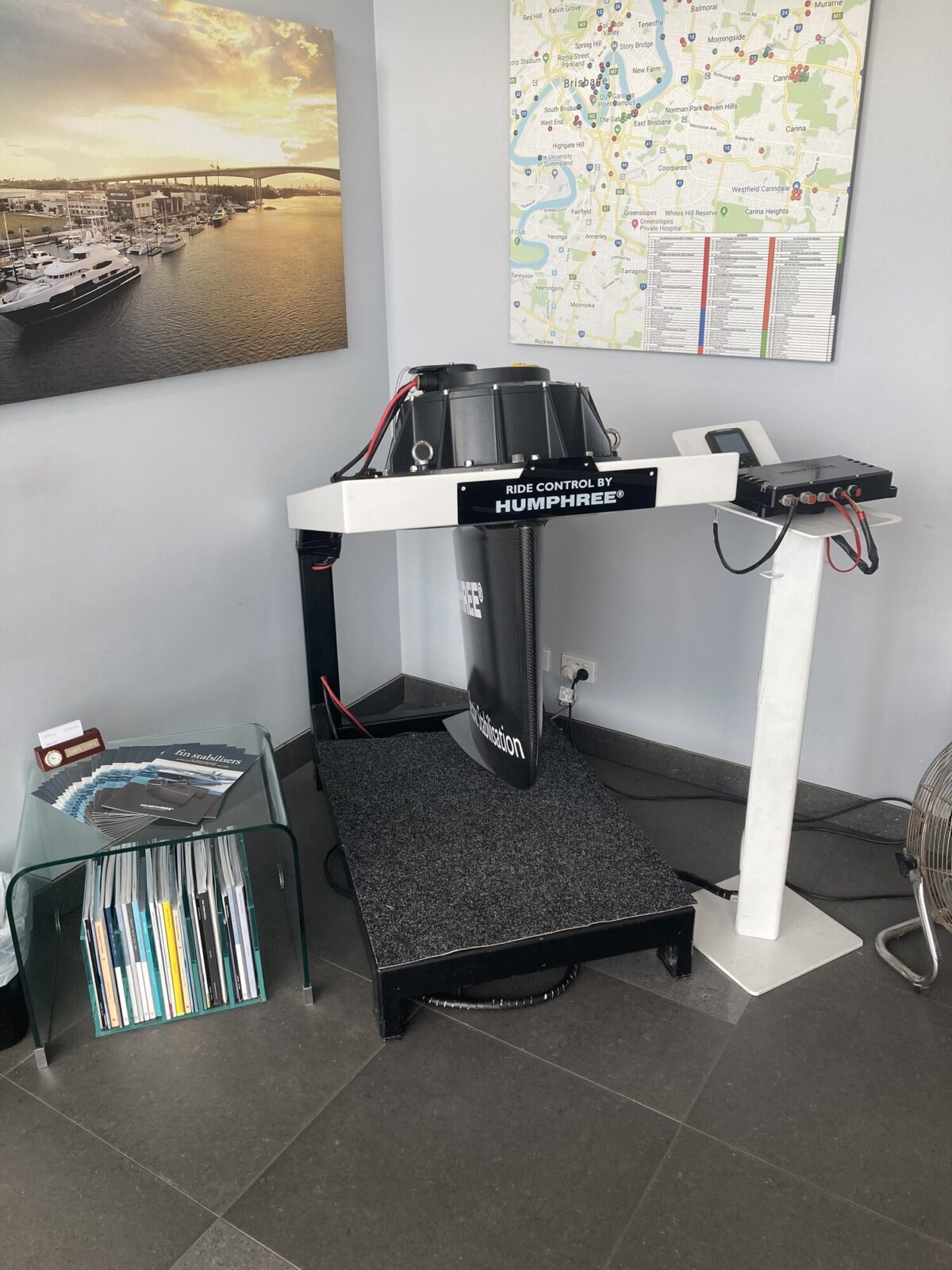 A compact display in the foyer at Rivergate Marina & Shipyard of the Humphree all speed stabilising fins
Humphree is a Swedish brand, founded in 2001 and based in Gothenburg. They initially specialised in producing interceptor systems, which provide a similar function to trim tabs in being able to adjust the vessels trim and list while underway, however, the Humphree interceptors are able to move much faster than other trim systems, so in addition to providing trim control they can also provide effective roll and pitch stabilisation while the vessel is underway.
The stabiliser fins are a relatively new product from Humphree and suit vessels 40 to 150-feet, however they have proven themselves and can be found as factory options with many production shipyards.
Typical applications for the fins are in the leisure market, whereas the interceptor's suit both commercial and recreational craft from 10 to 100m (330ft). Humphree is equally popular with Navy and patrol boats.

"Humphree fins systems provide a 60 to 80 percent roll reduction at rest and underway. The advantage and their real strength is they work at both rest and underway at speed.
"The main difference is they use an all-electric motor, rather than hydraulic. That means they run off a 24 Volt DC battery pack, rather than a generator allowing the vessel to be run silently. A notable unique feature is that fin can rotate 360°, so when the vessel is at anchor the fins are rotated to face towards the bow and paddle backwards against the anchor, solving anchor walk."
They are also more compact and lighter than most other stabilizers, at just 500mm diameter by 300mm high and each servo unit weighing 100kg. Additionally, the fins have been designed shaftless design, so that in the worst case that the boat is involved in an accident, the fin is designed to shear away without damaging the boat or servo unit.
Yet another advantage is the low maintenance and longevity.
"Every four years, we replace the seals, but other than that, there is no extra maintenance required. They are built to last," Dave adds.
"For retrofit installation, every boat is different when it comes to retrofitting a Humphree system," asserts Dave. "Some are easily slotted in, other boats need some extra engineering for strength. So we assess each project on an individual basis."
The latest model Fleming 65, which was on show at the 2021 Sanctuary Cove International Boat Show in May, was fitted with Humphree All Speed Fin Stabilizers – the first factory-fitted model with the Humphree system.
The owner had previously cruised for 10 years in a Fleming 55 and specified stabilization at rest was imperative in his new vessel. Also installed on the vessel are lithium ion house batteries, which work hand in hand with the DC 24 Volt electric stabilizer.
"The Fin stabilizer outperforms a gyro underway, and being a passage-maker vessel this is important," says Sam Nicholas from Fleming.
"At rest, hydraulic stabilizer needs to run on the main engines or generator. The fact that Humphree fins work silently at rest is an added bonus.
"In light sea conditions, such as a calm day on Sydney Harbour, you're not using any power. When a ferry goes past with its wash, the fins will run on the lithium ion house batteries. In stronger swell conditions, it will start the generator if the stabilizers need to work harder."
Humphree stabilizers are now standard on the new Fleming 85, with hull number 1 currently in production featuring a hull designed by Norman R. Wright and Sons.
"Humphree is now an option on all Fleming models," says Sam. "And they are standard on the 85 with the whole Mastervolt Lithium system, including batteries, inverters and chargers."
UMP have been based in the Rivergate Marina & Shipyard precinct for 13 years and have recently moved into larger premises to give them additional warehouse and workshop space to respond to increasing demand for the installation and design of hybrid and electric propulsion and stabilisation systems.
UMP is a leading supplier of innovative marine equipment and components to commercial ferry operators throughout Australasia and the Australian Navy landing craft.
Andrew Cannon, General Manager at Rivergate says UMP is a great asset and valuable source of business flowing into the precinct.
Being located within the Rivergate precinct is extremely valuable to UMP, whose clients are able to take advantage of the deepwater access regardless of tides, the lift capacity, 24/7 refuelling and diverse range of marine professionals on-site.