Brisbane is on the crest of a marine industry apprentice boom with a new wave of opportunities expected from a proposed Trade Centre of Excellence at Rivergate Marina and Shipyard.
The state-of-the-art facility would position Australia as a world leader in training and skilling a global marine workforce as well as significantly enhancing the services on offer across the country.
It would provide marine courses and practical, customised hands-on learning, together with research and development activities, all in one central location.
As a COVID-inspired boating boom hits full throttle in Australia, there will be an unprecedented demand for quality tradespeople to conduct vital refit, repair and maintenance work on luxury private vessels, including superyachts.
Defence and commercial maritime sectors are also undergoing strong growth, which will require more skilled workers in the future.
Rivergate Marina and Shipyard Director Tom Hill said plans for a $200 million expansion of the Brisbane River facility included Australia's first Trade Centre of Excellence for marine industry training.
"Our region is already well known around the world for our highly skilled workforce and top quality service standards," Mr Hill said.
"We are now planning to build on that reputation by making Rivergate a global incubator for innovation and excellence in more than 25 marine-related trades and professions," he said.
"This will include collaborating closely with groups such as TAFE Queensland to ensure we are teaching the right skills and keeping Australia at the forefront of global advancements."
TAFE Queensland Maritime Employment, Skills and Training Officer, Adam Chanter, said the sector needed a workforce capable of accommodating the industry boom, which meant businesses needed to focus strongly on apprenticeship and training.
"The Rivergate expansion is an exciting premise to see the increased capability of marine and maritime related training that will help support the growth of all related industries, be it superyachts, commercial, manufacturing, refit, Defence or maritime tourism," he said.
"Through key relationships with existing educational pillars, including TAFE Queensland, the Rivergate Trade Centre of Excellence presents an exciting opportunity to bolster the existing educational and training services provided across Queensland."
  "When considering the future skills profile of the sector, workforce planning to develop a 5-10 year training and skills plan to embed advanced manufacturing capability needs to be front and centre."
"The skills plan would focus on domestic manufacturing output potential, particularly where the use of micro-credentials and digital technologies are in demand."
Mr Chanter said it would also be vital to develop workplace mentors to help retain new entrants into the workforce, especially those employees on an apprenticeship pathway.
The multi award-winning Rivergate Marina and Shipyard was established in 2006 and is now recognised as one of the top three superyacht shipyards in the world. It is widely respected by superyacht owners and crew for its services, safe environment and warm hospitality.
Plans for the expansion are at an advanced stage with a Development Application lodged and construction ready to commence in 2021.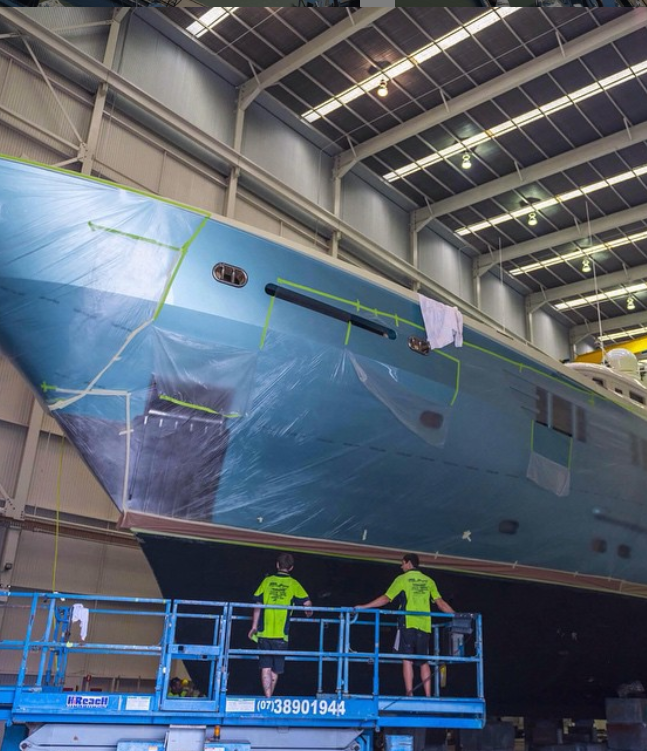 MY "Aquamarina" receiving a new coat of antifoul