The next boot Düsseldorf will take place from 22 to 30 January 2022. Messe Düsseldorf has decided to hold boot 2022 as planned after consultations with the exhibiting branches and consistent implementation of the current Covid Protection Ordinance of the State of North Rhine-Westphalia. Oriented to the regulations that apply to the retail trade, only visitors who comply with the vaccinated or recovered regulation may enter the fairgrounds during boot. In addition, wearing a particle filtering half or medical mask is compulsory in all halls. The latest air exchange regulators also ensure a regular supply of fresh air in the exhibition halls.
Messe Düsseldorf CEO Wolfram Diener: "Messe Düsseldorf has a responsibility towards both the exhibitors and the large water sports community to hold boot 2022. Since we already updated our access regulations a fortnight ago with regard to the vaccinated or recovered regulations, we are fully on track with boot 2022 even under the new regulations in the current Covid Protection Ordinance. With our tried and tested hygiene concept 'PROTaction', we will offer all participants a safe trade fair. The approval from the water sports industry for boot 2022 is good. We will be able to put on another boot in 2022 to kick off the new season."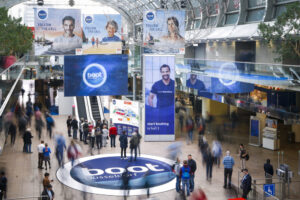 The non-participation of some luxury, sailing yacht and motor boat manufacturers is regrettable and objectively incomprehensible for Messe Düsseldorf, adds boot Project Director Petros Michelidakis. However, with global market leaders such as Princess and Sunseeker in the luxury yacht, Bavaria Yachtbau as Germany's largest sports boat manufacturer and Hallberg Rassy in the sailing boat segment, there is "a lot on offer" and a great boat show with a wide range of products for the visitors.
Michelidakis: "We are very happy about the good support of our friends from the boating industry. Our partner associations, the German Marine Federation and, at international level, the European Boating Industry, are also working with great commitment and enthusiasm to plan a successful boot 2022".
Overall, the Düsseldorf trade fair organizers can look forward to good support from the exhibiting industries. There will also be hands-on activities such as the surf wave "THE WAVE", wingsurfing and foiling on the 65m long action pool or trial diving in the new diving tower thanks to the chlorine-disinfected water. Masks are compulsory in audience and the required distance regulations are consistently observed.
The exhibitors are already in the starting blocks for boot. For more information, visit the boot Düsseldorf website here.