The Mercury Marine Technician of the Year competition looked a little bit different in 2021.
With 150 questions and 35 minutes, this year's technicians had just 14 seconds to answer each question in a Covid-19 friendly online competition.
According to this year's winner, Craig Bell from Hodge Marine South Australia, his victory was thanks to his vast selection of retained knowledge of Mercury engines.
"I've been a technician since 1990, working on everything – from Outboards to MerCruisers and beyond," Craig said.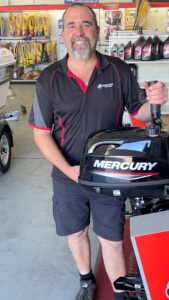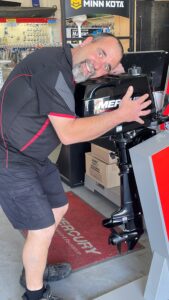 "Because of the experience we gain on these engines, plus the very comprehensive Mercury University learning we do, I have a diverse knowledge of a broad range of engines.
"I've participated in the Technician of the Year competitions for the past three years. In 2018 I placed fourth and in 2019 I came third.
"In the past competitions I've had a bit of performance anxiety because we were in front of judges and cameras, but this year I was on my own with nothing but a computer. I was able to be more relaxed and I think that's what helped me secure the win!
"It's incredibly exciting and rewarding to be awarded first place for the competition in 2021.
"My brother and I have owned Hodge Marine for 20 years and have won Dealer of the Year for South Australia ten times – so to add this win is a big victory for us."
The competition run by Mercury Marine is in its fourth year of running and is all part of Mercury's commitment to showcase the exceptional technicians who operate, fix and sell Mercury engines.
This year, 24 highly skilled technicians in each region across Australia and New Zealand battled it out in a tense and fast-paced online competition that tested their diverse knowledge.
In previous years, technicians were narrowed down to a grand final showdown, where they were given several engines with different problems and were asked to diagnose and repair each in a short timeframe.
"While it's disappointing that we couldn't have our competition in-person like usual this year, it certainly did bring to the forefront just how knowledgeable our technicians are – even under this kind of exam pressure," said Mercury's Director of Engine Product, Aftersales and Marketing Nicholas Webb.
"The questions were very difficult and covered almost everything Mercury, including Outboard, MerCruiser, MotorGuide, SmartCraft, Diesel, Joystick and Service Administration.
"At Mercury we continue to be impressed by the calibre of competitors, they were able to step-up to the challenge of an online exam and excel. A special congratulations is deserved for our winner, Craig Bell, and this year's runner up, James Taylor."
2021 Technician of the Year – Mercury Marine
1st Place – Craig Bell – Hodge Marine, South Australia
2nd Place – James Taylor – Firmans Marine Centre, New Zealand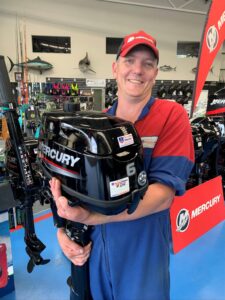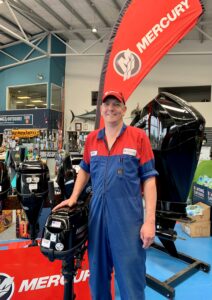 Every competitor this year received a portable waterproof Bluetooth speaker, and the finalist prize winners received a Mercury FourStroke 6hp Outboard.
When asked what he's going to do with the engine, Craig explained that he's planning on playing the long game.
"I think I'll just have to win again next year and make myself a dual-powered boat!"