When Kristy and Dave Everson discovered a convenient car park for their motorhome next to Riviera representative Sun Country Coastal in Newport Beach, they had no idea their life would change forever.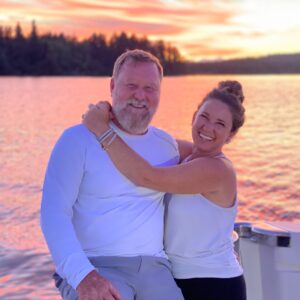 From 5,000 feet high in the mountains of northern Arizona, the long-time motorhome enthusiasts had coasted into southern California for a break. After admiring the gleaming motor yachts in Newport Bay, they wandered into Sun Country for curiosity's sake.
"If that long car park hadn't been there, we would have kept driving," recalls Dave. As it was, the couple walked in and first looked at a 30-foot motor yacht. "We told them we knew nothing about boats and that we weren't making a buying decision but, even so, they were happy to spend a couple of hours educating us."
Having enjoyed motorhomes for years, the Eversons were interested to see how a maritime equivalent might compare. Neither of them had ever before stepped aboard a leisure motor yacht. "We love going on adventures in our motorhome," says Kristy. "So, we were curious to see if a boat's interior would have a similar vibe."
"The first boat we looked at was neat and it intrigued us," says Dave.
"We thought, 'Hey, this could be fun'. Then we stepped aboard a Riviera, and we were like, uh oh! We realised then that we didn't want a boat unless we could own something so well built – it was either make a decision like that or we don't make it at all. Still, for a first-time buyer it was a significant price point so we semi-moved on."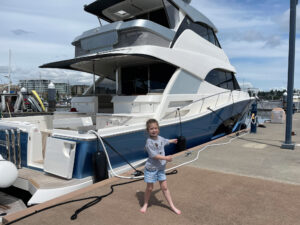 "A week later we got a call about a Riviera 64 Sports Motor Yacht. I wish I could tell you that there was some magic moment but, honestly, I just couldn't find a reason to say no."
First steps
Six months into the motor yacht's build in Australia, the Everson's had still not been able to venture aboard a Riviera – or any other motor yacht – at sea due to the pandemic. Fortunately, the Sun Country team was 'phenomenally helpful' in providing information and direction to make design decisions.
At the end of April, with their two daughters aged six and 13, the couple took possession of their new 64 SMY, Migration, currently moored in Seattle.
"I never want to leave her," laughs Kristy. "It's so exciting for us to be on the water. Our experience of the ocean has been so detached over the years. We're not sure where this adventure will take us, so we want to be ready for everything. We're prepared to learn, to go out and experience it all. It feels like the world's our oyster; it's so liberating. But first we'd like to head to the San Juan Islands and anchor out there."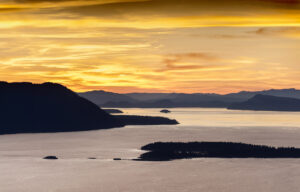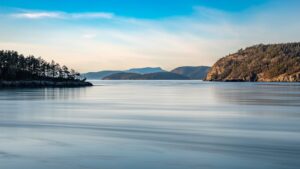 The archipelago of 172 islands on the Pacific north-west of the United States near the Canadian border is renowned for world-class whale watching.
"It's breathtakingly beautiful and so serene, and I love whales, hence Migration. We're definitely on the mission to find orcas; that's my number one. Then, if Canada opens up, we'd like to go up there. Then maybe we'll head south, to Mexico, through the Panama Canal, the east coast, or perhaps [shipping the boat to] Europe!"
But first, of course, there's the business of learning to skipper a luxury motor yacht. Under onboard supervision, the Eversons practice cruising, anchoring and docking. They also have a captain booked for formal classes to attain their skipper's tickets. Meanwhile, they are wading through the US Coast Guard Boat Operation and Training Manual.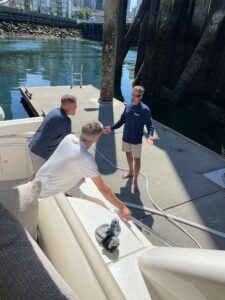 "We want to make sure we know all the rules," says Dave. "We've been really enjoying the boat while we learn! We're also learning to use all the tools and onboard systems; we've been figuring out the CZone digital-switching system, the watermaker and all of the monitoring equipment. There isn't a technology or appliance that we haven't tried yet." The couple are confident in their ability to learn; Dave is skilled in handling large vehicles and Kristy, ex-military, is an experienced aeroplane pilot who understands the ins and outs of chart reading and navigation.
Great expectations delivered
The family's inaugural weeks aboard have not only been a time for learning, but also for great joy and satisfaction taken in a decision well made.
"We made a big decision and put a lot of trust in this; we don't feel that it was misplaced," says Dave. "We're professional home builders and we understand the importance of each component in a build, and what it means to invest in quality. Sometimes companies can misrepresent this, but not Riviera. We're very happy with the decision we made to invest in quality. It feels very, very classy being on this boat."
"Everything on the boat has its place and the way it's so thoughtfully designed means that there's no disconnect; everything looks and feels right. From the hardware to the design of the steps to the cabinet, everything feels like it should be exactly as it is. We're still getting used to it, so we'll know more as time goes by. We feel that we're taken care of – by Sun Country and Riviera – and that we will continue to be taken care of, which is exciting."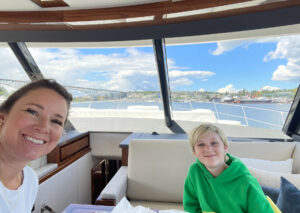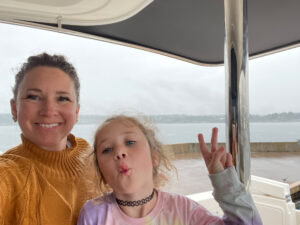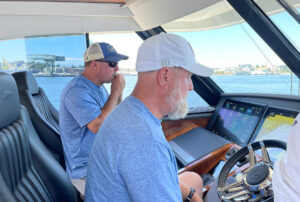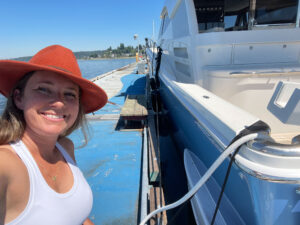 Kristy notes that there is far more room on the 64 Sports Motor Yacht, than they had in a motorhome, for the family to spread out.
"Dave uses the flybridge as his office and he's more productive there than anywhere else. I'm in the galley a lot, although I love our master stateroom; it's so comfortable and I can hang out on the sofa by the window to relax and read a book. The girls spread out between their rooms and the saloon."
"Sometimes we enjoy cocktails on the alfresco deck and the girls like to be on the foredeck watching everyone go by. And while underway, it's way smoother than we thought it was going to be. Even though we've stayed within the [Puget] Sound, you can pour a wine while doing 20 knots!"
Aboard Migration, built on the Riviera principles of strength, practicality and boating enjoyment, the Everson family is ready to explore.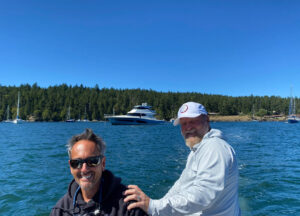 Already they're ticking off firsts: living on the ocean (living on a motor yacht!), steaming clams, floundering, and using a crab pot.
"It's the first time we've been exposed to living on the ocean. There are so many adventures that we haven't even thought of yet," says Kristy.