Tunnelling contractor, AFJV, is undertaking site investigations and early work to prepare for construction which is due to start later in January.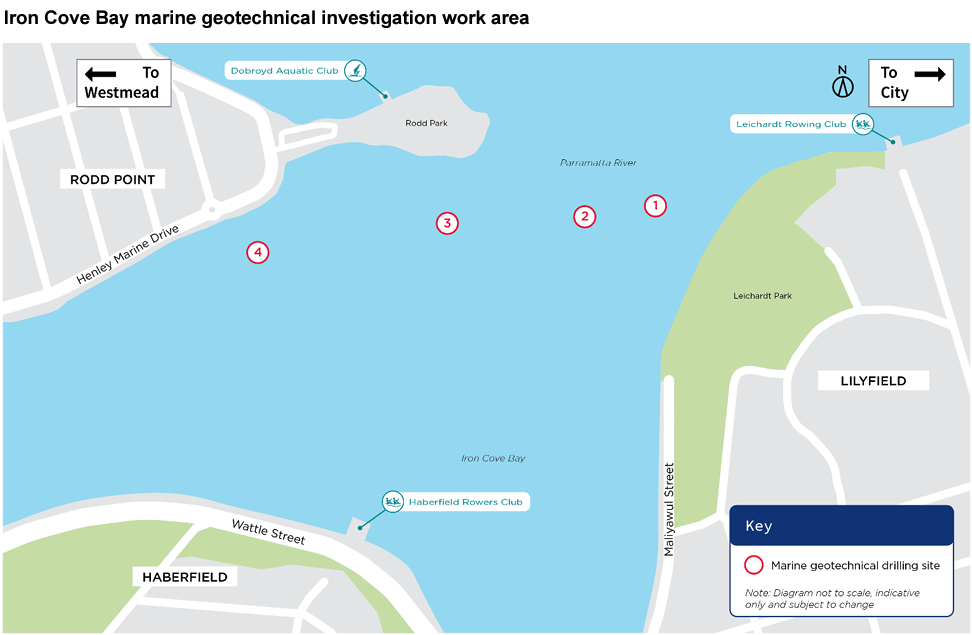 Marine geotechnical investigation work will be carried out in Iron Cove Bay between Lilyfield and Rodd Point from Monday 10 January to Monday 14 February 2022 (weather and site conditions permitting) during standard construction hours of Monday to Friday 7am – 6pm and Saturday 8am – 2pm.
Marine geotechnical testing will be undertaken to gather information about underground rock and soil conditions to inform engineering design and construction planning (see map).
NSW Government say that the safety of the community and their workforce is their top priority. All work will be undertaken in line with NSW Public Health Orders, using a range of COVID-safe measures and plans.
The work will include:
Transporting to site and establishing the overwater drilling barge in place at each of the four (4) locations consecutively from east to west (see map)
Drilling a small diameter hole around 50-60 metres deep to extract rock core samples for scientific analysis
Filling and sealing borehole on completion of work
Relocating barge to next site.
What to expect:
The barge will remain in place at each location for between five (5) to ten (10) days depending on conditions
The drilling barge will display appropriate day shapes and navigation lights. Flashing navigation lights will be fitted on each of the four support legs
A 25m exclusion zone around the barge will be indicated by floating buoys and signage
The Port Authority Harbourmaster has approved this work and the bargemaster will co-ordinate all movement with their Vessel Traffic Services (VTS)
VHF radio Channel 13 and the emergency response channel VHF16 will be monitored during the work
There will be some noise associated with this work, however we will endeavour to minimise impact
Those seeking further information are asked to contact Jeremy from the AFJV community team on 1800 612 173 if you have any questions about the project. Those who would like to receive updates by email, can send a request to who will add you to the distribution list.