Propspeed, leading innovator of underwater foul-release coatings, has recently announced it has trained and certified Propspeed applicators at the Pendennis Shipyard in Falmouth, United Kingdom.
"We have used Propspeed for several years now and have had great feedback from our clients," said Peter Coles, Paint Team Support, Pendennis Shipyard. "We are very pleased to now be a certified application center and also have Propspeed involved in our apprentice training program. I look forward to Matt and the team doing more training with our new apprentices in the coming months."
Pendennis Shipyard was founded in 1988.
Over the past 30-years, the company has developed into a leader in superyacht custom new build and refit, with facilities and expertise that rival any global superyacht hub.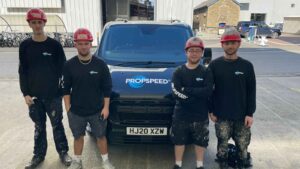 The shipyard's state-of-the-art, tailor-made construction halls, dry dock, project offices and specialist workshops combine to create one of the best facilities in Europe for the bespoke build, refit, remodel and restoration of 30m-100m motor and sailing superyachts. These services are backed up by 440 in-house skilled tradespeople and support staff.
"Pendennis is famous for their attention to detail and quality," said Matt Forbes, Sales Director – EMEA, Propspeed. "We have been working with them on projects for some time and it is great to formalize our relationship by training their teams and officially accrediting the Pendennis Shipyard as a certified Propspeed application center. In addition, we are proud to support the Pendennis apprentice scheme and will be continuing to offer training as their people move through the program."
Propspeed's ultra-slick topcoat is specially formulated to prevent marine growth from bonding to metal surfaces below the waterline. It is proven to increase boat efficiency, protect against corrosion, reduce drag, save fuel and maintenance costs. It features an exceptionally strong chemical and mechanical bond between the metal substrate, the Etching Primer, and the Clear Coat – ensuring that the Propspeed coating actually sticks to running gear, and any other underwater metals, and performs season after season.
Propspeed products include Propspeed for running gear and any underwater metals, Foulfree for transducers and Lightspeed for underwater lighting. For more information on Propspeed or its premium coatings, click here.