Dunbier have big news to announce and are set to drop a massive bombshell that will send shockwaves through the industry at the Sydney International Boat Show.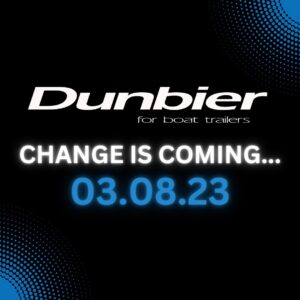 "It's not just big news, it's ground breaking" revealed Michelle Reid, Dunbier Managing Director, "We have a great team of people and we work hard with our dealer network in relation to product development. To be honest I don't think the Tinnie game will ever be the same again".
The team at Dunbier are remaining coy at this stage with Renee Guzzo, Dunbier Marketing Manager, refusing to let anything slip, "The wait is almost over… All will be revealed at the Sydney International Boat Show and we know that it's going to turn heads.  We will have our brand ambassador – the legendary Andrew 'ET' Ettingshausen, on the stand along with the team and our dealers to help us drop the big news."
The release is scheduled for 11:00am on the opening day of the Sydney International Boat Show. Further information will be provided.
Dunbier are one of Australia's largest and most trusted boat trailer manufacturers. With a reputation for quality, they produce the widest range of highly advanced products of any manufacturer bar none. All trailers are manufactured in Melbourne then shipped to interstate branches where they're unloaded and distributed throughout Australia via a 400+ strong dedicated dealer network, along with a full range of complementary parts and accessories.
To keep up to date with all marine industry news visit www.marinebusinessnews.com.au