Congratulations to William (Bill) Blakeman, from Marine Rescue NSW Merimbula on his award of an Emergency Services Medal (ESM) in the Australia Day honours list.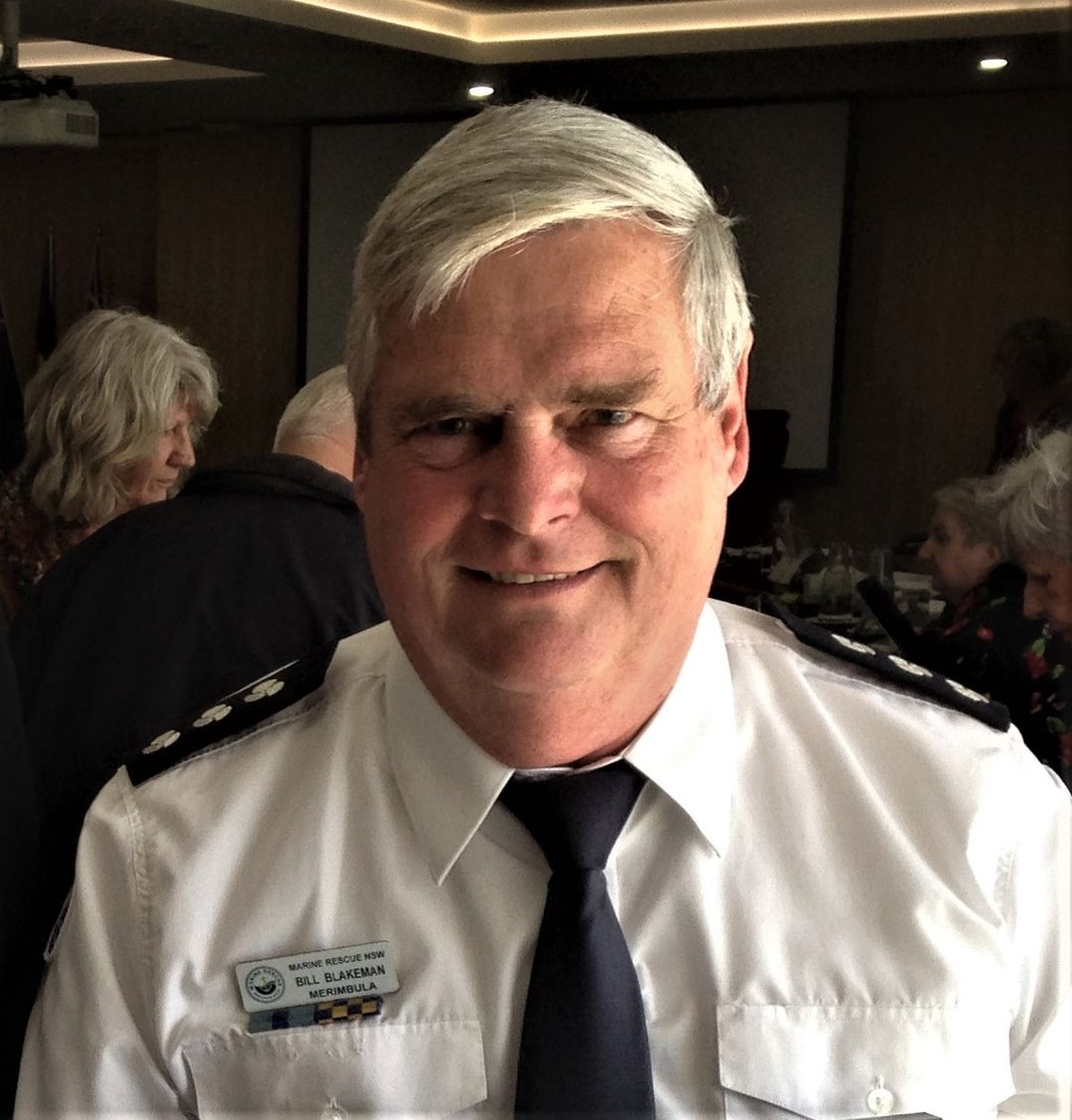 William (Bill) Blakeman's working and volunteer careers have been steeped in maritime activities. He began his working life with the British Merchant Navy and eventually retired from the NSW Maritime Service Board in 2007. At the same time, he served as a volunteer member of the Australian Volunteer Coast Guard in Sydney.
Upon his retirement, he moved south and joined the Royal Volunteer Coastal Patrol at Merimbula, shortly before it became part of the newly-established Marine Rescue NSW in 2009. Mr Blakeman soon took up the role of Training Officer and Training Support Officer, roles which he continues to perform.
To comply with the requirements of these roles, he successfully obtained a Certificate IV Trainer and Assessor. He has undertaken further study to update these qualifications to ensure his knowledge and skills remain current and this continued willingness to study has inspired and encouraged other volunteer members to follow his example.
Mr Blakeman holds Marine Rescue NSW's highest qualifications, Marine Rescue Master and Watch Officer, meaning he can train and assess his fellow volunteers working for all qualifications attainable in the organisation. As the Training Officer, he has been staunch in his commitment to the professional development of members in operational activities and emergency search and rescue response. He draws on his extensive experience and knowledge to efficiently elevate volunteers to the appropriate trained standards.
Since 2009, Mr Blakeman has set aside at least two days a week solely for the purpose of training volunteers at the helm of the rescue vessel. His stable commitment and the vast amount of personal time he dedicates to training others has been instrumental in ensuring crews operate cohesively and safely. He has helped many volunteers to build the skills and knowledge needed to progress through the ranks, performing countless successful rescues, which can be directly attributed to his training. He has inspired some volunteers to follow his footsteps and become trainers in their own right. There is no doubt that his high standard of training ensures they not only return safely from sea but have also saved many lives on the water.
In March 2015, Mr Blakeman was awarded the Marine Rescue NSW Commissioner's Commendation for Courage for an operation undertaken in October 2011. He was the skipper of the rescue vessel with a crew of two volunteers, who risked their lives to save two men and their floundering vessel. The stricken vessel was stranded metres from rocks in winds gusting to 30 knots in three-metre seas. Mr Blakeman skilfully manoeuvred the rescue vessel close enough to pass a tow rope to the distressed vessel and quickly pull it away from immediate danger by the stern, before a second line could be secured to the bow. The two vessels returned safely to Merimbula under worsening conditions.
In addition to the hours dedicated to training volunteer members, Mr Blakeman was unanimously elected to the position of Unit Commander of Marine Rescue Merimbula in 2014. He was subsequently elected unopposed for another two terms, completing the six-year tenure permitted under the MRNSW Constitution. The Unit Commander needs to have strong leadership and people skills, a commitment to supporting volunteers, the ability to set goals and manage multiple tasks, while also dealing with local government, community groups and the public. In addition, the Commander is on call 24 hours a day, seven days a week. Mr Blakeman served as Unit Commander with distinction and honour before stepping down and subsequently being elected as Deputy Unit Commander in mid-2020.
During his tenure as leader, the unit experienced significant growth in membership growth and retention, with a high degree of volunteer satisfaction and commitment. In a Marine Rescue NSW Engagement Survey of all 46 units in 2017, Marine Rescue Merimbula ranked a close second to the unit with the greatest engagement, a result readily attributed to Mr Blakeman's inclusive, respectful and professional management style.
His foresight and initiative has ensured the exponential growth of the Merimbula unit's profile within the visiting and local boating community. He has adopted a multi-pronged approach to promote the unit, using multi-media, flyers, local radio and newspapers, open days, barbecues, raffles and presentations to local community groups. The unit's raised profile has resulted in numerous enquiries from locals to join or financially support the unit.
Mr Blakeman has currently or previously dedicated his time to the following roles within Marine Rescue Merimbula: Unit Commander, Deputy Unit Commander, Unit Training Officer, Training Support Officer, Marine Rescue vessel Master, Marine Rescue Watch Officer, First aid and advanced resuscitation trainer and Trainer and Assessor for Marine Rescue Radio Operators, Watch Officers, Crew, Leading Crew, Coxswain and Master.
In 2019, Mr Blakeman was awarded the Bega Valley Shire Community Service Medallion in recognition of his skills and dedication as both an emergency services trainer and Unit Commander. The Medallion was presented as part of the Bega Valley's National Volunteers Week celebrations to acknowledge his outstanding work as a volunteer in the region.
He has displayed foresight and vision for the future, campaigning and fundraising to purchase a secondary rescue vessel capable of reaching local waterways inaccessible by the unit's large primary response vessel. In 2020 he steered a project to replace the vessel's floating pontoon and renovate its jetty to accommodate both vessels.
As Unit Commander, Mr Blakeman worked closely with the unit executive to develop and implement detailed business and financial plans to guide and grow the unit as an efficient and effective rescue service. The unit has remained financial buoyant under his administration, ensuring it remained well placed during the COVID-19 pandemic.
In early 2020, the far south coast experienced its worst bushfire season. Mr Blakeman worked tirelessly in the local Emergency Operations Centre representing Marine Rescue NSW, helping to coordinate our members to monitor NSW Rural Fire Service radios overnight and undertake countless jobs in the four evacuations centres located at Merimbula, Tura Beach and Bega. His work in the Emergency Operations Centre only ceased when he was forced to evacuate his family home, which was threatened by the advancing bushfires.
He has had a profound effect on all those he has inspired, influenced and saved, working over and above normal employment duties. His skill, commitment and outstanding contribution have benefited not only Marine Rescue NSW and the volunteer members in Merimbula but also the wider boating community as a whole.