The past two years have been record-breaking for Dolphin Surf Craft, working around the clock to keep pace with demand for their range of surf skis, race and rescue boards.
"We've been working flat-out, particularly in the lead up to this summer," states Simon Hunnybun, Director at Dolphin Surf Craft.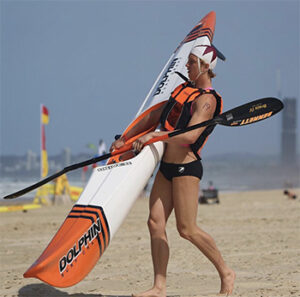 The Burleigh Heads-based business has been operating since 1992 and creates boards and skis for all ocean sports.
It counts among its clients some of the top Surf Life Saving competitors and Surf Clubs all over Australia, as well as exporting to New Zealand, Canada, Japan, Hong Kong, Europe, the US and UK.
"We're making the most of it while we can," continues Simon.
"We have about eight months of boards and skis booked for the year ahead. We have had huge orders from Surf Clubs for rescue boards. With the pandemic restrictions, more people are going to the beach and Australia-wide, the demand for boards and surf skis has increased tremendously.
"We're lucky we use mostly Australian products so we're quite self-sufficient and can keep up with orders."
Among the products is the KINETIX® R111 epoxy resin system, supplied by ATL Composites, based at Molendinar on the Gold Coast.
Ideal for the fabrication of parts requiring high strength and lightweight, the KINETIX systems have been formulated for the fabrication of fibreglass, aramid and carbon-fibre composites and are used in a variety of industries including performance racing yachts, automotive components and high-performance sports equipment, including surf skis and boards.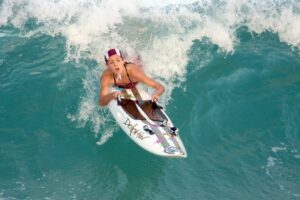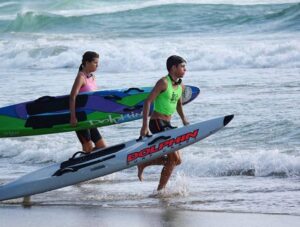 KINETIX epoxy surfboard systems have been formulated to address the surfing industry's interest in reducing the release of VOC's into the atmosphere and are rapidly gaining acceptance for surfboard construction on the international market.
The KINETIX systems provide rapid room-temperature cure for lamination, are preferred for being UV stable and curing to a clear, bloom-free finish resulting in being the epoxy of choice by leading surfboard and surf-craft manufacturers around the world.
National Distributor for KINETIX® R111, COO, Jake Holloway, Director at Shapers Australia says the system represents "a new benchmark for production boards".
"KINETIX R111 sets the benchmark for an epoxy system that is user-friendly and allows for quick production times while offering the highest possible performance. The R111 continues to offer the same level of user-friendliness as found across the KINETIX ® series."
Dolphin's epoxy Surf Rescue boards are just 9kgs, which is 3kgs lighter than standard rescue boards. The combination of their custom-crafted shape based on Dolphin's racing design and lightweight epoxy construction makes the boards easier to manoeuvre and control, and tough enough to handle all conditions.
Dolphin employs around 15 skilled workers and uses cutting-edge 3D design technology and a state-of-the-art CNC shaping machine. Increasingly, they are investing in advanced CAD (Computer Aided Design) for modifying their iconic models.
"We're always adapting and diversifying our products. We also have some new foil boards on the drawing board since that's becoming so popular now," says Simon.
"We're also conscious of new methods and materials that are environmentally friendly," he adds. "We use a range of eco products that use basalt, flax and ATL's KINETIX® ECO-X resin in the construction of some boards. These have been approved as 'eco-boards' by Sustainable Surf accreditation, due in part to ATL's resin, which has been independently tested by Beta Analytic to ASTM D66866-16 to confirm the bio-based carbon content in the cured system."