This week Ruchi Ladkani sits with Souad Cherifi to share her fabulous journey.  Creating bespoke marine experiences & delivering the ultimate Axopar Boats adventure; from the heart of Abu Dhabi's Al Bateen marine precinct, Souad Cherifi is a dynamic entrepreneur in #uae's thriving #marineindustry.
Over 15 years ago, Souad Cherifi left the boulevards of Paris to dive new depths of the Arabian Gulf to discover its incredible beauty & enterprising opportunities. She's never looked back since. A tenacious & hands-on business owner, as well as, an ardent spear fisher & free diver, Souads' is a compelling voice in Abu Dhabi and UAE's emerging prominence as a vibrant leisure marine destination. Let's discover her journey so far….
1) Your big wave! how did it all start and how far have you sailed?
In 2004 I welcomed the opportunity to join the Marketing & PR team involved in the pre-opening of the iconic Emirates Palace in Abu Dhabi. That was a great experience for me as not only was I introduced to the biggest tourism development of the time, I also had the chance to deeply engage with colleagues who were from the Capital and passionate about life on water and what it represented to them. Emirates Palace, at the time, was the melting pot of ideas for a lot of authorities like the tourism department and other high-profile entities invested in & entrusted with crafting the tourism currency of Abu Dhabi. I got to meet with a lot of interesting, high profile and ambitious minds which was extremely inspiring. From then, to now, Abu Dhabi has come a long way in terms of its offering for leisure marine lifestyle and tourism infrastructure, in general. From the quality of marinas to the diversity of hotels. My initial couple of years into UAE, through Abu Dhabi, was a fantastic experience to be involved with the minds that curated the soul of the city and made us feel that we were an important part of it.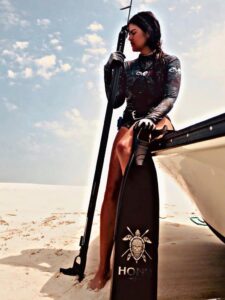 Growing up, I was always connected with the sea. I used to follow my dad a lot through marine activities like sailing and spear fishing. So, building a career in this area seemed like a natural calling for me.
Although I'm equipped with a degree in Strategy & Business Development and wanted to pursue a career in sports marketing, I got carried away by the wave of yachting when in 2006, I was invited by a Swiss company based out of Dubai to head their regional operations of yacht chartering & brokerage for clients from the gulf and into the med.
From the minute my feet touched the deck of their flagship yacht – Falcon Yacht, I knew I wasn't looking back at a non-marine career.
My fascination transcended the glamour of the gorgeous craft, as I was intrigued and obsessed with the behind the scenes of its operations. The captain, at the time, was extremely generous in sharing his passion and introduced me to the world of engine rooms and other technicalities of yacht management. This opportunity catalysed various interactions of interest with international ship yards and I was in love with the world of leisure marine and recreational boating.
The experience thus far, coupled with my love for the capital, led me to return and start my own business of yacht chartering in Abu Dhabi in 2010. Why Abu Dhabi? I say why not. Not only it's an island, surrounded by 200 + islands, it has such an interesting coast-line, a dynamic sea life and, at a visceral level, water is a significant part of the cultural fabric here. I was drawn by the people of the emirate whose passion for marine life & their connection with the ocean was palpable in their stories of the generational link with the sea being critical for commerce, trade & ultimately survival. I was convinced Abu Dhabi is where I needed to start a thriving business related to the sea in this region.
In 2015, I realised my ambition to start a one stop shop in the UAE which served a wide scope of marine lifestyle activities, and this led to creation of Fast Marine Boats. By this time, we had secured exclusive representation for Axopar Boats from Finland, and progressively, the business evolved to gathering a range of leisure marine, sport fishing, diving and other water sport brands.
Axopar was always the heart of the business. It's a different type of boat in the market here which attracts a specific tribe of knowledgeable boaters. Their cabin model was on point with the lay of the region/the gulf. The vision of the brand is in sync with the vision we have for our company, therefore, perfect reason for our businesses to collaborate.
Finally, one of our key objectives has always been to understand the local culture of sport fishing and marry it to modern tech/trends from international markets and ultimately, deliver to the specific requirements of our local customers. From the boats we represent, to the brands we select, the entire store curation is based on this key objective.
2) UAE is an ocean of opportunities because?
When I came to UAE in 2004, I fell in love with Abu Dhabi & UAE in general. The culture here is punctuated with warmth and the quintessential Emirati hospitality. This is also the foundation for their exemplary vision/mission of the leadership who are committed to building a sustainable and inspiring future for its nation.
There is a spirit here which propels entrepreneurship in a way I haven't seen anywhere else. I found the landscape very encouraging to start my own business, where I could launch and collaborate business partnerships. Compared to other countries there is less bureaucracy. People are honest, open to sharing information, excited and enthusiastic bringing new ideas to life in the UAE and collaborate with you in the process. So when you have this energy around you, you're drawn into it.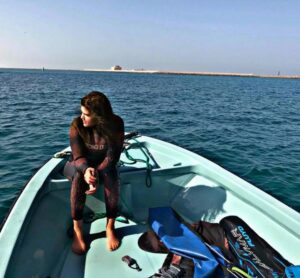 We're not from here, but I feel like I'm a significant part of it. Every time I visit home, I want to come back home – UAE is my home. This is largely facilitated by special leadership here whom I consider as my leaders as well. Their astonishing achievements in an extremely short amount of time; we're only 50 years young, make them the visionaries that they are respected for. Not only am I made to feel at home, but I'm included in the nations' journey of pushing boundaries and setting global standards in international accomplishments. Their vision inspires us to achieve our best, contribute & make an impact in UAE's development. The exposure they've managed to achieve internationally, is amazing. My heart is here and I want to make a difference.
3) Favourite marine destination?
Cannes! It has everything our industry represents. From large cruise ships to luxury yachts, to small day cruisers with the backdrop of the sultry Mediterranean setting. It's the place where, when you go, you see the evolution of the industry. Internationally, it's a melting pot of cultures and witnessing emerging trends in their annual boat show enables you to appreciate the fastest moving brands, see why these are popular etc in a unique way. A seductive marine life with an iconic yacht show to boast, when you reach Cannes you feel your heart pumping through its vibe and energy. You take a moment and feel you are in the right industry. Cannes to me symbolises the ultimate marine lifestyle. I was there last pre Covid and can't wait to return soon!
4) Something you would like to see more of in our industry in UAE?
I'd like to see more collaboration in the industry. For some reason we operate a lot in silos and risk becoming set in our ways and strongly opinionated in the process. More open mindedness, empathy & sensitivity toward business differences, as well as awareness on international practices, would bring progress.
There is opportunity for interesting partnerships between marinas and boat builders/brand. For example, hosting of exclusive events at marinas allowing us to show case our boats to our customers, win-win for us the put the marina and the boat, across potential customers. With developments of new marinas in the capital, there's room to build this.
It'd also be wonderful to see the rental & chartering market work strongly with tourism authorities and further amplify AD as an inviting marine destination boasting an incredible treasure trove of diverse marine life like the dolphins, the turtles and unexplored regions like Butinah, the coast along the western region.
We must develop a way wherein every new resident, citizen and tourist has to touch their feet on a boat and experience Abu Dhabi from the sea, before they start their journey in this gorgeous city. For example, any one visiting Thailand will immediately book a boat to go see James Bond Island. We need to inspire the same interest here and we can – look at the stunning array of islands AD has like Saadiyat, Yas, Samaliyah, Maya Island, Bahraini, Zaya Nurai; all gorgeous spots which need more promotion. Similar to the 'concierge of hotels' meet ups, we need more interaction amongst businesses of the industry to gather and ideate on solutions which drive us forward as an industry. I see this as a huge opportunity as the industry is blessed with some very passionate and enterprising operators who can shape these developments. We also need stronger focus on incorporating sustainable practices in preserving the marine life.
5) What rocks my boat and keeps me afloat….
My passion for the industry, my connection with the sea and the desire to make a difference. My dad always said that achieving your passion will come with sacrifices, so I'm very conscious of what it takes to succeed and survive and I'll break the walls that need to be overcome to achieve my goals. It's a challenge I embrace. Being a woman in a highly male dominated sector, seeing that you're capable of having right conversations and influence change and progress, drives me. Chatting with customers on daily basis about fishing, spear fishing and free diving, and receiving their acknowledgement of my experience & knowledge, is motivating.
It's also fantastic to see the increasing growth of more women out there for fishing and diving. Through social media, more women in free diving are able to share the passion with each other and push each other to learn, explore and grow in this marine recreation. Going from something they were hesitant about and to seeing them brave the ocean, is exhilarating.
In the recent months, we've launched our brand new 400m2 retail store in Al Bateen, which is one of the many vibrant marine precincts in Abu Dhabi. This has been in the making for 2 years and we're excited that we are finally here. Aside from aspiring for a physical expansion, we wanted to be strategically entrenched within the sector. Therefore, we see great opportunity with our location as we're surrounded by 4 major marinas, a bustling hospitality scene of cafes, hotels & restaurants and along with a strong increase in our line of products of over 200+ brands; we're excited to play our part and grow the eco-system.
This expansion enables me to translate my enthusiasm, which is compounded by seeing the community we've cultivated for enthusiasts to visit, explore, gather and connect. When I see customers coming in grabbing their coffee, chatting with the team for hours, showing them their catch and having a laugh – gratifies me and makes me happy about what we've managed to create. It's a space for people from all walks of life which you can visit and where you can share your connection with the ocean. A nest where passion; regardless of who you are and where you're from, flourishes. Ultimately, my love for this industry, the UAE and laser focus on the impact I want to make in my time here are the key tenets keeping me afloat….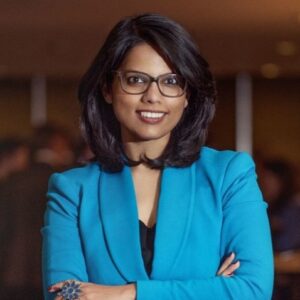 Ruchi Ladkani (MBA) is the Sales Manager of the Abu Dhabi International Boat Show (ADIBS) for the Abu Dhabi National Exhibitions Company. Ruchi has been able to help make the Abu Dhabi International Boat Show (ADIBS), launched in October 2018 a well-respected leading international marine event.
Prior to her move to the UAE, Ruchi was a familiar face around the Sydney International Boat Show, having been a much respected and valued colleague working with the show's venue.
Ruchi is a global and strategic commercial operator, focused on building platforms for consistent and sustainable business prospects. In addition to portfolio development, Ruchi is an astute negotiator with a persevering ambition that translates into successful business outcomes and consolidated market position.
You can connect with Ruchi via LinkedIn here