Digital Selective Calling is a unique piece of rescue equipment.
With just a press of a button it is possible to instantly transmit a distress to other stations. It will keep transmitting until the message has been acknowledged.
It alerts shore stations and other vessels that are within range (with DSC capabilities).
It does more
It's possible to select further details, if you are lucky enough to have spare time during an emergency, but the key to DSC is to have it interfaced with your GPS to instantly transmit your position and the alert that you are in distress and need help.
How it Works
A DSC Alert is a brief burst (typically seven seconds on MF/HF, and 0.5 seconds on VHF) of digitised information transmitted from one station to alert another station or stations, and to provide basic information.
Select categories
You can select categories "I am on fire, sinking, aground, etc", and you can type in your position. But the idea is to have it interfaced with GPS already so you can hit that Distress button (if you are in grave and imminent danger) and if you run out of time, your distress call AND position will continue to be transmitted until someone acknowledges it.
Benefits:
Inexperienced users can use it, it's just one press of a button (if linked to GPS)
Privately call other stations (or groups of stations)
It frees up channel 16 (although it is advisable to follow up an alert with a voice call, if possible)
Communication is fundamental in any Emergency
Tips:
Read the manufacturer's instructions and learn about YOUR radio
Read the Marine Radio Handbook – properly!
Get your Marine Radio Licence – if you have a VHFor HF on board, one person must have a Marine Radio Licence. Plus, all good courses teach you how to sue the Radio in an Emergency (whether it is your emergency or someone else's that you are involved in via communication). We help you do all this for around $100, the licence lasts a lifetime
List Item
List Item
MMSI
Do you know what an MMSI number is – how to get one, and what you do with it then?
An MMSI is a Mobile Maritime Safety Identification. You have to have a radio licence to be able to apply for one. You need one to use Digital Selective Calling (DSC).
Remember:
Mayday is a distress call. A distress call is when you are in grave and imminent danger.
PAN PAN is an Urgency Call and Securite Securite is for safety warnings. So you don't use your red DSC button for these. Ensure you check your radio's instruction manual for full details on appropriate use.
10 cities / 10 presenters
And of course, check out our Emergency Preparedness Workshop, launching March/April around Australia.
Where do you start with your preparation?
We've done it for you, the bulk of the work that is.
We've spent over a year creating two manuals, yes, there are two.
1) Step-by-step Emergency Preparedness
2) An Emergency Safety Response System. A standalone folder with templates (aka Safety Management System (SMS).
Workshops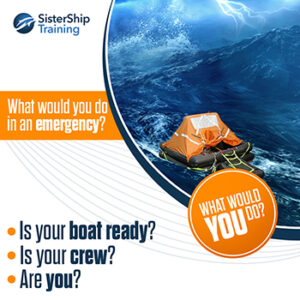 We are holding workshops around Australian in March and April.
Both manuals are included with the training
If you can't come along, pre-order your manuals here.
Special deal for the launch. This is the first round and we are almost booked out!
Subscribe to receive regular updates: www.sistershiptraining.com
Taking Readiness to a New Level
We've piloted the course to ensure we offer you the very best information, here's what they say.
'I must say I'm really enjoying and valuing working my way through the manual. I'm really appreciating the exercises as it really makes you think OK what would I do. Checking it against the scenario guide is either reassuring or helpful in terms of "oh yeah forgot about that or hadn't thought of that."'
'This whole process will certainly not only be helpful in preparing SMSs but motivating to do so as well – mainly because it is not as daunting as it first seems. One SMS at a time – just like one step at a time. Well done." M.G (on google business reviews).'
"This is FANTASTIC!" (said by 5 participants while clutching the pre-prepared SMS)
Digital Selective Calling Alerts (DSC): More information
Operates on Channel 70 (VHF)
Designed to replicate what an operator may say when operating radiotelephony equipment
Designed to take the place of an operator monitoring the international distress channel 16
BUT – regulatory authorities stipulate that operators of marine VHF should continue to monitor channel 16 indefinitely.
Many marine VHF units have the DSC facility inbuilt with the ability to interface a Global Position System (GPS) receiver
This ensures accurate and up to date position information that will be automatically included in a distress
If your DSC equipment is NOT interfaced with a GPS you can manually input your position (and distress detail). However, this is time consuming and defeats the object of having DSC.
DSC may be used for distress, urgency, safety, and routine calling
Digital Selective Calling frequencies are not voice frequencies
They send a digital signal containing the Maritime Mobile Service Identities (MMSI) number to alert a vessel or land station of an incoming call
The operator should then use normal radiotelephony voice frequencies

* Radiotelephony channel is a calling channel, e.g. channel 16 on VHF
Operators of VHF DSC may have the option to transmit the distress alert by:
A dedicated Distress Alert Button
Editing of the Distress Alert menu
Selection of the distress priority from a standard menu, if provided
Some DSCs may offer the operator the option of selecting the distress priority from a transmission menu with a further option of editing the distress alert by selecting and transmitting the nature of the distress situation e.g.
On fire
Collision
Abandoning ship
BUT the primary function of a distress alert is to advise All Stations of the distress situation and the location of the distress vessel.
Meet our Facilitators' Here
See our Workshop information here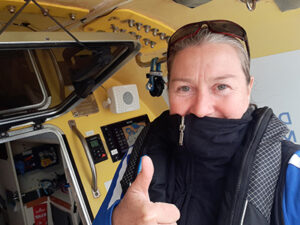 After nine years of sailing around the world with her husband Noel, Jackie qualified as a commercial skipper.
She is a Master 5, holds Master 4 qualification, Marine Engine Driver 3, ex-Marine Rescue Skipper (one of the first women in NSW), and current Instructor of professional and recreational level courses.
She's a Cert 4 Trainer, commercial skipper, recreational sailor (ocean sailing and inland waterways on sailboats and motorboats), Author of practical maritime books/manuals/best-selling memoirs/articles, and Speaker at nautical and book events.
She founded SisterShip Training in 2019. She's continued to write, freelance, for many different publications for over twenty years, she hosts a podcast show, and has spent over two years in on the European Canals on a Dutch barge. Jackie (with Noel) has traversed The Great Loop in America. She has also (with Lisa Blair) set a sailing record as co-skipper of the first double-handed all-women team in the Melbourne to Hobart race.
You can see all she gets up to here: https://sistershiptraining.com/
And here: https://jackieparry.com/